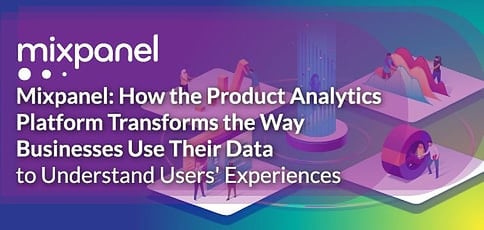 TL; DR: Whether businesses monitor their websites with Google's free analytics programs or purchase more expensive, advanced, and powerful solutions, there are a million different ways to collect data. It's easy to be buried under a mountain of poorly organized and difficult-to-process information — if entrepreneurs, marketers, and product designers can't sift what matters from what doesn't, all of the data becomes useless. That's why Mixpanel has built easy-to-use technologies that help businesses rearrange data into actionable insights, transforming the way customers solve problems and plan for the future.
A decade or so ago, analytics experts largely focused on pageviews, bounce rates, and the metrics that Google Analytics still provides for free to measure how many people visit a website. Suhail Doshi, however, didn't believe those data points accurately tracked how industry leaders developed and released their products.
Instead of using his internship at Slide solely to gain school credit or experience, Suhail built a platform that would provide more powerful and actionable insights for companies that were having to build custom analytics programs in-house.
Rather than measure unique visitors, Mixpanel tracks user engagement and interactions that can more accurately guide product development and business decisions across several teams within an organization.
"The problem they have is that there's no analytics platform that can look at data from finance, marketing, and sales divisions to give executives a 1,000-foot view of everything that's happening," said Rob Banning, Director of Communications.
In addition to collecting and analyzing 7 trillion data points each year, Mixpanel integrates with dozens of popular platforms, including Salesforce, Zapier, Marketo, and Zendesk to uncover information that had previously been buried beneath mountains of difficult-to-parse data.
"It's all about the granular detail," Rob said. "Mixpanel's goal is to be the overlay for a variety of different tech stacks, making each of them more valuable. We want to revolutionize the way our clients make business decisions."
Mixpanel Sifts Through Data to Reveal Actionable Insights
Businesses don't need expensive services to collect tons of data. Even though there are many ways to track user behavior for free, many of those platforms collect shallow data points and unwittingly obscure important information.
Proprietary systems often don't organize metrics in ways that analytics professionals or business owners can intuitively sort through and understand. Although a business may collect millions of data points, Rob said that software can sometimes make analysis too overwhelming and complex.
"The reason customers use our platform is to plug in all the data points they have and see what insights our machine learning and AI discovers," he said. "Even experienced analytics experts don't know to look for the information that our technology discovers."
Mixpanel works like a sieve: Users import large amounts of data and Mixpanel's machine learning algorithms automatically uncover insights, anomalies, and user segments.
"Our users don't need a data science degree," Rob said. "Our product democratizes advanced analytics."
Solutions Tailored to Each Individual Customer
Mixpanel's customer support teams show users which features best fit their business objectives and will help them achieve their goals. The company has devised onboarding processes tailored to the various industries, customers, and problems organizations typically face.
"Then we ask ourselves, 'How have we successfully applied our technology to tackle these problems?" Rob said. "We want Mixpanel to be simple enough so that users can intuitively understand our products, but they also have to be powerful enough to unearth deep insights. It's a careful balance."
Mixpanel's product managers are in constant contact with customers, driving continuous development and improvement across the company. Rob told us about recently speaking with a colleague who was setting up more than 200 interviews with customers to gauge their analytics needs over the next couple of years.
"She'll take their answers and synthesize them into a report that our engineers and product managers will read to future-proof the products they're building," he said. "The way we develop our products is almost entirely based on the customer feedback we get on existing products. We never break ground on a new project before going out and asking customers if the road map we've developed fits their future plans."
Company Culture and Customer Feedback Drive Innovation
Today, Mixpanel boasts roughly 300 employees in offices in San Francisco, Seattle, Utah, New York, and London. Each office has its own vibe and a vibrant company culture, which Rob said he appreciates.
"I used to work at a company that opened 16 offices in a single year, and I saw that it's very difficult to maintain a coherent company culture," he said. "We've managed to do it, though, which is great because I love working here."
The Mixpanel camaraderie regularly expands beyond the office, as Rob mentioned several contingents of coworkers becoming friends and roommates.
"We've created such a fun, collaborative, and engaging environment," he said. "That culture makes everyone enjoy spending time in the office. The truth is, I just feel good as soon as I come through the door."
Rob attributed the positive energy at Mixpanel to effective communication and numerous team-building activities. In addition to the holiday party, the company takes an annual ski trip to Lake Tahoe.
"We don't work. We just ski, hang out at the lodge, and drink hot cocoa," he said. "It helps us get to know our colleagues on an individual level."
The team's energy and enthusiasm translate into new products and updates, Rob said. In the second half of 2017, the company launched more features than it had in the entirety of 2016. This year, the team has its sights on machine learning.
"We're releasing new machine learning algorithms at least once every two months," he said. "It's really one of the only ways to analyze the vast amount of data that's being collected, and it saves so much time and money. Our competitors haven't released anything similar."