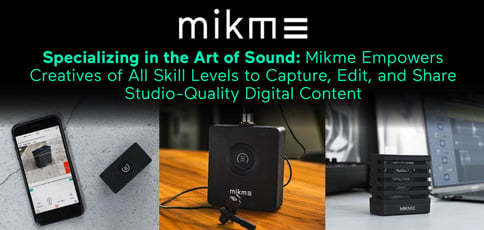 TL; DR: Mikme's iPhone-friendly microphones and wireless audio recorders empower artists, producers, and journalists to capture crisp, high-quality audio on the go. The company, based in Europe with manufacturing centers in Germany, is passionate about raising standards for sound in digital storytelling via a range of hardware options and an innovative app. Now, with the release of Mikme Pocket, a sleek wireless recorder and clip-on microphone, the company is making it easier than ever to add professional sound to any smartphone video.
With each new product launch, mobile phone manufacturers strive to achieve the pinnacle of camera performance: a smartphone that can render your digital SLR obsolete. Case in point: Apple recently introduced the iPhone 11 Pro, boasting a triple-camera system with ultra-wide angle and telephoto lenses, plus 4K video capabilities.
Historically, however, there's one thing tech companies and consumers overlook — the ability to capture crisp and nuanced audio.
"Audio is a very underrated, underestimated aspect of digital storytelling," said Philipp Sonnleitner, Founder & CEO of Mikme. "That's why it made sense to create a high-quality solution for enhancing the audio experience on the go."
With Mikme's wireless audio recording hardware and innovative app, anyone with an iPhone can record, edit, and share crystal clear audio content with ease. The Mikme app takes audio from a studio-quality microphone capsule in the Mikme device before securely synching it with video on the iPhone, eliminating the need for extraneous cables and receivers.
A standalone recorder with built-in memory allows users to control recordings with a touch of a button, while an external USB microphone enables them to connect Mikme directly to a Mac or PC. Ultimately, the setup creates a portable recording studio that works seamlessly in a variety of settings, whether you're at home, in a noisy urban environment, or on top of a mountain.
The newest addition to the Mikme product family is the Mikme Pocket, a compact wireless audio recorder with a clip-on microphone. The sleek device makes it easier than ever for content creators, journalists, and filmmakers to transform the way they record content so that audio — not just video — can truly shine.
A Portable Smartphone Microphone and Stand-Alone Recorder
Mikme was founded in 2014 by Philipp and Co-Founder Thomas Wachauer. At the time, no other wireless, smartphone-friendly options existed for recording high-quality audio. Mikme changed this by leveraging the power of a special Bluetooth protocol to exchange audio data.
Philipp told us that while Bluetooth functionality can be wonky, Mikme's technology ensures a clean, complete broadcast every time. "We have written a software stack that can do it all via Bluetooth," he said.
The classic Mikme device comes in two models: Mikme Gold and Mikme Silver. The introductory device, Mikme Silver, includes a built-in microphone, 4GB of memory for up to 90 hours of recordings, secure audio streaming with the Mikme app, and an external USB microphone for Mac and PC.
The Mikme Gold, intended for professionals, includes all of the features of the Mikme Silver plus 16GB of built-in memory for 360 hours of recordings, the ability to work with .wav files, and higher extended frequency repose and sampling rates. The Mikme Gold also includes a 1-inch gold-plated condenser capsule supported by built-in spider suspension to block handling noise.
Mikme's demo videos best illustrate the power behind these technologies in comparison with audio captured on the iPhone's internal microphone. With Mikme, the person recording the audio can move freely while still capturing high-quality recordings. The technology also features an uncanny ability to block obnoxious background noises — even when standing near a busy highway.
There's also a stark difference between ambient sounds and nature recordings captured with the Mikme when compared with the iPhone microphone. With Mikme, one can hear the sounds in-depth, whether you're recording water bubbling gently over rocks or the cries of seagulls. With the iPhone, they're remarkably flat.
Introducing the Mikme Pocket: A Wireless Clip-On Solution
Philipp told us that Mikme has run three crowdfunding campaigns through Indiegogo to fund the original Mikme in 2015, the Mikme Silver in 2018, and, most recently, the Mikme Pocket. This newest addition is a wireless audio recorder featuring a clip-on microphone and built-in memory.
"It's much smaller than the original Mikme, which allows journalists and filmmakers to be more discreet," he said. "When you're filming webinars and how-to videos, along with other media coverage, you don't always want to see the microphone."
The company plans to ship the first batches of the Mikme Pocket to its initial backers in December. Because the original Mikme and the Mikme Pocket share the same manufacturer and approximately 90% of the same electronics, hardware, and software, the company is confident that it will be able to deliver the product in a timely fashion.
Philipp said the majority of the time was spent in external testing to ensure all setups worked. The compact solution is versatile, allowing users to mix and match audio from more than one Mikme Pocket or from a Mikme Pocket and an original Mikme Microphone.
"It's very flexible — you can connect the clip-on microphone, connect it to a headset microphone, or even set up an interview-style recording by linking two Mikmes within the app."
The Mikme Pocket and Mikme App also allow users to stream live video to social media channels, including Facebook, in real-time boosting audience engagement through high-quality content.
Designed for Musicians, Journalists, Filmmakers, and Podcasters
Mikme was initially created as a solution for musicians by musicians intended to deliver studio-grade audio without all the bulky equipment.
Today, the company continues to serve that demographic with tools that allow them to capture professional sound wherever and whenever inspiration strikes. Musicians can record in stereo sound by using two Mikme Microphones, adding an in-depth audio perspective, and microphones can stand by themselves or sit atop a microphone or camera stand.
The product also appeals to journalists and reporters, who can use the Mikme Microphone to capture creative audio with just one click before streaming it wirelessly to the Mikme app and syncing it with video.
"We see a lot of interest from media companies, content creators, TV and radio professionals, and smaller companies in the professional space," Philipp said. "Most of these companies want to create videos with a smartphone because it reduces time to market and cuts production costs."
Philipp said the smartphone already possesses 95% of the technology these companies need. When coupled with Mikme, professionals can avoid costly and knowledge-intensive cameras in favor of a device that's already in their pockets. "It's easy to edit content in the free Mikme app, trim it, add branding, and upload it right away on your site or a social media channel like Instagram Stories," he said.
Other organizations, such as medium-sized and large colleges, use Mikme for internal communications, whether the purpose is to educate staff, streamline onboarding, or communicate messages from key leaders. "Many of these groups already have communication and marketing staff with smartphones that can capture quality video," Philipp said. "You just need to add in nice audio."
Helping Creatives Grasp the Power of Audio in Storytelling
Mikme's tagline — Your Story Deserves Good Sound — was inspired by a lack of attention to audio quality when it comes to digital content creation.
Whether you're telling those stories through songs as a musician, through company profiles as a communications professional, or through film, good audio takes the finished product to the next level.
"At the end of the day, you want to tell the story, not deal with technical complexities," Philipp said. "It's very common for companies and artists to want to get the technology out of the way, and that's exactly what Mikme does for audio."