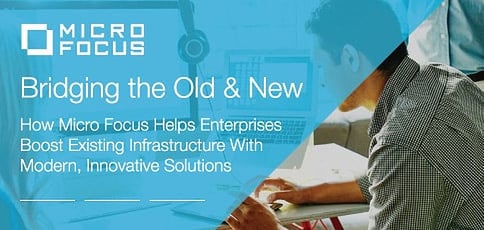 TL; DR: Having been in business for more than four decades, Micro Focus is somewhat of a legend when it comes to helping enterprises solve the big technology challenges they face every day. The company operates with the goal of empowering businesses to extract the maximum value from their existing infrastructure by providing low-cost solutions, such as virtualization and cloud migration, to maximize efficiencies and positively impact bottom lines. By leveraging the significant investments of legacy systems and modernizing them with Micro Focus's products, businesses are able to respond to the evolving demands of customers and partners. And, with a forward-facing approach to product development and a dedication to providing guidance and stability to the organizations it serves, Micro Focus is sure to continue its tradition of producing cutting-edge solutions for at least another 40 years.
Workers across British Columbia, Canada, love WorkSafeBC. In the event of injury or sickness, the organization provides rehabilitation, compensation, and healthcare, among many other benefits, to more than 2 million workers and nearly 220,000 employers. This large client base results in upward of 1 million claims documents each year, which equates to roughly 4,000 documents and 16,000 pages every day.
From an IT perspective, handling the massive amounts of data and delivering mission-critical applications to claims administrators required a large initial infrastructure investment. WorkSafeBC had been running its legacy mainframe environment for nearly 30 years; however, due to growing demands placed on it, the IT management team knew it was time to modernize the company's infrastructure. So WorkSafeBC turned to the industry leader Micro Focus to help.
"Micro Focus technology allowed us to move to a more flexible, lower cost virtual platform environment, supporting our SOI and SaaS business solution direction," said Mike Larson, WorkSafeBC's Director of Technology Services. "We are impressed with the flexibility of our new infrastructure and look forward to further modernizing our applications to better serve our clients."
By leveraging existing infrastructure and deploying Micro Focus's Enterprise Server and Developer, WorkSafeBC saw an instant cost savings of roughly $2 million in operational costs. The solutions also optimized batch performance, reduced the organization's IT footprint, and aligned its infrastructure with its business goals.
For more than 40 years, Micro Focus has been helping large, enterprise-level organizations, like WorkSafeBC, solve these types of large technology challenges. Whether it's through cloud migration and management services, infrastructure application monitoring, or IT and business process automation, among many other solutions, Micro Focus aims to connect today's enterprises with the technology of the future.
"Our #1 goal is to help our customers extract the maximum value from the infrastructure that already exists," said Geoff Webb, Micro Focus's VP of Strategy, "It's all about bridging the old with the new."
Extract Max Value from Investments and Modernize Your Business Core
Geoff told us Micro Focus's long history of providing technology solutions positions the company perfectly to understand the needs of modern businesses. Over Micro Focus's four-decade history, the company has served more than 20,000 enterprise customers worldwide seeking to bring their technologies up to speed.
"We've seen almost everything," Geoff said. "We've seen organizations that have struggled to figure out how to take the core business they're running today and deliver it on new platforms to new customers in new markets."
According to Geoff, the legacy environments many of these businesses have been running for years have been working for them; however, the speed at which technology is moving is requiring them to upgrade these systems.
"You don't want to break what's already working today," Geoff said. "It goes back to the concept of extending what they're already working on, concerning business logic, and bringing the heart and soul of the company into the new world."
To do this, Micro Focus offers a number of products and services, from cloud management and application monitoring to complete cloud and datacenter migrations. The company's Infrastructure-as-a-Service (IaaS) solutions allow businesses to extend their on-premises infrastructure and deploy applications via private, public, and hybrid clouds.
This has a number of advantages, including the automation of server workload provisioning and optimizing workflows. But the benefit most valued by many businesses is pointed visibility into costs associated with IT operations. And, like WorkSafeBC, most enterprises running Micro Focus solutions see an immediate return on investment.
Responding to Expectations in a Constantly Changing Tech Landscape
Mark Levy, Director of Strategy at Micro Focus, noted just how important it can be for businesses to bring their legacy systems into the modern world. According to Mark, some of these legacy applications still house and maintain billions of lines of code. This makes management of these systems extremely extensive and very expensive to keep running.
By moving from high-cost, on-premises machines to cost-efficient virtual machines or cloud environments, like AWS, enterprises can drastically reduce cost.
"One customer had environments that were costing $3 million a year to maintain," Mark said. "By re-hosting and leveraging the cloud, they were able to reduce that to around $112,000. By recapturing that value by leveraging new technology, the impact on their portfolio and bottom line was profound."
Geoff told us it's Micro Focus's job to help businesses achieve the type of cost savings Mark described and how it's imperative to get these businesses there faster, with less risk of failure, and in a way that responds to what their customers want.
According to Geoff, some businesses benefit the most from cost savings and others might find the greatest value in enhanced efficiencies. However, across the board, businesses find the greatest benefit is to be able to effectively answer customer demand.
"The value Micro Focus brings varies, but the underlying theme is always the same," Geoff said, "responding to the expectations of customers in a constantly changing technological landscape."
A Company Philosophy Built on Forward-Thinking Product Development
One of the main drivers of Micro Focus's 40 years of success is its approach to product development. Though the company has a multitude of products in its portfolio, they're not siloed into one-off solutions. A given product's functionality is extendable and can be built into or transformed into another product's.
"We typically don't go in and say to our customers, 'Get rid of this product and replace it with this one,'" Geoff said. "We have multiple products with overlapping functionalities. The reason we do that is we continue to support products when our customers see value in them."
"Taking the most valuable parts of a product and moving them into another allows solutions to be married together over the long term, so customers don't have to choose between product A and product B," Mark said. "This way, Micro Focus doesn't need to 'end-of-life' products that initially are offering similar functionality. Instead, we continue to develop them with compatibility and customer use in mind."
"Our approach is very pragmatic," Mark said. "The key to our success is to allow our customers to leverage technology when it's needed, not because it's a shiny new object. The hard part is getting businesses to transition — move from point A to point B — and evolve to use these platforms. And we help them do the heavy lifting."
Micro Focus's approach to product development zeroes in directly on its core business model of helping businesses extract the maximum value from their investments and extend it forward.
"It breathes through everything we do," Geoff said, "from our product management perspective to our engineering approaches and even our financial strategies as a business."
Dedicated to Providing Guidance, Stability, and Cutting-Edge Solutions
Just as it helped WorkSafeBC extend the value of its legacy system through modern cloud and virtualization solutions, Micro Focus is dedicated to continue to provide businesses the guidance and answers they need to remain stable and competitive in the modern market. Mark and Geoff spend a lot of their time looking at new ways they can help enterprises realize their business goals by aligning them with their approaches to IT.
"Software innovation and business innovation are becoming one and the same," Mark said. "The pressure to use technology more effectively is exposing cultural and technological barriers in large enterprises, and we're seeing devops help break down those obstacles."
According to Mark, what's going to be key for large enterprises is how they can take these devops practices and scale them across their organization. And an upcoming merger with HPE Software is sure to bring a considerable number of new technologies to continue to allow Micro Focus to do just that.
"Whether it's security or on the operational side, the organizations we serve see challenges coming and look to us to provide a means of getting there without having to bet the farm on some single Hail Mary technology pass," Geoff said. "Modernization has to be something they can get to incrementally and build a more predictable future with less risk.