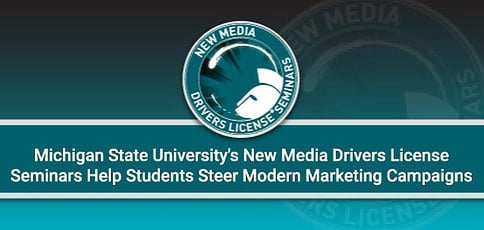 TL; DR: Giving students the keys to careers in online marketing, the New Media Drivers License course at Michigan State University exposes aspiring communicators to tools and tactics for building strong online presences. Instructor Ross Johnson shared how the curriculum and students have evolved alongside the ever-changing landscape and espoused the value of providing students with meaningful career advice and guidance on how to apply their new skills in the real world.
Facing a roomful of early adopters of technology each semester, Ross Johnson is never quite sure what results he'll see when he asks students which social media platforms they use.
When he started teaching the New Media Drivers License course at Michigan State University, many students weren't on social media much at all, aside from Facebook. A few years later, Pinterest and Foursquare were among the most popular — now, they're almost nonexistent in the minds of college students.
"It's almost like you can see the trends a little before they actually happen," Ross said. "We saw the rise of Snapchat way before it became really popular, and even started to see the decline before it became more of a broad thing. A lot of these digital platforms start and end with students."
By using students as a sounding board, however, Ross and course Co-Creator Derek Mehraban can adapt the digital marketing seminars to guarantee students are learning about the most relevant and useful tools before they graduate and take the wheel on real-world online campaigns.
"With things changing so quickly, this is a course where we can update it every single semester to make sure it's as current as possible and really help students learn what they need to become successful," Ross said.
Shifting Course Objectives Adapt to Cover Complete Marketing Tactics
For the first few years of the program, which started in 2008, Ross said instructors focused on teaching students the basics of how to use social media platforms.
"We'd have assignments for them to create a LinkedIn profile," he said. "Now, most students come in and are already very fluent in that sort of digital communication. They're aware of the different platforms, and most already have their profiles set up."
The increased familiarity now allows the course to shift gears and explore online communication and marketing tactics beyond social media, including email marketing and pay-per-click advertising.
"It's more and more important that all of these tactics are woven together and done consistently," Ross said, explaining that students choose a brand to represent throughout the semester and apply each lesson to the company. "They're building a whole strategy around how this brand could hypothetically use digital marketing techniques as the students learn them. As they're learning about email marketing, for instance, they have to think of all the previous lessons and how they all work together."
How Students' Expertise and Aspirations Drive the Learning Experience
Even though most students taking the New Media Drivers License course are advertising, communications, public relations, or marketing students at Michigan State, Ross emphasized that the class, labeled ADV 420, is open to everyone.
"We get a decent number of people every semester who just want to know the information," he said. "They might have graduated decades ago, or we get people from other nearby colleges, and sometimes even people from out of state."
Only the first and last courses are held in person; all other seminars, assignments, and interactions are done online. In addition to aspiring writers, mathematicians, and accountants who have taken the course, Ross said a student flew in from California last year.
"We try to make it as easy as possible to take the class virtually, with as little impact as necessary," he said. "There's a good number of people who are curious about the topic."
Emphasizing Real-World Applications and Career Expectations
When looking back on his time in college, Ross said that, while he wanted more applicable career training, his learning experience focused more heavily on theoretical knowledge and memorization.
"There was value there, but there were maybe only one or two classes that I had throughout my college career that gave me that sort of advice, and those classes were so helpful."
Specifically, he recalled a professor inviting a local entrepreneur to talk about the lessons learned in starting a business and credits that class with giving him the foundations to start his own business. Both Ross and Derek run web design, development, and digital marketing agencies — 3.7 Designs and Ingenex — in Ann Arbor, Michigan.
"We spend a lot of time trying to coach the students on the real-life side of things, like what a career is like and how to find a job," Ross said, estimating that only 10 to 20 percent of students enter the class with a particular career objective in mind.
"We get a lot of students who maybe have some entrepreneurial aspirations and want to take the class as a way to figure out how to better market their idea and help it get off the ground," he said. "Maybe they want to provide digital marketing services and start their own agency. It's always interesting to see what ideas students have and what they're hoping to do, as far as not following the traditional career path."
Punching the Gas: Students Find Success After Getting Their License
Because they're connected with other agencies throughout the area, Ross said he and Derek frequently run into former students with promising careers in digital marketing.
"We always throw out there to students to connect with us on LinkedIn or send a message if there is anything we can do to help," Ross said. "When we see them out in the real world, they've said the course was extremely helpful in getting them to where they are now, and that's so fulfilling to hear."
The connection with other agencies and former students helps the New Media Drivers License instructors stay abreast of new trends in online communication, allowing them to regularly adapt the curriculum.
"It's all based on external factors, things we're seeing in the landscape and approaches other people are finding successful," he said. "As quickly as we can, we'll mirror that in the curriculum. Every week, you're learning something new that people are using right now."