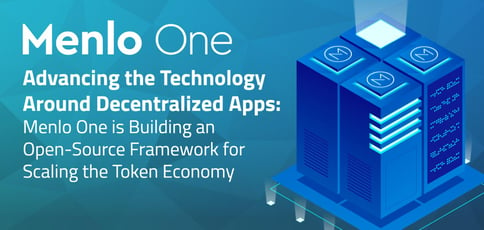 TL; DR: Menlo One is a multilayer framework that's making it easier for developers to build decentralized applications (dApps) as quickly and cost-effectively as their centralized predecessors. The company aims to position the open-source, blockchain-agnostic solution as a tool for expediting Web 3.0 development and spurring the mass adoption of dApps. With a current focus on encouraging enterprises to adopt the technology, Menlo One is furthering its commitment to bring blockchain to the mainstream at scale.
There are many reasons to love open-source software: It flattens learning curves, spurs innovation, and fosters collaborative online communities. But the technology's greatest superpower is its unique ability to break down barriers to entry into new markets and encourage mass adoption of impactful technology.
WordPress did it for websites, expanding access to the web and providing a voice to millions worldwide through the freedom of open-source. Bitcoin did it for money, allowing anyone to send digital cash around the world without relying on centralized banks. Ruby on Rails did the same, empowering everyday people to make their mark on the world of web development through an easy-to-use application framework.
And now, Menlo One is removing barriers to entry in the blockchain development space with an open-source framework for building decentralized applications (dApps) as efficiently and easily as their centralized counterparts.
"We're proud of applying our centralized web experience to accelerate the decentralized web," said Matt Nolan, CEO & Founder of Menlo One. "We're simply following in the footsteps of open-source companies like WordPress and Red Hat which revolutionized the web by solving problems for developers. We enable devs to skip the setup involved in building dApps, and focus on the underlying issues."
While billions have been invested in blockchain networks, Matt said average users find blockchain applications (dApps) too slow, hard to navigate, and expensive. Menlo One seeks to change this with technology that caches data from multiple interoperable blockchains for faster access. This new approach means content can be delivered as quickly as a traditional website with the immutability and security of blockchain technology.
By bringing blockchain to the mainstream, including the enterprise space, Menlo One ultimately aims to help businesses and consumers realize the promise of a decentralized future — one that trumpets increased security, transparency, and user control.
Skip the Setup and Expedite Web 3.0 Development
The internet's evolution is commonly described in three stages of development. Web 1.0 generally refers to the first phase of the web, characterized by static websites and a lack of interactive content. The transition to Web 2.0, a term coined by web designer Darcy DiNucci in 1999, was marked by user-generated content, content storage via databases, interoperability, and social media.
Paradigm shifts in the internet's evolution are bringing us closer to Web 3.0, a phase largely defined by artificial intelligence, 3D graphics, enhanced connectivity, and decentralized networks. While centralized servers defined Web 1.0 and 2.0, the Web 3.0 blockchain stack will likely run on a user-centric decentralized system.
Menlo One's overarching goal is to create a framework for scaling the adoption of dApps by making them intuitive, inexpensive, and fast. The idea is to enable businesses big and small to bypass repetitive processes and focus directly on core problems.
The framework was designed to serve as a catalyst for rapid development within the blockchain space. If all goes well, according to the company's comprehensive white paper, the technology will lead to a more prosperous and equitable world.
"We launched with the mission of building the world's best, most versatile framework and hosting infrastructure for dApps," Matt said. "I'm a software engineer, and I'm used to a certain level of robust tooling that is available for the centralized web. We want developers to have those kinds of tools in the blockchain space."
Helping Spur Mass Adoption of Decentralized Applications
Matt said many still view the promise of decentralization as idealistic — and he gets it. After all, open-source technology was met with the same skepticism in its earliest days. Who would have thought that free, volunteer-run projects, such as Linux and MySQL, could ever compete with trusted products from giants like IBM and Microsoft?
"What we see in blockchain is a reverberation of that — it flies in the face of free-market capitalism to think companies will decentralize if that means giving away their power and revenue streams," Matt said. "But as we saw with Web 1.0 and then Web 2.0, decentralization of the internet will actually lead to more business opportunities and prosperity than before."
Matt said it's not a matter of whether the internet will become decentralized — it's a matter of when. Fortunately, Menlo One has a solid plan for helping developers build dApps that parallel the performance and user experience of traditional ones.
Practical Implications for Blockchain Technology
Menlo One has the potential to play a powerful role in today's business world. According to the company, the technology could be used to develop a new edition of Yelp that empowers users to get paid for writing restaurant reviews or a decentralized Amazon that does not collect fees from sellers.
Other possibilities include a Reddit-like community in which contributors of top posts receive rewards, a monetized version of Quora that rewards expert advice, or a decentralized Airbnb with increased transparency.
"What blockchain really needs right now are practical business cases for using dApps," Matt said. "That said, one of the biggest and most surprising changes in the last year has been a shift in development away from startups to enterprises. For a long time, enterprises shied away from the space, but we've seen a complete 180."
Ultimately, Matt said this trend will help prompt expansion in the blockchain technology space.
"Although I love startups, big enterprises have a lot of users and earn more revenue on average, so I think it's an overall win for the space. That said, I am looking forward to the moment when more startups use the technology to thrive."
The Menlo One team is a collaborative of self-proclaimed nerds (everyone on the team possesses coding skills — even the marketers) with a passion for blockchain.
"We're distributed throughout the globe, but we have a tremendous amount in common," Matt said. "We bond over our obsession with blockchain, not just from a technical perspective, but from a philosophical one as well. We all believe that decentralization of the internet will bring good things to the world."
Up Next: Amped Up Enterprise Support
Moving forward, Menlo One plans to double down on support for enterprise users. The company is currently finalizing a deal with a prominent company that will be deploying the technology internally, so expect a major announcement coming soon.
When it comes to ongoing development, Menlo One will lean heavily on user feedback.
"There have been some features that we thought were going to be hit but weren't, and then some we didn't think very much of turned out to be popular," Matt said. "So we have been listening to customers to ensure the next version solves as many problems as possible."
In terms of the industry at large, Menlo One considers increasing adoption of blockchain technology on the part of large businesses as a boost for blockchain in general. "Ultimately, that's what we're excited about — the growth of the space in general."