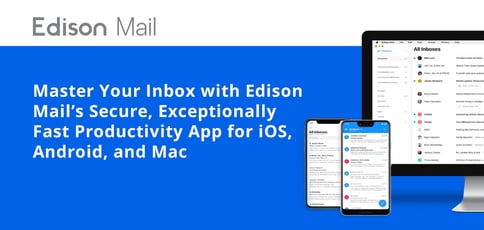 TL; DR: Edison Software, a technology company founded in 2011, is on a mission to create smart products that help customers thrive in the digital age. The team's signature email app, Edison Mail, boasts lightning-fast speeds and a built-in assistant that makes inboxes more user-friendly and efficient. In terms of future development, Edison is aiming high with the beta version of OnMail, an entirely new email service that grants unprecedented user control.
Email has changed dramatically since the early days when we'd launch AOL hoping to hear what is now an iconic phrase: You've got mail.
Beyond the messages exchanged between colleagues and university students, much of the email communication back then was personal. Heartfelt letters from friends and family were common, as were cheery digital cards and chain mail questionnaires requesting that the recipient answer pressing questions such as, "What was the last thing you ate?" and "Who is the most likely to respond to this email?"
Today, we're still very much attached to our inboxes, though not for the same reasons. According to Jeff Pearsall, VP of Design at Edison Software, email has scaled well beyond the use cases for which it was initially designed.
"Rarely does that type of personal communication happen in email anymore," Jeff told us. "Our inboxes now serve as a repository for receipts, promotional offers, travel vouchers, and coupons. Instead of receiving one or two emails per day, we're now used to receiving 100."
We're also accustomed to checking our email far more frequently. While once a day was fine in the early days, the average person now checks his or her email approximately 15 times a day. As many of us know from personal experience, that figure can grow exponentially depending on the situation.
To keep consumers from drowning in a sea of marketing emails and spam, Edison Software launched Edison Mail, a productivity app designed to optimize the user experience through lightning-fast speed and a built-in personal assistant.
The free service allows users to manage all of their inboxes in one place, quickly unsubscribe from junk emails, block read receipts, and leverage artificial intelligence (AI) to automatically categorize messages for search efficiency.
But that's not all: Edison Software is also hard at work on the beta version of OnMail, an entirely new email service that grants unprecedented user control.
Edison Software: Building Intelligent Apps Since 2011
Edison Software was founded in 2011 by Mikael Berner, former CEO of BeVocal, and Hetal Pandya, former Director at Nuance. From the beginning, the company aimed to make the work and personal lives of customers easier through the use of innovative technologies, such as AI.
The company's first app, Edison Assistant, was a task management solution designed to serve as a personal assistant on a users' smartphone. It could automatically track packages, manage emails, and help with travel itineraries, among other services.
"The original vision was to use technology in an assisted format to help people in their daily lives," Jeff said. "We began our journey focused on a broad set of needs that we eventually narrowed down to what we felt was the biggest problem we could innovate on. That's how we ended up focusing primarily on email."
Edison Mail launched in April 2016, and since then, the company has focused on helping users manage the intricacies of multiple email services, including everything from Gmail, Yahoo! Mail, and Outlook to — as Jeff put it — an internet message access protocol (IMAP) server hosted in someone's basement.
"Our goal is to make all of those things work together seamlessly, which is quite a challenge," Jeff told us. "A lot of what we do is work under the hood to optimize our requests to IMAP servers, making sure that we're as fast as Yahoo! Mail and Gmail. It's difficult to achieve, but that's what we pride ourselves on — it's one of our biggest value propositions."
The company believes that when a user opens Edison Mail, they should experience the same or better quality as they would with any product in the Google ecosystem.
Optimizing the User Experience Through the Power of Data and AI
Jeff said he's proud of the fact that Edison Mail takes customers beyond the typical user experience by providing what he calls next-leg services.
"Our app's assistant automatically categorizes messages, such as flight reservations, to make it easier for users to find them, but we don't stop there," he said. "We'll offer directions to the airport in Apple Maps or Google Maps. We're going to tell you what the weather will be like when you arrive at your destination. We'll give you the top 10 restaurant recommendations for your destination."
Any travel — especially that which is related to business — can induce stress. With Edison Mail, users don't always have to plan every step of their journeys. Instead, they can make positive use of the actionable intelligence offered by their virtual assistant.
"That's the future of email — using AI to make suggestions on things people can do based on something as simple as a receipt for a reservation that you have for a trip to New Orleans," Jeff said.
The Edison Mail assistant optimizes the user experience in other ways, as well. The app's AI capabilities shine when it comes to package tracking, which has become an incredibly useful tool as many people work from home and order essentials online.
"Think of everything that's involved when someone uses their email to track a package," Jeff said. "You have to open your email, search for the sender, scroll down to find a tracking link, click on it, and go to another site. We do all that for you: Every hour, we take that link and check the status and bring it right into the app."
Any data Edison Mail collects is used for three purposes: to provide the best service possible, conduct research for the development of new features, and create aggregated, anonymized e-commerce trends that monetize the app so users don't have to pay a cent. Users have the option to opt-out of trend reports at any time.
Manage Unlimited Accounts, Block Spam, and Customize Controls
It feels good to visit a new ecommerce site and get an offer for 15% off your order upon subscribing to the company's email list. Your plan might be to sign up, snatch that discount code, and unsubscribe from the email list later.
Unfortunately, you probably won't unsubscribe until you're up to your neck in promotional emails — and things might get so bad that it's hard to notice urgent messages. Then you're faced with the challenge of cleaning up the mess you've made, which takes hours, or even days.
Edison Mail makes that task far less daunting with a feature that allows users to unsubscribe from the junk clogging up their mailboxes in just one tap. Users can manage all subscriptions throughout multiple email services (Gmail, Yahoo! Mail, and Outlook, among others) in one central location.
Of course, this is just one of the app's many features. Edison Mail also allows users to navigate their inboxes through custom swipe settings, choose between different display themes, snooze messages as they pop up, and undo sent emails.
Features like these are often the product of customer requests. Edison Software's support team is intermingled with its design department, allowing designers to keep a close eye on customer feedback and make changes as needed.
"This allows us to solve problems that users aren't even really able to articulate — but they still give us insight into issues that we can solve," Jeff said. "I think combining our support and design teams has been beneficial in that regard."
Reimaging Email From the Ground Up with OnMail
Edison has been hard at work during the past four years on a proprietary email service.
"Looking at email problems from the outside in has allowed us to do a lot with Edison Mail, but it has also highlighted certain things that we can't fix due to rules that Gmail or Yahoo!, for example, have in place," Jeff said. "We decided to take a step back and consider email as a whole in terms of the problems that exist and how we can fix them from the inside. That led us to create OnMail, a first-party email service."
Edison Software has already designed an early prototype of the service, which will combine the well-known and loved features of Edison Mail with a revolutionary, social media-like approach to email.
"We are working on a permission-based inbox concept where the user approves everything that comes in — imagine a crossover between what you see on Gmail and what you've grown to love about things LinkedIn, Instagram, and Facebook," Jeff said.
OnMail will pave the way for a cleaner, more valuable email experience — think 10 highly relevant emails per screen rather than 80 of the typical, spammy variety.
"We think it will fuel the next generation of email communication," Jeff said.