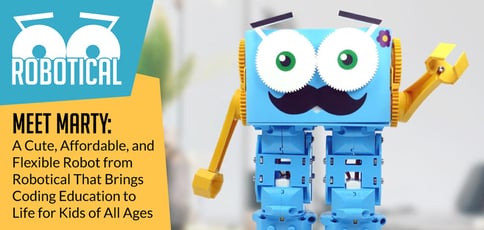 TL; DR: Robotical is putting STEM education within reach for kids of all ages with Marty, a low-cost, fully programmable robot. The robotics startup, based in Scotland, strives to make learning about electronics, code, and engineering a challenging yet engaging exercise. With the release of the Kickstarter-backed Marty Version 2 later this year, Robotical will allow students and educators to leverage new features — including sound and voice, Bluetooth compatibility, and smart motors — in their learning experiences.
Technological innovations are progressing at an unprecedented speed, making our lives at home, school, and work more efficient than ever before. The problem is, these advancements often outpace our ability to educate skilled technology professionals.
Case in point: In 2019, there were more than 700,000 unfilled tech jobs in the United States alone.
To narrow this talent gap and lay the foundation for future innovation, some forward-thinking schools are finding ways to support STEM education at an early age. The key is to make learning fun for young students — and some schools have found there's no better way to do so than with Marty, an affordable yet fully programmable robot from Robotical who is packed with personality.
From moving eyebrows that convey expression to a unique, rhythmic approach to walking, Marty's wide-ranging features put an entertaining twist on IT education.
"We want to help educators break out of traditional learning models and get more students involved," said Alexander Enoch, Founder of Robotical. "With tools like Marty, we can broaden the appeal by making learning more exciting. We hope people will realize that there is creativity and fun in engineering — it's a topic anyone can study."
Marty makes learning robotics, programming, electronics, and mechanics a tangible experience, boosting engagement for learners who may not have taken an interest in code without a hands-on element. He's also affordable, helping students and educators overcome financial barriers to tech education.
This year, the popular robot received an exciting makeover via a Kickstarter-backed Marty V2 project that introduced new features, such as sound and voice, Bluetooth compatibility, smart motors, and even fresh dance moves. These perks not only make Marty more entertaining (he's become a pro at disco!) but also stronger and easier to use, opening doors for the engineers and scientists of our future.
Introducing STEM Skills in a Fun and Tangible Way
Alexander came up with the idea to build Marty after attempting to purchase a robot for his niece that would spark an interest in coding and engineering.
"I wanted a proper robot that would be fun to use," he said. "But the smart toys and robots at the time were either pure novelty, super expensive, difficult to use, or really boring."
In 2016, using his background in legged robotics, Alexander set out to create a budget-friendly walking robot that was both compelling and accessible. The result was Marty, a wifi-enabled character who can be customized using accessories as simple as stickers and as advanced as 3D-printed parts and Raspberry Pi add-ons.
Marty is a suitable tool for anyone who wants to learn how to code, including teachers, educators, makers, and children, and he can be used at home or in classrooms. The Marty Education Pack, for example, comes with 10 robots, lesson plans for students ages 7 through 14, teacher training materials, spare parts, and a 10-port charger.
These tools help students get acquainted with block-based languages like Scratch before graduating to Python, Javascript, or C++. Rushil Shah, COO at GoCode Academy, vouched for Robotical after implementing the technology at his computer training school in England.
"The younger kids love Marty's human features and are able to use Scratch to get up and running with him quickly," he said in a testimonial on the Robotical site. "The older kids are able to explore coding in more detail by moving to Python and understanding the physical connections between hardware and software."
Flexibility is Key: A Range of Assembly and Coding Options
Alexander said Marty is designed for a wide range of user needs. To that end, the robot is available both disassembled in a building kit for students 14 and up or pre-built, allowing younger students to jump straight into coding adventures.
"When kids are just getting started with Marty, they can teach him to do things like simple dance routines that grab their attention instantly," he said. "We see kids trying to recreate their favorite Fortnite dances — it's really cool."
Marty's built-in sensors and individually controllable motors also allow him to take on tasks like completing obstacle courses in the Marty Olympics or even venture into new territories.
"We've had people do some interesting things, like hooking Marty up to Google's AI technology and turning him into an assistant," Alexander said. "That's the really fun bit — seeing people make Marty do things that we haven't tried."
Alexander told us that engagement is an absolute must when teaching computational thinking and problem-solving skills to children of all ages. "The fact that Marty is a walking robot, he's got a personality, and he looks cute is really important — because that's what holds children's attention," he said.
Robotical also designed Marty for use in a variety of lessons for various age groups. Drag-and-drop programming makes coding accessible for early learners, while advanced add-ons require a whole new level of technical proficiency.
"We provide a path for progression from an early access point to real-world coding activities," Alexander said.
Boosting Engagement Through Feedback Loops
Since Marty's original release in 2016, Robotical has been working on continuous improvements partly inspired by input from enthusiastic users across the globe.
"Loads of people around the world use Marty, and that has been a great opportunity to collect feedback," Alexander said. "Everything from simple ease-of-use changes that make the experience much smoother to adding entire features comes from speaking with our users."
Robotical frequently issues customer surveys and conducts interviews to test ideas. Alexander said the company often leverages 3D printing to create mockups that are then presented to focus groups.
"We test ideas, get feedback, complete a few rounds of iterations — it's a rapid prototyping process with a constant feedback loop," he said. "We're moving fairly quickly and trying to achieve the best product through this exciting approach to physical product development that wasn't possible a short time ago."
It's a strategy that keeps Robotical ahead of the game in a rapidly evolving industry. In the four years since Marty hit the market, Alexander said he's observed a shift toward companies using tools to make computing more tangible.
"More and more countries around the world are incorporating coding or computational thinking into their school curriculums to address the skills gap, which has already had a big impact on the economy," he said. "Schools are realizing we need more tools to keep kids interested in these topics."
Throughout 2020, Robotical plans to increase its efforts in the U.S., helping educators adopt the technology at a district level.
Unveiling Marty Version 2 and Introducing New Classroom Tools
Robotical will mark its next major milestone with the early 2020 release of Marty Version 2, which will introduce features such as sound, Bluetooth, and position and force-sensing smart motors. Mary Version 2 expansions will even allow the robots to grab hands and transform into color-changing disco dancers.
The upgrade also includes tools designed to give teachers more control, including an educator dashboard that empowers them to do things like pause all of the robots, track student progress through status tables, and leverage additional learning materials.
In addition to Marty Version 2, Robotical is hard at work on a new learning platform designed to make Marty more user-friendly.
"We want to make teachers' lives easier when they're deploying this tech in their classrooms so they can create the best possible learning experiences," Alexander said.