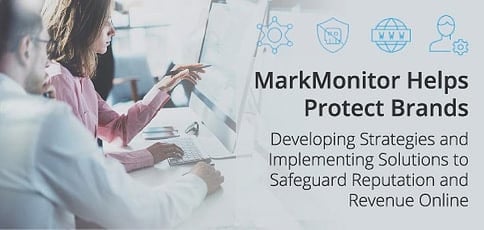 TL; DR: The rise of the internet has allowed modern businesses better access to consumers than ever before — but it has also spawned the growing problem of brand piracy and intellectual property infringement. For nearly 20 years, MarkMonitor has been guarding the revenue and reputations of more than half of the Fortune 100 and thousands of organizations worldwide. The company offers a complete brand-protection toolset, including anti-counterfeiting, anti-piracy, and anti-fraud technologies that shield businesses from the increasing prevalence of online brand abuse. With MarkMonitor's real-time, omnichannel countermeasures and automatic enforcement capabilities, enterprises can ensure their images remain intact online and that they stay ahead of the evolving risks of doing business in the digital age.
Businesses have found the web to be a valuable tool to reach wide audiences of consumers and open new revenue streams. But the rise of the enormous online marketplace has also left modern organizations exposed to intellectual property theft and brand piracy. In fact, the global trade of fake goods has been estimated to draw in approximately half a trillion dollars annually.
As a global leader in manufacturing high-quality printers and printing products, Epson was well aware of the dangers it faced from counterfeiters online, but the company was having difficulty stopping them using the solutions it had in place.
To solve this problem, Epson swapped its manual processes and outdated brand-protection tools for the superior, more comprehensive platform and customer service offered by MarkMonitor and saw immediate returns on investment.
"MarkMonitor gives Epson unprecedented visibility into the company's online activities and ensures our domains and instances of online infringement are constantly being addressed," said Ian Cameron, Epson's Global Web Manager. "MarkMonitor is a cost-effective solution that optimizes our business operations and allows us to reap the greatest possible benefit from our online properties."
Through MarkMonitor's platform, Epson was able to reduce domain management costs, quickly resolve issues affecting its brand, and save time and money with global enforcement coordination. For almost two decades, thousands of organizations, like Epson, have been turning to MarkMonitor's anti-counterfeiting, anti-piracy, and anti-fraud technologies to help guard their reputations and revenue from threats online.
"Essentially, we look for infringements where people are attempting to make money and defraud consumers," said Charlie Abrahams, MarkMonitor's Senior Vice President. "Our clients represent large, very well-known brands, and we're here to protect them."
The Rise of Online Markets Broadened Brand Piracy Across Industries
Brand piracy extends to nearly every market, from clothing to technology, with software piracy among the most frequent means of copyright violations. Charlie told us the enormity of the web makes it easier for counterfeiters and pirates to hide, and modern businesses must keep pace.
"Infringing merchandise may pretend to be well-known luxury clothing brands, electrical goods, and automotive parts, or they could be stealing traffic designed for hotels and travel agencies using their logos," Charlie said. "With rapidly evolving consumer economies, roughly 40% of online markets are now in Asia."
Mainly due to lax copyright laws in countries like China and Singapore, infringing products are extremely rampant in both physical and online markets in Asia. Counterfeiters are also astoundingly common on eCommerce platforms such as eBay and Amazon.
Unsuspecting shoppers from across the globe are routinely scammed by products posing as legitimate. Popular brands, like Tiffany and Co., have lost time and money arguing with eBay over copyright infringement due to the massive counterfeit fashion and luxury goods market.
According to MarkMonitor's Global Consumer Shopping Habits Survey, 24% of consumers have been duped into buying counterfeit merchandise online. And more than 70% of the survey's respondents said they are against purchasing fake goods because they are brand loyal and believe it is morally wrong. That's why it's so important for brands to turn to a company, like MarkMonitor, to ensure consumers looking for their products are actually getting the real thing.
Defending Against Infringements to Intellectual Property on the Web
Charlie told us piracy is becoming increasingly common on the web, and noted schemes are making their way onto more and more consumer computers.
"Recently, there was a website purporting to be owned by a large, well-known web company, and it was seeking to steal passwords," Charlie said. "These are the sort of things we look for on behalf of our clients."
To combat these and other prevalent infringements, MarkMonitor implements a variety of solutions, including anti-counterfeiting, anti-piracy, and anti-phishing tools. These technologies, paired with MarkMonitor's deep expertise, are helping enterprises around the world protect their assets and identities.
Omnichannel Anti-Counterfeiting Solutions to Keep Customer Loyalty Intact
MarkMonitor's anti-counterfeiting and Intellectual Property solutions help maintain brand integrity across multiple channels. Anti-counterfeiting measures use machine learning to sift through millions of product listings at a time.
"We're basically crawling the internet, looking for unauthorized use of trademarks," Charlie said.
Data is harvested from clustered images and geo-specific search results to identify abuse in local and global markets. MarkMonitor can also identify the most commonly counterfeited goods and analyze the most popular keywords in use to drive traffic to them. Automated enforcement also helps thwart paid search scams and cybersquatting.
Safeguarding Digital Media from Unauthorized Distribution Online
Pirated material, such as movies, television shows, web series, and sporting events, are commonly found available for download and streaming on file sharing sites. MarkMonitor AntiPiracy provides insights into piracy trends with multi-channel detection that scans P2P networks, streaming sites, and forums.
"The preponderance of broadband means that people stream content much more actively," Charlie said.
Live streaming of protected content has become more common, as the equipment used to do it is easy to obtain and illegal streams often look very similar to legitimate ones. NetResult Live Streaming uses proprietary algorithms to detect pirated live streams and shut them down in real time. MarkMonitor also features quick and effective remediation options such as DMCA takedowns, cease-and-desist letters, and search engine de-listings.
Real-Time Dark Web and Phishing Monitoring Shield Your Customers from Fraud
As social media sites mainly consist of individual user profiles and private pages, most pirated content on these sites is hidden from normal means of search.
"We see social media as places where people can now go view and upload content very easily," Charlie said. "This presents a challenge, as it's quite difficult to crawl social media."
Luckily, MarkMonitor's Dark Web and Cyber Intelligence solution monitors social networks and chat sites using search bots that imitate human behavior to infiltrate dark web spaces. Known crime sites receive special targeting based on search keywords in more than 150 languages.
In addition to general piracy, other forms of crime such as phishing and malware threaten brand integrity. Malware creators attempt to fool unsuspecting users with software purported to be legitimate. Similarly, phishers pose as company representatives in emails, paid search ads, and social media messages. Because they seem legitimate, phishers not only steal revenue but erode brand trust, jeopardizing a hard-won customer base. MarkMonitor's Early Warning System (EWS) uses unique analysis methods based on more than 50 antivirus vendors' libraries to detect and mitigate phishing and malware campaigns before they reach consumers.
Staying Ahead of the Growing Risks of Doing Business in the Digital Age
Originally founded by intellectual property lawyers nearly 20 years ago to address the growing need for brand protection, MarkMonitor now protects more than half of the Fortune 100 and shows no signs of slowing. In addition to helping companies, like Epson, address counterfeiting, MarkMonitor has its eyes set on solving piracy problems in the broadcasting space.
"Overall, it's important to understand that, while the internet is a great place to do business, it is also a place where you're at risk," Charlie said. "We're seeing an increasing issue with pirated broadcasting, and we're working on ways to try to defuse that."
But, according to Charlie, MarkMonitor's true goal for the future is to continue to spread the message to enterprises about the growing risks of doing business in the digital age.
"It's more important than ever to be vigilant about how your brand is being represented online," he said. "We have to be as far out ahead of the emerging threats of brand piracy as we can to protect our partners' rights online."