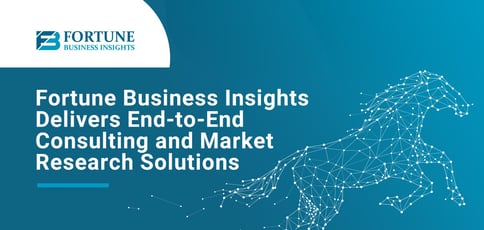 TL; DR: Fortune Business Insights provides comprehensive consulting and market research solutions across a range of industries, including information technology. The research firm strives to help leaders leverage information to grow their businesses. Whether you're looking for competitive intelligence for the hosting industry or customized overviews of the cybersecurity space, Fortune Business Insights likely has a solution for you.
If there's one word we've heard repeatedly over the past year — in headlines, political speeches, and the mouths of our friends and families — it's "uncertainty." The term has been used endlessly to describe our financial status, social lives, and economy. Hearing the word reminds us that we have no clear outlook on the future — and that leaves many in a state of panic.
Fortunately, there is an antidote to uncertainty: research. Through the systematic collection and analysis of data, we can increase our understanding of nearly any topic.
In the corporate world, that's just the service Fortune Business Insights provides.
"Many companies are struggling to understand how COVID will impact them in the future," said Vaibhav Govindjiwala, Manager of the Information and Communication Technology domain at Fortune Business Insights. "It's a gray area, but we are helping customers develop a solid strategy around these gloomy times."
Fortune Business Insights helps companies make strategic decisions via in-depth market analyses in the form of refined forecasts, perspectives on the competitive landscape, market trends, and factors affecting growth.
The research spans a range of industries, including healthcare, energy and power, and information technology. In the IT space, topics cover everything from factory automation to hosting. Fortune Business Insights also provides an entire category devoted to COVID analysis.
Ultimately, the company's goal is to take market research to the next level with consulting services, competitive intelligence, and independent studies, among other offerings. This end-to-end approach helps Fortune Business Insights deliver recommendations to customers that support growth and success.
Market Research Solutions Born from an Internal Need
Fortune Business Insights was launched in 2019.
"Many of our clients would come to us with customized research requirements," Vaibhav said. "They wanted to understand the potential market size for their tailor-made products, the market share of key players, and trends and opportunities."
The company initially outsourced such tasks to third-party research companies but soon realized customers were less than satisfied with the results. In response, it established Fortune Business Insights as an in-house research team focused on providing clients with greater accuracy and confidence in the product.
"I oversee the information and communication technology domain for Fortune Business Insights," Vaibhav said. "Clients come to us with a custom set of market research requirements, and in return, we prepare a study proposal with a table of contents and sample pages. This way, customers are confident as to what kind of data they will be receiving."
Vaibhav told us the market research space has become increasingly competitive in recent years, particularly in the Asia-Pacific region. Fortune Business Insights is based in Maharashtra, India.
"Over the past few years, we have seen a large number of market research companies emerge in the region, with countries like China and India dominating these areas," Vaibhav said. "That's why we focus not just on sharing reports with clients, but building long-term relationships with them."
Rather than just selling a report, Fortune Business Insights presents reports to clients over the phone, asks for feedback and questions, and works to resolve any issues.
"We are in the service industry, and in the service industry, it is imperative that we have satisfied customers at the end of the day," Vaibhav said. "That is what we are currently focused on and will continue to look forward to in coming years."
Helping Senior Leaders Meet Mission-Critical Goals
As head of the Information and Communication Technology domain at Fortune Business Insights, Vaibhav and his colleagues have witnessed multiple industry shifts over the past year.
For example, the pandemic has accelerated trends in remote workforces and the adoption of cloud-hosted technology. Vaibhav predicts these emerging technologies will bring additional revenue to the IT industry in the coming years.
"We have observed the cloud gaining momentum over a period of time, specifically with the as-a-service model," he said. "The Video Conferencing as a Service (VCaaS) and Unified Communications-as-a-Service (UCaaS) markets are certainly enjoying growth opportunities. We are even in touch with a few clients that are trying to augment virtual reality into video conferencing."
With the pandemic still affecting the economy, Vaibhav said his goal is to highlight recent investments, new technologies, and popular business strategies in the tech world.
"We are currently conducting interview sessions with key stakeholders to understand how they believe the market will proceed," he said. "We also try to understand market opportunities with the help of industry associations. Many association members are industry veterans who have seen many ups and downs during their long careers, and they have provided us with insights on various topics."
Vaibhav told us that the pandemic has had a significant impact on the IT industry's supply chain in terms of hardware, especially when it comes to the persistent shortage of semiconductor chips.
Trends in cloud hosting and remote workforces will make things easier on the software side. "From the software point of view, I believe that our clients will be able to flourish by catering to as-a-service and cloud business models," he said.
A Quarter by Quarter Approach to Ground-Zero Data
As a newer company operating under unusual pandemic-era circumstances, Fortune Business Insights is very much focused on the here and now.
"We are mostly researching COVID scenarios in different countries," Vaibhav said. "In India, for example, there was a period of six to eight months after the first wave of COVID where the economy seemed to be getting back on track. But now, we are facing a second wave that is growing at a much faster pace. So we're taking things quarter by quarter."
The company is concentrated on what it calls ground zero data, which it gathers through interviews and other research methods. Fortune Business Insights then performs quantitative analyses to derive actionable insights from the data.
"With the COVID situation, we can't rely on past data because mankind has not faced this kind of situation in the recent past," Vaibhav said. "Instead, the idea is to provide value through quality data that is not easily accessible in the public domain. Then, we help clients use that information to their financial advantage."
During these strange times, his advice to clients is to know that simply maintaining your prepandemic levels of success is a real accomplishment.
"If you're not gaining momentum or achieving higher sales, keeping yourself in a sustainable position is more than adequate," Vaibhav said. "I believe that those businesses that sustain themselves through these times have a very bright future ahead."