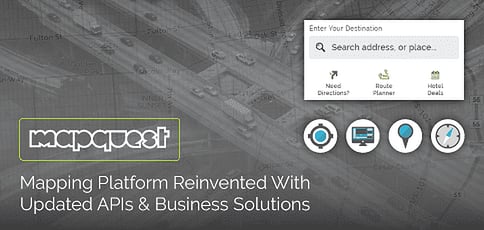 TL; DR: One of the most popular and accurate mapping services in the world, MapQuest continues to reinvent the platform worthy of that recognition. More than 38 million monthly users employ the tool's precisely pinpointed data to find actual store entrances; meanwhile, businesses are using the service to enhance visibility with geospatial marketing tools. Fleet drivers using MapQuest spend less time stuck in traffic thanks to a directions API that helps them circumnavigate congested areas, speeding delivery times and keeping customers happy. Through constant innovation and the backing of parent company Verizon Communications, MapQuest's value continues to grow for businesses and individuals.
Few technology companies that have been around as long as MapQuest remain relevant and innovative today.
Founded in 1967 as Cartographic Services, the first MapQuest website with turn-by-turn navigation was introduced in 1996, before the proliferation of smartphones. At the time, the majority of users of the pioneering website would print out directions and take them on the road with them.
By 2005, as newer and faster products overtook what had been MapQuest's breakthrough technology, the company appeared to have reached a dead end. But, to borrow a popular quote, "Reports of its demise have been greatly exaggerated."
MapQuest has reinvented the platform in recent years. Through the addition of industry-leading points of interest (POIs) and targeted advertising offers to fulfill business needs, the company now appears poised to give lesser mobile applications a run for their money — straight to business front doors.
While typical navigation apps remain current through constant updates, much of their detailed navigation data possesses a significant flaw — they direct users to the GPS location of an address, not to the business entrance of that address. This is where MapQuest plans to stand out, working to lead users directly to the front door even when an office or storefront is located among a throng of other businesses.
The benefits of knowing specific entry points are clear for users, but MapQuest also focuses on providing businesses with increased visibility — bringing in new customers and employing tools that help drivers avoid getting stuck in traffic en route to making deliveries.
More Precise POI Data Through the Acquisition of SocialRadar
A POI denotes a specific place on a map or in location software to which travelers may be drawn. It can be as unique as a national park or monument or as common as a gas station, coffee chain, or popular burger joint.
Quality maps include many POIs from a variety of categories to help travelers find their way to places they may not know they want to visit. Specific POIs, or waypoints, may be chosen by users navigating unfamiliar territory. Accurate POI data is essential so users don't get lost.
By using a variety of algorithms and techniques, such as studying street-view data and consulting business owners face to face, SocialRadar has worked to pinpoint exact locations of buildings and areas, according to a TechCrunch article. Recently acquired by Verizon and folded into MapQuest's technology, SocialRadar was built by a small group of developers who sought to make navigation software as accurate as possible.
Not only are the general locations accurate, but SocialRadar boasts knowledge of specific entry points — visitors can be directed to the front door rather than to whichever side of the building is street-adjacent. When multiple businesses share a single building unit, SocialRadar specifies the exact unit or suite. With such attention to detail, MapQuest boasts the utmost accuracy, without leaving users lost in a huge building complex.
MapQuest's Geospatial Tools Help Businesses Improve Visibility
Map overviews, when zoomed out too far, tend to display only major POIs. Many street maps, paper or digital, may not always show the most detailed view of streets and the businesses located on them. Usually, only major restaurants or parks are shown, unless the user deliberately sets a business waypoint.
MapQuest allows business owners to increase their visibility — even when a map is zoomed out. The company's website has an entire subdomain for businesses. Getting a business on the map is as simple as submitting a business listing through MapQuest's help section.
Basic listings include a business name, address, coordinates, phone number, and website URL. Premium Yext subscribers have the ability to update their listings at any time, as well as add calendars, hours of operation, photos, and lists of services for discovery by MapQuest users.
1. More Useful Websites and Applications Through Flexible APIs & SDKs
Some of MapQuest's featured APIs include a directions API to ensure accurate and efficient routes for drivers, and a static map API that allows applications to show many of the nearest restaurants, gas stations, and offices. Developers can use SDKs to integrate MapQuest's data into their websites or mobile apps for Android or iOS.
Other software development kits include Leaflet plugins such as the Geocoding, Traffic, and Routing plugins. Geocoding is the process by which basic addresses and location descriptions get converted into coordinates. The Geocoding plugin sends API requests for coordinates and displays the results on a map.
The Traffic plugin uses the MapQuest Traffic API service to display traffic volume and incident information. These layers can be toggled individually or displayed all at once. The Routing plugin contacts the Directions API to display either basic or advanced routing information. Advanced information may include a route generated with multiple locations, a route that avoids closed or toll roads, or a path that's been reordered for optimal travel time or distance.
2. Smarter Deliveries Through Route Optimization Cuts Operational Costs
Operational costs increase when deliveries are delayed due to drivers relying on inaccurate directions. Good mapping software that suggests the shortest routes in driving time as well as in distance prevents delays and ensures maximum efficiency.
Instead of offering only the default shortest route, the Traffic plugin allows drivers to navigate through the least congested areas and avoid any construction or traffic incidents, thus ensuring the fastest possible arrival.
Avoiding toll roads and non-truck routes is important for deliveries, so those, too, are options. The Routing plugin allows for smarter deliveries by finding the shortest path from one point to another as well as the shortest path that includes all necessary stops.
Delivery drivers don't want to spend all night on the road, and businesses don't want to unnecessarily consume fuel and run up other travel-related expenses.
3. Advertising Advantages Through an Audience of 38 Million Monthly Visitors
Still one of the most popular platforms for digital navigation, MapQuest boasts an impressive 38 million visitors a month. These users specifically seek out MapQuest due to the platform's accuracy and the company's attention to detail.
With that many eyes on MapQuest maps, advertising opportunities abound, and the company offers advertising deals that fit the needs of most business owners. Some of the perks offered in an advertising partnership include in-display ads, branded pins, and sponsored routes.
These features help a business move beyond just being a dot on a map, or worse, being completely invisible. Customized pins are conspicuous among the standard pin designs and immediately draw user attention. Display ads have the potential to reach millions of people every month, generating massive amounts of new traffic to business sites and increasing brand awareness in the process.
MapQuest is Poised for Growth — Getting You Wherever You Want To Go
At the end of the day, 38 million visitors a month shows MapQuest's standing is not only alive but thriving. MapQuest's benefits — including a high level of accuracy and readability — have maintained the company's relevance in the industry. The platform has been reinvented and continues to be one of the most popular mapping services, and MapQuest will continue to innovate and develop for faster, more accurate, more detailed location data delivered by performant software.
With the inclusion of SocialRadar technology, MapQuest directs users not just to the right block on the right street, or the correct building. It's more detailed than that. When the address supplied includes multiple businesses, as does a typical office building, MapQuest directs users to their desired business, including the floor and suite numbers, and not just to the general vicinity as do most digital navigation systems. In short, wherever you want to go, MapQuest is determined to help you get there.