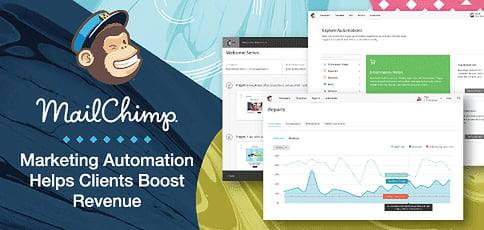 TL; DR: Automation is a popular buzzword in marketing circles today. It enables entrepreneurs to avoid routine tasks and focus on the missions of their businesses. Since 2001, MailChimp has been helping companies automate workflows to build brand awareness, increase sales, and generate more customer engagement. The company has a long history of providing effective marketing solutions for small- and medium-sized businesses, and MailChimp's 2016 annual report is a testament to the fact they don't plan on slowing the pace. Last year, MailChimp sent more than 246 billion emails that produced considerable ROI for their clients. With features going beyond standard email automation, including product recommendations, cart abandonment solutions, and new integrations with CRMs, MailChimp continues their tradition of leadership in the online marketing space.
When it comes to digital marketing, many strategists say their best solutions are automated. The reason: it's effective. According to the Annuitas Group, businesses that automate marketing processes see a whopping 451% increase in qualified leads. That research is supported by The Lenskold Group's findings: 78% of marketers claim automation is the driving engine behind revenue boosts.
Because of the significant returns on investment marketing automation provides, it's no wonder small- and medium-sized businesses are lining up in droves to find the right digital marketing solutions for them. For almost two decades, MailChimp has been answering this call and innovating the way businesses are able to engage with and cultivate client bases.
MailChimp's 2016 annual report shows the company has no plans of relinquishing their position at the forefront of the online marketing space. In 2016, the company helped their clients send billions of automated marketing messages to targeted audiences.
MailChimp is not just providing email marketing for their clients, however. They're also offering SMBs cutting-edge, enterprise-grade solutions, such as automated workflows, product recommendations, and customer tracking, that work in harmony toward the goal of growing businesses and bottom lines. With new integrations with CRMs and social media on the horizon, MailChimp looks to continue their success as a leader in digital marketing.
246B+ Client Emails Sent & 3K+ Pounds of Coffee Brewed in 2016
246,148,661,219. That's the number of emails sent by MailChimp customers in 2016. The number is huge. With an open rate of nearly 30% ( that's > 66 billion), it's no wonder businesses employing MailChimp's solutions are seeing increases in conversion rates.
The calls-to-action (CTAs) within these automated emails proved effective, as nearly 5 billion were clicked. Successful CTAs mean revenue for businesses, and MailChimp's email marketing campaigns did not disappoint.
Other impressive stats from MailChimp's big year are:
1,384,130,222 emails sent on Cyber Monday
1,449,075,920 emails sent on Black Friday
724,536 multivariate and A/B testing campaigns conducted
85,813 eCommerce stores connected to MailChimp accounts
10,553 comparative reports generated by Pro users
451 new servers deployed
Those stats can be gleaned from MailChimp's annual report, which goes beyond the normal figures cited above to add some personality to the company. For example, the report states 3,640 pounds of coffee (and espresso) were brewed in the office.
Also, 950 water balloons were thrown during the annual intern water balloon fight. It can only be assumed that all of those balloons exploded on impact.
The report is quirky, just like MailChimp, and shows fruit art depicting the company's logo made from 386 blueberries. It's the little things like this that put a human (or chimpanzee) face on the company.
Enterprise-Grade Marketing Automation Produces Big Returns for SMBs
MailChimp is about much more than the number of blueberries in a piece of art or the amount of coffee consumed by staff. It's about automation that streamlines business workflows to maximize bottom line growth.
There are countless use cases where email automation can help SMBs attract new business, increase sales, and build brand-name awareness. MailChimp users find the company delivers exactly the solution that's needed. Going beyond standard email marketing, MailChimp provides numerous innovative tools for their customers.
Automated Workflows & Store Connections Strengthen Any Business Model
Marketers who are interested in sending targeted emails to specific customers based on a date, activity, or event can do so with MailChimp. One of the most popular automated workflows is to send a new customer a welcome email to help them become more comfortable with the brand.
Integrations with eCommerce platforms, such as Shopify, Magento, BigCommerce, and WooCommerce, are available to MailChimp users. This gives businesses the ability to connect online stores to create marketing campaigns to follow up and make personalized product recommendations to customers.
MailChimp isn't just for profit-driven enterprises. Nonprofit organizations can take advantage of the service as well with the following automations:
Supporter onboarding – automated welcome messages sent to volunteers and donors
Top supporter recognition – automated thank you messages for contributors
Membership renewal – automated renewal messages
Event – automated event reminders
In addition to working well for nonprofits, MailChimp also offers email automation that benefits the education community. The service can be used to send out emails alerting new students to upcoming orientation or advertising an upcoming course.
Product Recommendations & Abandoned Cart Solutions Drive Conversions
Another excellent way to automate marketing is with customized product recommendations. The idea is to present products to customers based on their purchase history. For example, if a customer purchased the new Lady Gaga CD, MailChimp's recommendation tool will generate a follow-up email that includes suggestions of similar products, like, say, the new release by Beyoncé or classic Madonna hits.
Another favorite use case for email automation concerns shopping cart abandonment. In the event a customer drops off during the purchasing process, a customized email can be sent that possibly offers discounts or other incentives to get the customer to convert. This is why integrations with the eCommerce platforms mentioned above are so useful for MailChimp users.
Goal Integration Helps Personalize Messages Based on Customer Interest
MailChimp users can create custom automations with Goal. This feature is based on cookie technology that uses a small snippet of code that MailChimp stores in a subscriber's browser.
Then, when that subscriber visits the company website at some point in the future, MailChimp will recognize the cookie. If the marketer has created an email automation based on that visit, the customer will receive an email.
Goals are a great way to send a welcome back email to customers who haven't visited for a while. For advanced MailChimp users, Goals can also be triggered based on JavaScript events.
Data-Centric Analytics & Reporting Details Campaign Efficacy
No online marketing solution is complete without analytics. MailChimp delivers there, too. For each email campaign, MailChimp offers reports that include a dashboard overview plus detailed information that can be evaluated by clicking on the following tabs:
Links – the number of total and unique clicks for each of the tracked links in the campaign
Social – who liked the campaign on Facebook and a list of the top influencers
eCommerce – a breakdown of each subscriber's purchases
A/B testing – a report for users who've run a split-testing campaign
In addition, the MailChimp campaign reports also cover the number of recipients, deliveries, bounced emails, unsubscriptions, and opens. Users can compare their average numbers of opens and clicks to the averages in their specific industry.
These are just a small sample of what the MailChimp report offers. MailChimp delivers a healthy assortment of analytics reports so marketers can use them to fine-tune their campaigns.
For example, if analytics tell an SMB emails offering a discount in the subject line have the highest open rates, the marketing campaign can be altered to focus on sending more emails that offer discounts in the subject line. Guiding businesses to data-driven decisions, like this, make MailChimp an effective partner for SMBs.
New Integrations With CRMs & Social Continue to Simplify Marketing
MailChimp, like any successful software company, realizes their product is never finished.  There are always new avenues of discovery and innovation to explore. That's exactly what MailChimp is doing by offering new integrations with CRMs and social media.
These integrations allow MailChimp's marketing solutions to work in tandem with other platforms in order to streamline campaigns. Twitter Tailored Audiences, for example, is an integration enabling businesses to sync their MailChimp list with Twitter Ads. This allows them to target subscribers with ads relevant to their interests.
MailChimp also integrates with Salesforce's industry-leading CRM. By integrating MailChimp into CRMs, users are able to segment their lists and deploy targeted campaigns.
It's no secret automated marketing can be huge for businesses, especially when solutions, like MailChimp's, can be scaled and integrated based on need. Research shows businesses are winning big with email marketing, and MailChimp's big year is a testament to this fact. At least for the foreseeable future, MailChimp will continue to lead the charge in the digital marketing space and help businesses realize their growth and revenue goals.