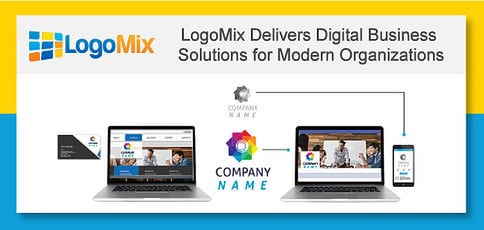 TL; DR: When businesses build brands, they need logos that communicate the strength of their products. That's why so many entrepreneurs and founders have turned to LogoMix (now also known as LogoMaker) and its powerful logo design tool. But the company dabbles in more than just graphic design. Now able to access the vast resources of parent company Deluxe, LogoMaker offers a variety of services to eCommerce professionals who want to optimize their online presence. We recently sat down with General Manager Damon Fieldgate, who told us about LogoMaker's dedication to deliver the solutions necessary for success in the online marketplace.
In today's competitive eCommerce space, businesses must deliver quality products and services. But that's just the first step in securing customers.
Effective branding is how businesses stand out from the pack. How a business presents itself to the world plays a huge role in how potential customers view a brand. And, many times, a logo is the first interaction a consumer has with a business.
That's where LogoMix (now also known as LogoMaker) comes in. The company's intuitive logo creation tool can be used by everyone from mom-and-pop shops to data-oriented founders who have zero background in graphic design. The tool uses machine learning to give entrepreneurs an array of options when putting their logo together. If customers want a bit of human help, they can work with LogoMaker's talented designers.
"It's good for the customer because they have everything they need for their logo in one place," said LogoMaker's General Manager Damon Fieldgate. "And they own the design and can use it wherever they please."
While logo-making is the core feature around which LogoMaker's platform is built, it's far from the company's only offering.
"We want to be there when entrepreneurs need to take that first step and develop marketing and promotional material," Damon said. "But then we continue to help as they develop their businesses. Using our platform, they're able to apply the work they've already done as they grow and move into new areas."
LogoMaker was recently bought by Deluxe. And Damon told us the acquisition had a lot to do with how LogoMaker approached its clients and how much value the business could deliver.
"Deluxe loved that LogoMaker was more than a logo company," he said. "Its machine learning analyzes clients' marketing and promotional histories, then uses that information to direct customers toward the additional services that will best help their businesses."
LogoMaker's solutions include business card design, a comprehensive suite of marketing products, and website construction, among many others.
"The platform we're developing is a common ecosystem for customers," Damon said. "It gives them a one-stop shop for all their small business needs, from marketing to operations to payroll. Whether a company is in growth mode or sustain mode, we have the products and services that enable them to thrive."
Energizing Deluxe's Ecosystem with LogoMaker's Powerful Solutions
LogoMaker's long, successful run began in 2006. In 2016, its founders started talking to the team at Deluxe, and the two companies began a partnership. While Deluxe was impressed with LogoMaker's solutions, the organization wanted to get a deeper understanding of its business.
"There was a long courtship period," Damon said. "It was important to both the Deluxe and the LogoMaker teams that we understand how the companies would fit together. The founder of LogoMaker wanted to know that Deluxe would continue the journey his business was on. And Deluxe wanted to make sure that LogoMaker was a strong cultural fit."
During the acquisition process, LogoMaker grew impressively. Damon told us new customers were flocking to the company's core logo services, and established customers were exploring the wider range of solutions LogoMaker offered.
But Deluxe was interested in doing more than simply acquiring LogoMaker's tools.
"Of course, Deluxe liked that the business was growing," Damon said. "But, ultimately, the reason the acquisition went through was because they were excited about taking the LogoMaker platform and offering it to everyone on Deluxe's network services. Extending it across our ecosystem has helped all of our customers, whether they need logos, email marketing tools, or website solutions."
The acquisition has proved incredibly successful. Damon told us Deluxe was able to retain the entire LogoMaker team.
"They're excited about the opportunities for both personal growth and the chance to collaborate with Deluxe's customers and integrate into its solutions," Damon said.
How to Thrive in a Crowded and Ultra-Competitive Market
For a long time, the logo-making space was wide open. In that environment, it was easy for new logo design solutions to grow. Recently, the marketplace has changed, according to Damon.
"Over the last six to nine months, the market has become much more crowded and the competition has intensified," he said.
Damon told us the primary way that LogoMaker aims to differentiate itself is by offering the best product on the market. Due to LogoMaker's focus on incorporating machine learning into its solution, the company's tool is able to create exactly what customers need.
"We have a ton of designs in our database, and we're able to apply the right ones to each individual customer's vertical," Damon said. "First, we give them the most relevant solutions. Then, we give them the opportunity to modify those solutions and put their own flair on the design. Even if a customer decides they don't want to go the do-it-yourself route, we offer a do-it-for-me service."
Another way LogoMaker has been able to thrive in the design and business solutions space is by thinking of logos as the first step in a longer process. The company doesn't want customers to get a great logo and then move on without looking back.
"After our clients design their perfect logo, they take a journey through our ecosystem," Damon said.
For example, after the logo is finished, customers can get their business cards and t-shirts through LogoMaker.
"They're able to take their logo and apply it to all of their promotional material without having to download files or send different formats to new providers or cut and paste. We make everything simple," Damon said.
When customers are looking to move onto the next step, LogoMaker and Deluxe are there to help them along the journey. Damon told us LogoMaker aims to help clients get their web presence up and running, help them design their websites, and run their email marketing campaigns. With LogoMaker, small businesses and entrepreneurs don't have to search out a variety of different vendors — they can do everything in one convenient spot.
Product Dev Strategy: Turn to Customers & Use Products In-House
When LogoMaker develops new products and solutions, the team follows a philosophy of turning to its in-house expertise and looks at the user base to determine what's needed.
"The product roadmap is devised by the lead product manager," Damon said. "Obviously, they spend a lot of time looking at market activity, but they also review customer requests."
Damon said the only way to know if a solution works is to use the solution, which is why LogoMaker uses all of its tools internally.
"That helps us find and fix challenges before our customers," he said. "The process makes our products easier to use and more powerful."
The Philosophy: Building a Circle of Trust
LogoMaker's internal program "The Circle of Trust" promises to deliver customers a product with a value that exceeds the product's cost.
"Giving customers a great experience means creating easy-to-use interfaces and delivering solutions in a timely and efficient manner," Damon said. "There's nothing worse than buying a service and not having your expectations met. That's doubly true for a service like graphic design, that has results that are sometimes intangible."
When the Circle of Trust succeeds, the LogoMaker team knows it has won customers' trust.
"Every time we give a customer a truly great product, we've earned the right to talk tto them about other solutions and services we offer," Damon said.