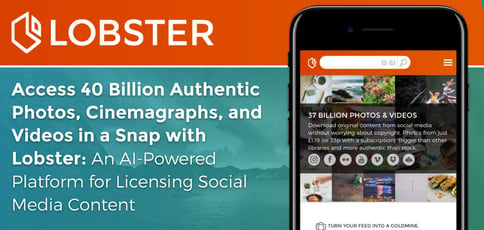 TL; DR: Lobster is an innovative platform that empowers users to license user-generated social media and cloud archive content for commercial use. The ethical marketplace serves up photos, cinemagraphs, and videos that are both authentic and relevant via smart tagging and machine learning capabilities. With a range of photo challenges and other events on the horizon, Lobster is furthering its commitment to fostering connections between creative communities.
Olga Egorsheva was in a pinch.
Her job as an emerging markets strategist at a logistics company required her to supply visual content for an international social media presence. But her choices were limited to clichéd stock photos that failed to reflect her audience.
Her frustration boiling over, Olga decided to take the matter into her own hands. In 2013, with the help of industry peers Maria Iontseva and Andrey Dmitriev, she founded Lobster, an innovative marketplace designed to serve up fresh, ethically sourced content straight from authentic social media feeds.
"She realized that there was a lot of potential for licensing social media content, but at the same time, it was nearly impossible to search for specific keywords across all the platforms," said Vanessa Munteanu, Partnerships and Customer Success Specialist at Lobster. "That's why Lobster brings visuals from multiple social media sites together under one roof where you can search and license content."
Today, the platform enables brands, agencies, and the media to leverage user-generated content for commercial purposes in a fair and legal manner while providing opportunities for social media users to cash in on their creativity. The process is simple: Sellers can list their content on the Lobster platform, or the company can reach out to creators of unlisted content to negotiate a licensing agreement for buyers.
Lobster also uses artificial intelligence and machine learning-powered algorithms to ensure buyers can locate relevant, authentic content in a sea of social media channels — including Instagram, Facebook, YouTube, Flickr, Vimeo, Foursquare, Google Photos, and Dropbox. Through cutting-edge technology, a range of photo challenges, and other events on the horizon, the company's ultimate goal is to foster connections between today's creative online communities.
An Ethical Marketplace for Sourcing Fresh Visuals
Before Lobster hit the market, Vanessa said there were a lot of gray areas in regard to social media content. Most marketers were wary of violating copyright ownership. Others were oblivious to digital piracy and its legal ramifications. In many cases, Vanessa said artists were caught off guard after a large corporation used their photography without any credit or royalty payments.
Even stock sites became wrapped up in confusion. In 2013, for instance, photojournalist Daniel Morel successfully sued Getty Images for selling photos of the 2010 Haiti earthquake that were ripped from his Twitter account. The court also found that the Washington Post violated his rights by publishing the photos from Getty Images without the photojournalist's permission.
As a tool for legal rights acquisition, Lobster works to protect intellectual property rights on individual content. Contributors receive 75% of the fee charged for every purchase (minus PayPal commissions), and buyers receive immediate downloads complete with non-exclusive, worldwide royalty-free licenses priced based on circulation.
Standard licenses, for example, cover up to 1 million views worldwide, while extended licenses cover an unlimited amount of views for an unlimited period of time. Moreover, all licenses are secured in blockchain-based smart contracts, making rights and image use specifications crystal clear.
"We have done a lot of research in the intellectual property space and work hard to arrange model releases with content creators," Vanessa said. "We also provide a lot of education around copyright ownership."
Contributors benefit from having access to larger libraries with authentic, unique content at lower prices than what they pay at the average stock site. Entire teams can access content through agency subscriptions, which feature the ability to produce invoices for individual clients.
Relevant Content via Smart Tagging and Machine Learning
Vanessa said Lobster's goal was to develop its technology using the same innovative approach it took when reimagining the photo sourcing process.
"We realized in 2016 that our potential basically relied on our ability to step up the game in terms of technology," she said. "So, to gain more authority and not just rely on the tagging conventions of social media users, we introduced artificial intelligence for image tagging, descriptions, and so on."
Lobster's precise AI and image-recognition tools enable buyers to find exactly what they need quickly and easily. The company's AI filters, available on all plans, include source, resolution, color palette, geolocation, and ethnicity, among other metrics.
Users can even upload their company's existing marketing imagery to Lobster's style matcher, ensuring branding consistency for users subscribed to professional and agency plans. In addition, Lobster's machine learning capabilities use 11 different ranking factors to source relevant and authentic images.
If a buyer can't find a suitable image within the prelicensed content catalog, Lobster will use AI technology to scan its Lobster Pool, which contains more than 37 billion images and videos across social media channels. The company will then send requests for purchase to individual owners and notify buyers if the creators in question join the marketplace. Lobster will even hold photo challenges to help subscribers with professional and agency subscriptions solicit specific content.
Ultimately, these tools make it easier to search, license, and download the content they need — eliminating the time they would typically spend searching page after page of generic stock images and still coming up empty-handed.
Super Resolution Capabilities and Embedding Options
User-generated content is valuable in its ability to humanize marketing campaigns. Studies show that millenials trust user-generated content 50% more than they do traditional media, and 71% of consumers say it makes them more comfortable making a purchase.
But, because professionals do not always create them, user-generated images may not be high enough resolution to meet the demands of extensive digital or print projects. As any content specialist knows, finding the perfect image and discovering it's too small to use can be devastating when you're faced with a deadline.
That's why Lobster created Super Resolution, an innovative new tool that allows users to enlarge images up to four times without quality loss. Available for free with any Lobster subscription, the tool delivers high-quality images to the buyer's inbox and online Lobster account in less than eight minutes.
"Super Resolution helps us cope with the very limited resolution that platforms such as Instagram offer," Vanessa said. "It automatically increases the quantity and resolution of the image."
While content from Lobster is typically more affordable than traditional stock services, it can also be accessed at no charge through the company's embedding option. By embedding the image or video with a link to the author's Lobster page, bloggers can access user-generated content for free while still providing full recognition. It's an easy, free, and legal option for those on a strict budget.
Fostering Connections Between Creative Communities
Moving forward, Vanessa said Lobster is working to empower even more of the community to make connections with creatives who could potentially buy their content.
The company also wants to amp up the video side of the business. Studies show that video marketing can boost ROI, with video marketers scoring a 54% increase in brand awareness and 66% more qualified leads per year.
"Videos are some of our best resources — they are what people want," she said. "We're building a better search experience around videos and inviting more videographers to sell their content on Lobster."