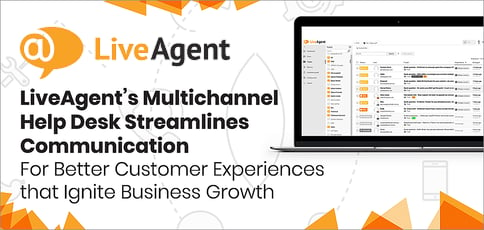 TL; DR: LiveAgent empowers agents to provide better, faster, and more accurate support through its multichannel help desk and live chat software. The comprehensive solution combines various communication channels into one universal inbox, increasing efficiency and driving customer satisfaction. With continuous product evolution, including plans to explore AI and machine learning, LiveAgent provides the technology businesses need to stay at the forefront of customer care.
In a world where advertisers continually fight for our attention, it's hard to imagine a product could become popular without any sales efforts, marketing campaigns, or publicity whatsoever.
But that's precisely how LiveAgent found success. The team behind the help desk software launched its initial product, Post Affiliate Pro, in 2004, and the growing business began to pick up customers. With the intention to keep them happy, the team turned to the market for an all-in-one help desk solution, but couldn't find what it needed.
So, in 2007, they did what any proactive team of software developers would do: They rolled up their sleeves and got to work on an in-house support solution. The email support system, known at the time as SupportCenter, both increased customer satisfaction and peaked interest from a business perspective.
"We never intended to put it on the market," said David Cacik, Head of Marketing at LiveAgent. "But customers liked it so much that they wanted to use it to provide support to their customers."
The team initially gave away the product for free, but it was in such high demand that the company started selling it to Post Affiliate Pro customers. A few years later, the team also created a live chat solution, which it merged with SupportCenter to form LiveAgent.
Today, LiveAgent is a multichannel support solution that sorts multiple forms of contact — from phone and email to live chat and social media — into one inbox, organized by priority. The innovative platform empowers agents to provide better, faster, and more accurate support, thus increasing customer satisfaction. Through continuous product development, including plans to tap into the AI and machine learning space, LiveAgent is helping businesses build a foundation for excellent customer service.
Drive Customer Satisfaction with a Comprehensive Support Solution
David told us the company didn't turn its full attention to LiveAgent until leadership realized that demand for the support solutions market overshadowed that of affiliate marketing. "Our focus until about 2011 was still Post Affiliate Pro," he said. "We just went slow and let the sales come in, but we didn't focus on sales or marketing initiatives to onboard customers."
Post-2011, the strategic pivot reshaped the company's staff. "In our current state, we have about 60 employees," David said. "I'd say 55 or so are working on LiveAgent, and the remaining five are working on the maintenance of Post Affiliate Pro."
If the company's roster of more than 175 features is any indication, the hard work put in by those 55 employees is paying off. The list showcases multiple capabilities in areas that include ticket management, live chat, social media, the call center, reporting, support, gamification, multilingual settings, mobile apps, integrations, and security.
"We drive customer satisfaction through features that help both the agents and the customers communicate faster and more effectively," David said. "We like to list all the features and describe them in detail, so buyers know exactly what they're getting."
LiveAgent's universal inbox, which the company describes as a smarter version of an email inbox, allows users to view and respond to emails, chats, calls, forum posts, social media tickets, and more, all from one place. In addition, businesses that provide support for multiple companies or products can connect all accounts under one LiveAgent profile to ensure a smooth-running operation.
Empower Agents to Provide Better, Faster, More Accurate Support
The fact that a privately owned, bootstrapped company runs LiveAgent serves to differentiate it among competitors, according to David. Business leaders have written multiple articles on the benefits — from creative freedom and faster progress to superior products and an aversion to reckless spending — of the bootstrapping route, which involves starting a company without external capital.
The company is also somewhat of an industry pioneer in that it developed LiveAgent in 2007, before what David describes as "help desk giants" entered the scene. Both then and now, the team behind LiveAgent has aimed to help users save time and money, bolster engagement rates, and ultimately create a better ROI.
"Before the whole help desk industry was created, companies were used to (and they're still used to) providing support with only a simple mailbox," David said. "That's very ineffective when you can use a solution like LiveAgent packed with all these little extras which make it easier for customer service agents to deliver faster and more precise support."
The company also makes it easy to host support on the cloud via datacenters in Texas and London. LiveAgent routes account data to the closest facility based on the customer's geographic location to ensure speedy service. Data stored in London, of course, is fully GDPR compliant.
Regardless of their location, David said LiveAgent users are not limited on the number of tickets, call recordings, or emails used. As a bonus, the company offers a 14-day trial featuring all-inclusive access to the platform's breadth of features without requiring credit card information at signup.
Seamless Onboarding and Continuous Product Evolution
LiveAgent customers have the choice between an active or passive onboarding process, David said. "Customers are welcome to choose whatever method makes them most comfortable," he said. "They can sign up for a trial and use our Get Started guide to set up everything themselves, or set up a one-on-one demo session with one of our experts where we can take the lead for them."
In either scenario, the company does not require contracts, charge setup fees, or force users to pay for customer service and product updates. "We bill monthly, and you can downgrade or upgrade at any time," David said.
In the last few years, the company has been onboarding more clients than ever, which lead to its recent expansion. "We increased in size just last year," David said. "We hired 13 new people and have been onboarding bigger customers with hundreds of agents."
Those groups often require special assistance — which the company is happy to provide. "We have a special team dedicated to taking care of our most high-touch customers," David said. "When a client comes to us with a request, we try to find a solution with our current feature set. If the feature is not available, we go straight to DevOps to prepare a solution ASAP."
When updating the platform, adding features, and putting new ideas into production, David said the company holds discussions based on customer feedback. "We try to maintain an equal balance between implementing speed improvements, bug fixes, and new feature requirements to keep everyone satisfied while improving and moving the application forward," David said.
Tapping into the Artificial Intelligence and Machine Learning Space
David said his team relies on company-wide brainstorming exercises to determine how the customer support market will evolve and how LiveAgent can continue to be a leader in the space by staying one step ahead.
They're particularly interested in enhancing the platform by leveraging the latest advancements in AI and machine learning. "In the near feature, we would like to focus on using these technologies in the customer support space, which will help us become leaders and present a significant differentiator between our competitors and us."
Whether the company will need to spend time marketing the new product is yet to be seen. Considering the platform's history, it may just sell itself.