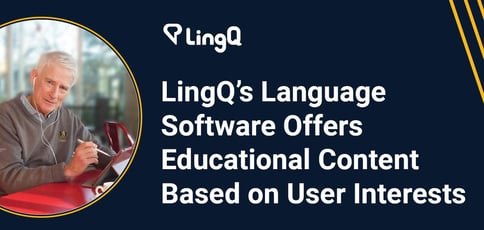 TL; DR: LingQ offers an extensive library of language-learning content, courses, and tracking tools to help users along their language adoption journey. More than 1 million members worldwide leverage its useful import technology to learn and acquire new words and phrases from their favorite videos and content, including YouTube and best-selling novels. Its unique approach to language learning keeps users motivated and makes lessons enjoyable. Users can access LingQ's platform across mobile and desktop devices.
Steve Kaufmann is no stranger to language adoption. Steve became interested in learning French as a 17-year-old at university because of a motivating professor. In the 60 years since then, Steve has learned a total of 20 languages. However, even for a well-known polyglot, learning hasn't always come easy.
When Steve first started his journey, he would learn new words by looking them up in language-specific dictionaries. But, he soon realized it was a futile task as he would forget the words almost immediately. Fueling a passion for most of his life, Steve learned his first nine languages while working full-time. He wrote a book about this in 2003 called The Way of The Linguist: A Language Learning Odyssey to help others. Frustrated with antiquated methods, he sped up his language immersion by developing his own system.
In 2007, Steve and his son Mark launched LingQ, a language-learning software, to transform how people learn languages. Mp3 technology and the growing digital landscape helped shape the development of LingQ by supplying the duo with the AI and ML capabilities to make language learning more portable and interactive for users. Steve looked to eliminate barriers that limited improvement and communication progression for learners with technology that could track vocabulary comprehension, interactions, and content of interest at their levels.

"We started developing this program based on the frustration that I'd always felt reading books in Spanish and German and never really improving. So we then turned it into a multi-language platform and gradually developed it as technology changed," said Steve.
LingQ is now home to a library of language courses, content, and tools supporting multiple languages worldwide. And users can get started for free. The LingQ platform enables more than 1 million members worldwide to easily jump-start their language learning journey and communicate with native-speaking tutors. Its community feature also allows users to interact in live conversations and forums. LingQ makes language learning enjoyable, effective, and simple.
"If you can find a way to enjoy the process of learning a language, you will succeed, and you won't worry about how long it takes. At school, we are taught to be afraid of making mistakes. But mistakes are a part of learning. The goal should be to communicate and gradually understand more. Eventually, we reach a level where we can understand movies and other interesting content," said Steve.
A Language-Learning Platform Accessible Across Multiple Devices
Steve and Mark created LingQ to develop better tools for language learners. One of the ways they optimized language learning was by making it more accessible. LingQ's accessibility allows users to reach their goals easily. LingQ offers its software across mobile and desktop platforms, including tablets. As an avid LingQ user himself, Steve told us that his favorite method to use LingQ is through listening and on his phone or tablet.
"If I listened to something that I didn't fully understand, I want to get on it, save words and phrases, and go into sentences. I will always do that on my iPad or iPhone. I won't do it by the computer because if I'm out somewhere and I have to wait in an office or whatever, I've always got it on my iPhone," said Steve.

LingQ gives users the option of choice, with high-performing software on either platform. Steve also told us that in terms of where new users sign up, it's about a third for every device platform. This stat is a testament to LingQ's reach and the quality that users can find no matter how they sign up. Steve describes LingQ's accessibility in two words.
"So I will say convenience and portability. And, of course, the fact that it's immediately available on all three platforms. You're always up to date, wherever you are. So that's an advantage. So you can choose where you want to do it," said Steve.
Immersing Language Learners with Engaging, Interest-Based Content
Getting users to immerse themselves in language learning is a critical priority for LingQ. The team developed a system based on input-based learning and meaningful content to do so. LingQ first offers stages designed for beginners, then allows users to move on to input-based content.
"We receive requests to add languages all the time. We have a rule. We need to have our 60 mini-stories translated and recorded in a language in order to add that language. These mini-stories consist of lots of high-frequency words, especially high-frequency verbs, which repeat in a different tense or a different person throughout the story," said Steve.
Its import technology allows users to grab videos and content from YouTube and other external sources, including best-selling novels, Netflix, and podcasts, and upload it to the LingQ software to study. LingQ uses this methodology to provide users with content that interests them, helping them engage and stick with the language learning process longer. Users can focus on what they love, such as their favorite show, while learning new words and completing lessons.
"Anything with audio and text, for example, subtitles on a YouTube video, you can just click on the browser extension, and we grab the text and the audio. So you now have a lesson where you can do sentence by sentence and read those words, save the phrases, and all of the normal functionality that helps you learn," said Steve.
Steve also said YouTube is more effective than other sources because it provides time stamping. Users can follow along sentence by sentence with YouTube without losing track and listen to natural audio. By listening to natural phrasing, users can better understand and acquire new words instead of reading out-of-context drill words.
Exposure is ultimately the goal of LingQ's import technology. Steve said the best way to learn a new language is by flooding your brain with the stimulus of language. He said schools focus too much on grammar lessons instead of allowing students to intake and interact with the language. Through exposure, the brain gains familiarity with language and forms patterns for memory.
"If you have nothing or very little of the language, grammar instruction is pointless. Our system is based on the tremendous importance of input-based learning. You have to get people meaningful content, and they will gradually get used to the language. Then they can go in and look up things they missed," said Steve.
Maintaining a Balanced Feature Set Configured for the User Journey
LingQ's language-learning approach has helped more than 1 million people adopt a new language. Most users study popular languages, including English, Spanish, German, Korean, and French, but LingQ does receive requests for other languages. LingQ has conditions set in place before it can distribute a new language.
"We got a rule because we have what we call mini-stories. There are 60 stories where the same story repeats five times. So if any member is able to find people to translate and record these stories in their desired language, we're obliged to put it up," Steve said.
LingQ's mini-stories are essential to the beginner's journey in language learning, and the platform must have a minimum amount of content before onboarding a new language. Steve told us the LingQ team is currently working on adding Punjabi, Swahili, and Thai. The team recently released its 40th language, Tagalog.
As for other developments, LingQ wants to balance new useful features with the need to keep things simple for users. Increasingly, AI will help learners find online learning content ideal for their level and areas of interest. With compelling language content of the right length and a pleasing voice, the acquisition of vocabulary and new language habits becomes more natural.
"We think that AI applications like grammar correction, improved dictation, translation, and transcription software will lead to new features that help learners to not only improve their comprehension, but also improve their speaking, which for most people is the ultimate goal," Steve said.