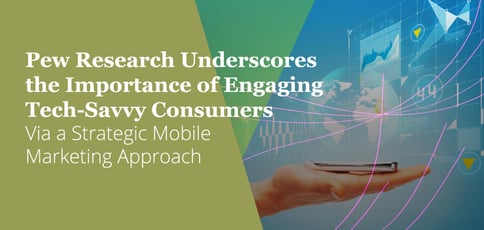 TL; DR: For the web entrepreneurs, ecommerce companies, and online businesses operating in today's rapidly evolving tech space, change is a constant. To stand out among the competition, marketers must gain a firm grasp on industry trends while building relevant outreach strategies. To that end, the Pew Research Center's findings on global internet use provide the baseline businesses need to communicate their brand messaging in an always-connected world.
Looking for a relaxed career that allows you to sit back and maintain the status quo? Run far, far away from the marketing industry. Today's whirlwind of technological advancement is powerful enough to render even the most time-tested strategies irrelevant in the blink of an eye.
Those willing to brave the winds of change must keep close tabs on how and when consumers access the web, which has become one of the most powerful branding tools available to marketers today.
According to the Pew Research Center — a nonprofit think tank that's been documenting online trends for more than 15 years — the internet now enjoys greater adoption than ever before. When researchers at the center first began systematically tracking American internet usage in early 2000, about half (52%) of all adults were already online. Today, a whopping 90% of American adults use the internet.
And they use it often. According to research conducted from January 8 to February 7, 2019, 81% of adults in the U.S. go online every day. Of those, 45% say they go online several times a day, and 28% say they do so almost constantly.
As tech adoption continues to climb, businesses have no choice but to build a strong internet presence. The key is to approach the task while armed with a thorough, research-based understanding of how consumers use the web in their daily lives.
Communication in a Smartphone-Dependant World
Smartphone use is skyrocketing at an ever-increasing rate — so much so that words like "addiction" are being used to describe our love affairs with our devices. A March 2019 study published in the scientific journal Addictive Behaviors says it all: Researchers found that college students would prefer to go without food than without their phones when deprived of both.
Mental health implications aside, many believe that mobile devices will soon become the center of the marketing world — if they haven't already. A Pew study on mobile technology and home broadband found that the proportion of Americans who say they own a smartphone has increased significantly in recent years, from just 35% in 2011 to 81% in 2019. Moreover, Americans of all ages increasingly say they use their smartphone as a primary means to go online. Today, 37% of adults in the U.S. say they typically turn to a smartphone when accessing the internet, compared with 19% in 2013 — just six years ago.
Of that 37%, younger adults are especially likely to use their smartphones as a primary device for going online. In 2019, adults ages 18-29 say they do so most frequently (58%), followed by 30- to 49-year-olds (47%), 50- to-64-year-olds (27%), and those ages 65 and up (15%). Furthermore, 17% of Americans say they access the internet through a smartphone only and do not subscribe to broadband internet service at home.
Behind these numbers is an underlying message: The era of mobile has arrived, making a considered, targeted mobile marketing strategy crucial to the success of any online business. And that doesn't just apply to smartphones: tablets, smartwatches, high-tech frames, augmented reality devices, and other on-the-go tools are now potential canvases for brand messaging with a personalized touch.
Don't Overlook the Importance of Social Media
While smartphone adoption is undoubtedly on the rise, the share of U.S. adults using social media platforms and apps, including Facebook, Instagram, and Twitter, over the past year remains statistically unchanged, according to a recent Pew survey conducted January 8 to February 7, 2019. When viewed over the past decade, the adoption of social platforms even appears to be slowing.
That said, today's social media platforms already enjoy widespread use. According to the same survey, the majority of U.S. adults (73%) use YouTube, followed by Facebook (69%), Instagram (37%), and Twitter (22%). Considerable age-related differences exist in terms of platform use, particularly in the cases of Snapchat and Instagram, which are frequented by 62% and 67% of U.S. adults ages 18-29, respectively. These patterns indicate market segmentation may prove beneficial in targeting young adults through social media campaigns.
Social commerce, a new ecommerce strategy that employs social media to advertise and sell products and services, is also on the rise. According to Statista, 30% of U.S. internet users say they have made purchases through social media, and 5% say they would like to shop through social media platforms in the future. Daniel Newman, Principal Analyst of Futurum Research and CEO of Broadsuite Media Group, goes as far as to say that social media will become "the next internet."
"Social will become an integral part of the broader marketing discipline," he stated in an April 14, 2015, Forbes article. "As its impact grows stronger, most brands will fully transition their marketing efforts to social channels. As such, social has the full potential to become not just one of the channels but the channel."
Of course, further research will be needed to determine whether that potential is realized.
Take Advantage of Nearly Constant Connections
We know from Pew's aforementioned research that 81% of U.S. adults say they use the internet daily, with 28% of that group reporting that they do so almost constantly. Of those who occasionally access the internet using a mobile device, this is especially true, with 92% of that segment saying they go online daily and 32% almost constantly.
As with social media participants, younger adults make up a significant proportion of the perpetually connected. Nearly half (48%) of adults ages 18 to 29 say they go online constantly, compared with just 7% of those ages 65 and older. Other adult groups that report frequent use of the internet include the college-educated, Hispanics, higher-income households, and nonrural residents.
As the share of Americans with mobile connectivity increases in volume and frequency, tech-savvy companies are turning to the public to help promote their products. Coca-Cola mastered this technique through its user-focused Share a Coke campaign. In the mid-2010s, the company began to replace its branding on one side of its bottles with "Share a Coke with" followed by a name or a description like "My Best Friend." Consumers were then encouraged to take pictures of the bottles to post on social media with the hashtag #ShareaCoke.
Not only was the strategy low-cost, authentic, and effective, but it tapped into the desire many smartphone users have to build personal communities online. A 2017 survey conducted by the Royal Society for Public Health backs this up, as British teens reported that social media platforms improve community building, emotional support, and real-world relationships.
Be Mindful of the Offline Minority
While digitally-motivated marketing techniques may prove useful in today's largely connected world, Pew research shows that a solid 10% of Americans don't use the internet — at all. Several demographic variables, including age, education, household income, and community type, are associated with being offline.
Of the population of U.S. adults that do not use the internet, seniors are far more likely to say they never go online, as are adults from households earning less than $30,000 annually and those with lower levels of educational attainment.
That said, internet non-adoption has decreased substantially since 2000, when Pew first began to research the social impact of technology. Until we reach 100% adoption, brands targeting demographic groups that tend to reside offline may benefit from more traditional marketing approaches.