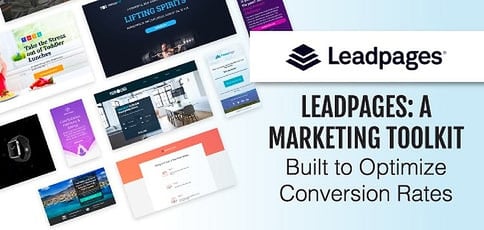 TL; DR: In today's fast-paced digital business environment, SMBs and entrepreneurs are finding that custom landing pages optimized for conversion are integral to remain competitive. And, since 2012, Leadpages has delivered the tools necessary to help businesses quickly build and power these revenue-generating online touchpoints. The company's no-code software delivers an array of professionally designed page templates, an intuitive ad builder, and powerful analytics, among other tools, developed to facilitate business growth. We recently sat down with Education Content Manager Bob Sparkins, who told us how Leadpages continues to empower users to more effectively broadcast their brands and reap the rewards.
In 2012, Clay Collins ran a vlog with the central aim of educating web entrepreneurs about industry best practices. As part of his mission, Clay picked interesting landing pages and showed his audience the features that made those pages successful. And, when his viewers began to ask him for templates, he gave them what they wanted with an early iteration of Leadpages.
The software Clay and two co-founders designed helped users change text, upload images, and build dynamic landing pages. Before the project was finished, he gave his audience the chance to buy the software in a presale. And Bob Sparkins, who would eventually become Leadpages' Education Content Manager, was the 43rd person to make a purchase.
"At the time, there wasn't much competition," Bob said. "Most people still used Microsoft's FrontPage or Adobe Dreamweaver, which were clunky and difficult to operate. Back then, businesses either hired webmasters or put up GeoCities-quality websites that looked awful."
Clay officially launched Leadpages in January 2013. And, since the software integrated with Infusionsoft, AWeber, and MailChimp, it quickly took off.
"It filled a need and grew rapidly," Bob said.
Soon, Clay was hiring engineers and content marketers. Within a year, he had a team of 50 employees. Today, Leadpages offers a broad range of features, from campaign creation to A/B testing and analytics tools.
Helping 45,000+ Businesses Build Momentum and Broadcast Brands
Bob told us many users turn to Leadpages because they don't want to wait weeks for a third-party webmaster to update their website.
"These days, even a lag time of a few days can be too long," he said. "Many of our customers do everything themselves. They're either running their own marketing or they have an in-house marketing department of one employee. Some of our customers are agencies who want to deploy their clients' campaigns as quickly as possible."
Of course, speed alone won't sustain a business. What matters most to entrepreneurs is growth. And Bob noted that that is the #1 value Leadpages delivers.
"For most customers, the initial return on investment will come from lead generation," he said. "Before they used our software, they might have had a 2% conversion rate on their homepage. After they start using Leadpages, their landing pages will convert at a rate of 15 to 25%."
Building webpages faster means wasting fewer hours. With Leadpages, users can create a page in 10 to 20 minutes. But that's not the only way they're saving time.
"If you were to hire a third-party webmaster, you would have to spend hours searching for candidates, reviewing samples, and sending emails back and forth," Bob said. "Leadpages removes the need to do any of that."
And, from what Bob's seen from Leadpages customer base, people with strong entrepreneurial spirits don't like to waste time waiting.
"When you have to go back and forth between departments or Facetime with an out-of-town contractor, you lose a lot of momentum," he said. "We want to give our clients the tools they'll use right after they've had their great idea. Within a half an hour, their campaigns will be launched. That's extremely important to us."
A Feature-Heavy Platform Built for Every User Type
The team at Leadpages wanted its customers to be able to create beautiful, professional webpages without the help of a professional web designer. That meant creating features that made it easy for any user, no matter the skill level, to make a landing page that looks fantastic. Following are just a few Leadpages tools users are leveraging to accomplish their online goals:
Responsive Templates: If you're presenting a less-than-stellar design to visitors or if your landing pages aren't mobile friendly, odds are good they're going to bounce. Designing a site from scratch used to require the help of a developer, but, thankfully, Leadpages delivers no-code templates designed by the pros. Leadpages templates are all responsive and fully customizable, so users are sure to put their best foot forward when visitors hit their sites.
Drag-and-Drop Interface: Creating or redesigning a webpage is incredibly easy using Leadpages' drag-and-drop builder. Users can add and move elements to suit their style and content needs.
WordPress Plugin: The Leadpages WordPress plugin allows users running WordPress sites to add new pages, update pages, or delete pages. Their published pages can serve as their website homepage, a welcome gate for new visitors, or a 404 error page.
"Using Leadpages, it's easy for WordPress users to publish pages with their own domain," Bob said. "They can even create custom subdomains if they want to. They're not restricted to using Leadpages servers."
HTML Editing: If users know how to code, they can add their own HTML widgets to their pages. For professional developers and savvy marketers, the HTML widgets work to streamline workflows and get their custom pages live at speed.
Robust Analytics Ensure Maximum Returns on Campaign Investments
As any small business owner knows, driving traffic to a site is difficult.
"More small business owners are realizing that the only way to scale operations is to pay for traffic," Bob said. "To do that successfully, they have to turn advertising campaigns into revenue."
The problem is, without good analytics, there's no way to know if a campaign is hitting the mark or failing to meet conversion goals.
"If you have to guess, you're doing it wrong," Bob said. "Business owners need to be certain their ads are making money."
But, while the data is out there, it can be difficult to parse. Bob told us this is especially true of Facebook's Ad Manager.
"The tool is great, but it's hard for people to really get a handle on," he said. "We're making it a lot easier by simplifying knowing which data is important and displaying that info in a very user-friendly way."
And Bob said, as Leadpages moves forward, it's going to give its customers more data that tell the story from initial click through conversion.
"If our users spend $5,000 on Facebook ads, they'll know that they spent that money wisely," he said. "We'll show them the data that proves it."
Up Next: More Smart Marketing Tools and Easier Customer Onboarding
Going forward, Leadpages' Facebook integration is going to get even stronger, according to Bob.
"Over the last few months, we've been working hand in hand with the Facebook team," he said. "We already launched an ad builder for the site, but we're also accessing different areas of the Facebook API to get the data that's most important to our users. We're really excited about that."
Bob said he's also looking forward to changes in Leadpages' onboarding process. Though he couldn't go into much detail before launch, Bob told us the team is working hard on a solution to ease the process of getting up and running for new customers. This new onboarding approach is all part of the overall goal of building users' marketing confidence.
"Most entrepreneurs started their businesses because they're really good at what they do or they're really passionate about their products," Bob said. "But they're not marketers. They don't have expertise in the field."
But, as Bob noted, Leadpages aims to make them experts.
"We have a very talented US-based support team and fantastic education resources," he said. "Any of our customers can use these tools to find answers to questions and learn more about what makes for effective marketing."
And Bob himself takes an active part in that hands-on support philosophy. Every Tuesday, he runs a Q&A where the Leadpages Facebook community asks him questions.
"It's a live, interactive webinar," he said. "People show me their landing pages or their ads, and I show them how they can use our tools to make their websites even better."
Even members on their free trial of Leadpages can join these coaching calls as they're testing out the platform for their business needs.