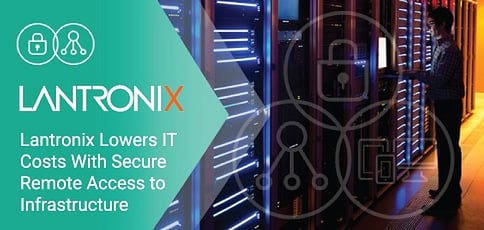 TL; DR: From the Internet of Things to IT infrastructure in your datacenter, Lantronix helps companies manage more equipment with fewer resources. Avoid harmful disruptions by identifying malfunctioning equipment quickly, remotely, and securely. Lantronix's SLC 8000 advanced console manager is an effective tool for maintaining business operations even during system or network outages. The forward-thinking company has focused on secure connectivity and mobility for more than 25 years, continuing to add support for cutting-edge features and maintaining a resilient, personal support network.
Whether you're a developer connecting to the company's network through a VPN as part of your daily responsibilities or an IT administrator accessing a distributed networking environment to troubleshoot a problem, working remotely has evolved from a luxury to a requirement.
As datacenter and networking teams have shrunken over the past decade, IT equipment managers now have to do more repairs with less time and manpower.
Lantronix, however, is saving IT administrators the long drive to the datacenter by providing tools for securely and remotely accessing infrastructure — even when systems are down.
The company, a mainstay in the networking management and security sector for more than 25 years, safely connects devices throughout the network. From the Internet-of-Things devices and gateways on the edge to the switches, routers, and other accessories in the datacenter, Lantronix aims to simplify deployment and management of IT and IoT equipment.
Senior Field Applications Engineer Jeff Blyther said Lantronix products, such as the SLC 8000 console manager, enable companies to reduce their capital expenditures and scale datacenters as needs prescribe.
"We like to say that it's an IT infrastructure management solution that your CEO, your CTO, and your CFO will all really love," he said. "That is, after all, who you need to impress the most. Plus, it's not easy to impress all three at the same time."
Remote IT Management and Avoiding Million-Dollar Downtimes
The cost of datacenter outages is rising — a 2016 study found that each minute of downtime costs an average of $8,851, up nearly 60% since the Ponemon Institute and Emerson Network Power started the research in 2010. With the disasters lasting shy of two hours, the total price tag for an unplanned outage is almost $1 million.
Further compounding the issue is the trend of distributed networking, or breaking up a large datacenter into several smaller facilities. Jeff compares distributed networks to a college campus, with the English, math, science, and administration buildings each housing a small datacenter.
"The problem is that if something goes down in one of those remote sites, that's time and revenue lost," he said. "Usually that means somebody gets in a truck or car and drives out to that location to figure out what the problem is. Oftentimes, it's just a matter of cycling power on something and it comes back up. In the meantime, however, they've lost $750,000 panicking about it."
Console managers from Lantronix, however, allow SysAdmins and IT administrators to remotely access and troubleshoot each piece of equipment, even if the network is down. Out-of-band connections through an analog or cellular connection bypass the inoperable network.
"They can log into the equipment now, figure out what the problem is, remotely cycle power or upgrade firmware," Jeff said. "Whatever they have to do to get that unit back online can be done through our box."
Securely Access IT Equipment With the SLC 8000 Console Manager
Lantronix debuted a new console manager, the SLC 8000, in late 2014 to add all-around connection flexibility. The SLC 8000 introduced modular configurations that allow customers to connect IT equipment through USB or RS-232 ports.
Users can access the ports from anywhere through Telnet, SSH, or a web portal. The SLC 8000 supports in-band connections for public and management networks, or out-of-band connections through an optional dial-up modem or cellular gateway. The command line interface allows users to reload firmware and reconfigure or reboot the devices.
In addition to encrypting data with SSL and SSH, the SLC 8000 supports remote authentication for integrating with other systems. According to Jeff, Lantronix teams up with customers to constantly examine and monitor security requirements.
"The nice part of being part of the datacenter or IT management world is these folks are the first to send up the red flag that there might be a security vulnerability coming down the pipeline," he said. "We hear from our customers fairly quickly when there's any kind of security issue they want us to address."
Lantronix Aims to Stay Ahead of Trends in 2017
The company's close connection with customers' needs and concerns makes them responsive to creating new features and customizing devices for specific industry applications, according to Jeff.
"We really take to heart the minds of IT administrators and the challenges they take on," he said. "Everything from how we design our products to what they can do, we want to create products that make a difference for the IT administrators and make their lives easier."
Adding an Extra Layer of Security With Two-Factor Authentication
Jeff, who has worked for Lantronix for more than 17 years, has heard calls for two-factor authentication. He compares the security feature to interacting with an ATM: You use something you have, such as a debit card, along with something you know, like a PIN.
"This seems to be the push in the industry right now, where a lot of our customers are asking for two-factor authentication," Jeff said. "We're quickly addressing this and bringing it to market within our products because we know this is important within the industry."
Tailoring the Internet of Things to Boost Productivity and Profitability
According to Jeff, Lantronix has "two personalities" that cover an enterprise's entire network: the IT infrastructure management tools that handle equipment in the datacenter, and the gateways and products that manage Internet-of-Things devices out on the edge.
"The datacenter and networking world will identify security vulnerabilities very, very quickly, and we attack those problems in our own IT management equipment," he said. "Then, we look over at our IoT devices and proactively get those solutions installed there. We often address those problems before those customers even identify the potential issue."
Lantronix IoT solutions help companies increase profitability and improve productivity by automating many practices in the healthcare, industrial, energy, and transportation markets.
Making and Supporting Quality Products That Inspire Customer Loyalty
As Senior Field Applications Engineer, Jeff matches potential customers' needs with the appropriate Lantronix devices. He also trains resellers on the products' features and applications in addition to on-site technical support if something is going wrong.
"There's this whole support structure within our Field Applications Engineering team that really gets out there and advocates for customers," he said, adding that it's not uncommon to get a call from someone who used Lantronix products at a former company and wants to deploy them with a new employer. "People are just devoted to us, and it's really exciting."
Director of Marketing E.E. Wang describes that customer passion as a "cult following" because Lantronix makes the lives of IT administrators so much easier.
"The brand reputation we've established with our customers is the direct result of the passion and dedication our team has for our products," she said. "From our product management to our engineering to our sales and to our knowledgeable technical support teams, there's a tangible dedication to building solutions that make our customers lives easier when it comes to managing both their IT and IoT assets."