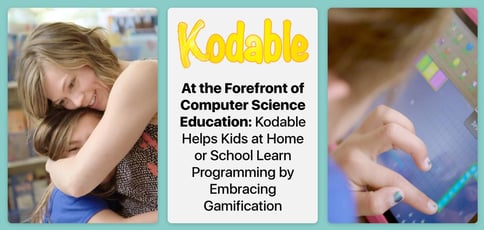 TL; DR: Kodable makes programming education accessible to children via a fun and engaging gaming approach. Both parents and educators can use the learning system, which provides a foundation for the skills children will need to navigate their tech-saturated futures. Kodable is also working on tools intended to bridge the tech gap that commonly occurs between teachers, parents, and students, paving the way for a more holistic educational experience.
People often compare the minds of young children to sponges in that they readily soak up the information around them. This is especially true when it comes to learning a second, or even third, language, with studies indicating that our language acquisition skills gradually diminish as we get older.
It follows that the younger someone's mind is, the easier it is to absorb a new programming language. In 2014, researchers from several highly regarded universities used functional MRI imaging to discover a link between computer programming and the language processing centers in our brains.
Recognizing this, the folks at Kodable designed an online learning experience complete with the tools parents and educators need to teach children to code.
"There are several studies that prove that it's easier to learn a language when you're younger, so our job is to get kids exposed to the coding mindset as early as possible," said Jon Mattingly, Founder and CEO of Kodable.
Jon knows this approach works from experience, as he started teaching himself to code at just six years old. "I started with very basic programs that taught me to think in a certain way, for example, to structure my instructions in a sequence," he said. "Those are the types of thought paradigms that are difficult to pick up once you're older."
Kodable helps introduce kids to concepts that will be fundamental to their tech-saturated futures via a friendly and fun gaming environment. The learning tool is an excellent resource for the home setting, and teachers who implement it enjoy access to a full curriculum featuring more than 70 lesson plans.
With future plans to help bridge the tech gap between home and school, Kodable aims to help every child build a foundation for 21st-century learning.
Explore Code in a Welcoming and Engaging Environment
When Kodable first entered the market in 2011, Jon told us the company was one of the few pioneers providing fun and engaging coding education geared toward young learners. Of the meager selection, most options were either limited in scope or uninteresting to children.
"Most of them were developer-built and designed, so they weren't necessarily visually appealing or engaging for kids," Jon said. "And there was almost no kind of gamification at the time."
Jon said he and Kodable Co-Founder Grechen Huebner were inspired early on by the Your Baby Can Read early language development system, which was then soaring in popularity. "At the same time, a lot of my co-founder's friends were saying they wanted to teach their four and five-year-olds to code," Jon said. "We put two and two together, and thought, 'Well, if we're teaching young children to read, why can't we teach them to code?'"
Today, Jon said the market isn't nearly as sparse, partially due to new laws governing tech education in certain states. In 2017, for example, Virginia became the first state to mandate computer science education in K-12 schools. This year, the trend continued, with a whopping 33 states passing legislation to expand K-12 computer science programs.
Notably, Pennsylvania invested more than $15 million in grants, representing the largest amount of funding earmarked for K-12 computer science education by a state in a single year.
"In the seven years since we've started, teachers have gone from knowing absolutely nothing about coding to implementing computer science standards," he said. "It's been cool to be at the forefront of that evolution."
For Educators: A Complete K-12 Coding Curriculum
Although a number of states are now providing standards for computer science education, Jon said the subject is rarely included in state-mandated testing. Thus, it often becomes a secondary concern when teachers are faced with testing pressures centered on math and language arts. That's where Jon said the administration has to jump in.
"You can't blame a teacher for not having enough time in the day to do everything," he said. "The school administration needs to be supportive of these efforts, and say, 'Look, we're going to fit this into your schedule without you feeling like you have to make an extra 30 minutes appear out of nowhere.'"
Kodable aims to eliminate the stress inherent in lesson planning with a comprehensive programming curriculum focused on problem-solving, critical thinking, creativity, collaboration, communication, and computer programming.
Children in kindergarten through second grade focus on foundational logic skills, while those in third through fifth grade are taught to read, modify, and write scripts via object based-programming. Through a partnership with CodeHS — a web-based computer science education platform — Kodable then extends its curriculum to students in sixth through eighth grade with a focus on text-based code.
Finally, students in ninth through 12th grade receive an introduction to professional programming languages, such as CSS, HTML, Java, JavaScript, and Python, among others.
Providing Fundamental Skills for our Future
It's no secret that the U.S. is facing a skilled talent shortage in software developers. According to Code.org, there are currently 500,000 unfilled programming jobs in every industry and state — a figure that is estimated to grow at two times the rate of all other jobs.
Kodable is on a mission to do its part in preparing 21st-century children with the foundational problem-solving, critical thinking, and programming skills they need to code apps, games, and websites by middle school.
"We don't necessarily know where the world will be in 20, 30, 40, or 50 years, but we do know that computers are going to play an integral role, and knowing how to interact with them will be an essential skill," Jon said. "We're really focused on setting kids up for success."
Jon predicts that the tech talent gap is going to become less about a shortage in developers and more about a lack of skilled developers.
"Big companies, such as Amazon, Apple, Google, and Facebook, only hire the best — and a lot of times, developers need to have been honing these skills for a large portion of their lives to reach that level," he said. "That's what we're trying to effect by starting students so young — they will be in the position to succeed in a computer science career if they choose."
Future Plans: Bridging the Gap Between Teachers and Parents
Jon told us the Kodable team is thrilled to partner with Code.org on the Hour of Code event taking place across the globe on December 9-15, 2019, as part of Computer Science Education Week.
"The Hour of Code is designed to demystify code and show that computer science is not rocket science — anybody can learn the basics," said Hadi Partovi, Founder and CEO of Code.org, in a statement on the event's site. "Over 100 million students worldwide have tried an Hour of Code. The demand for relevant 21st-century computer science education crosses all borders and knows no boundaries."
Kodable will help introduce students to computer science using its Beach Cleanup program, in which students use basic coding concepts to protect sea life from pollution. The dual-purpose lesson plan that accompanies the game teaches students about keeping oceans healthy while they learn core coding concepts.
Moving forward, Jon said Kodable will also focus on closing the gaps between parents, teachers, and students when it comes to tech education.
"It's been well-documented that achievement gaps exist because kids don't have the reinforcement of the skills they learned in the classroom at home," he said. "We don't think coding should be just taught in schools, so we're taking steps to get parents more involved with their kids' progress to really complete that circle."