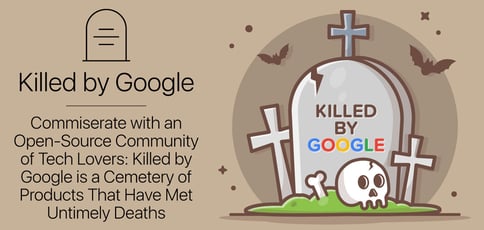 TL; DR: Looking to reminisce with the ghosts of Google's past? Cody Ogden's site, Killed by Google, is your haunt. The open-source graveyard serves as a memorial for 190 former apps, services, and hardware innovations. Ultimately, by researching, compiling, and maintaining a historical archive of Google's experiments, the Killed by Google community hopes to help the innovators of tomorrow derive inspiration from the departed.
Here lies Inbox by Gmail.
May 28, 2015, was its initial release date.
But by April 2, 2019, it had met its fate.
Cody Ogden was in mourning. It was September 2018, and Google had just announced that it would shut down Inbox by Gmail, his favorite email client. To cope with his sense of loss, the Minneapolis-based coder turned to the internet.
"I started doing some really basic research to find out what else Google had done away with in the past," he said. "We all know of the big ones, like Google Reader and Wave, but I wanted to know if there were more. As it turned out, there were."
Determined to give these once-beloved products a proper burial, Cody launched Killed by Google, an open-source digital graveyard complete with headstones designed by Scarlett McKay and epitaphs for each bygone app, service, or piece of hardware.
The timing was right — just prior to Hacktoberfest, an annual, month-long bash in honor of open-source software hosted by DigitalOcean in partnership with GitHub and Twilio — and Cody had a feeling that he could attract a community of like-minded individuals.
"It just took off from there, and it's been an awesome project to be involved with," he said.
Today, Killed by Google is the final resting place for 190 products that have met their demise. It also serves as a historical archive of Google's extinct innovations — one that future generations of tech lovers can look back on while working to advance the industry further.
A Memorial for Deceased Apps, Services, and Hardware
In commemorating Google's perished products, Cody said he's noticed they have one thing in common: An eerily short life span.
"When you look at the timelines, you see that many consumer products only last between two and four years on average — and that's a pretty good tell," he said. "It makes me hesitant to personally invest in the new software products that Google announces, knowing that, if they become part of my productivity, a few years from now they might not still be around."
Google sometimes offers replacements for the technology it discontinues. For example, after nixing Inbox by Gmail, the company suggested users turn to its web and mobile apps, which had begun to incorporate classic Inbox features like nudges, smart replies, and email snoozing.
But Cody said he often questions whether these substitutes are adequate — especially for those who use a particular product regularly. "It's impossible to predict whether the supposed 'replacement' will live up to your expectations," he said.
Cody delved further into the topic in a blog post from March 25, 2019, where he discussed the thousands of impassioned comments left on a Reddit thread devoted to Killed by Google.
"We grow accustomed to the apps, services, and devices we use as a part of our routine," he stated in the post. "We come to know their characteristics, their quirks, and, like a relationship, it deeply affects us, even for years after they are no longer with us."
The Reddit comments make it clear that Cody is far from alone in his convictions.
"Chromecast audio's death cuts me deep," one Killed by Google patron stated. "I pump music through mine as part of my daily routine, multiroom sync, music, podcasts…I'm not sure if we're expected to buy into their smart speakers as a replacement. They're so much more expensive, and [they] don't work with the studio speakers I've got set up around the house."
Compile, Research, and Maintain a Historical Archive
In addition to offering a space to grieve, Killed by Google provides information on the technologies the search engine giant has placed on death row. For instance, Google announced in January that it would phase out Google Hangouts for G Suite customers and replace it with Hangouts Chat and Hangout Meet.
According to Killed by Google, the service will be officially discontinued sometime next year. "Google Hangouts was a communication platform that included messages, video chat, and VOIP features," the epitaph on Cody's site reads. "Execution scheduled for late 2020. It was almost 8 years old."
With so many projects either kicking the bucket or on the chopping block, Cody is fortunate to have an active community of contributors from around the globe who help keep the site updated regularly.
"That audience is very in tune with decisions around the products that they have adopted and built a rapport with," he said. "The people who are interested in this project advocate for new tech, specifically in the software and productivity hacking space — they're pro-level consumers."
In a sense, they're also historians contributing to a repository of Google innovations — which Cody cites as the project's most significant value proposition. Fortunately, he had the insight to realize this from the start.
"I guess I have become a bit of curator of the dead and dying — products, that is," he stated in a September 21, 2018, blog post — his first after founding Killed by Google. "I've tracked down articles from 2003 and searched through the Wayback Machine for information about long-dead products like Hello by Picasa."
In the post, Cody thanked the Wikimedia Foundation and Internet Archive for their historical resources, which allow users to access screenshots, broken links, and graphics from the internet past.
"If you are able, I encourage you to make a donation to these organizations for the wonderful work they do in sharing knowledge and preserving history," he said.
Moving Forward While Cementing Google's Past
Cody said that many in his community are looking for others with a shared sense of loss (misery loves company, right?), but there are several ways in which individuals process the Killed by Google experience.
"Some people are even inspired by the list in that it proves it's OK to try things and fail," he said. "Others look at it and say, 'Hey, these are great ideas — why don't I build something similar but tweak it to make it better?' There are a number of different perspectives."
As for what the future holds, Cody said Killed by Google will continue to create an unbiased archive of Google products that future generations of tech innovators can reference as evidence of what came before them.
"I made it a goal for this particular project not to be speculative — we aren't hedging bets against the Google products that are beloved by millions of users around the world," he said. "But we will continue to foster an open-source community of people who want the opportunity to look back on the tools that we've used in the past."