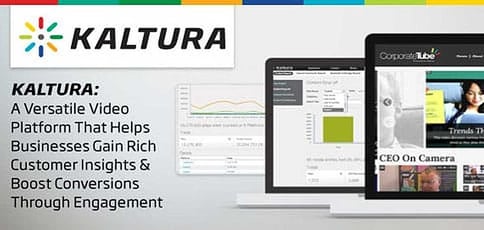 TL; DR: As analytics capabilities continue to grow more sophisticated, one major medium — video — has been surprisingly hard to track how engaged consumers are during playback. While videos provide necessary and appealing content, consumers don't interact with them the same way they do with personalized emails or other forms of advertising. That disconnect is why Kaltura designed its video platform to improve not only the amount of data produced by videos but also their application to marketing, customer service, and training. Kaltura also integrates with many CRMs so relevant consumer information can be shared with salespeople, generating actionable leads from videos that weren't collectible before.
For a business, creating video content is a great tool to both inform consumers and create brand awareness, not to mention videos are a preferred channel for consumers to gather information about a company.
When a video goes viral, it can have an immeasurable impact on the bottom line of a business — like the commercial that launched Dollar Shave Club from obscurity to household name. But the impact of most videos can be nearly impossible to discern because the data that is gleaned from them is rudimentary.
Views, likes, shares, or geographic data are not complete measurements of a video's impact, and provide little insight into the viewer's engagement level. Seeing that blind spot in a world heavily influenced by data, Kaltura designed a solution — a video platform that could engage consumers and workforces alike.
"Video delivery by itself is rich media, but a poor engagement tool," said Jeff Rubenstein, VP of Business Development at Kaltura. "We are highly focused on the engagement aspect and make videos more useful for interaction with prospects, moving them along in a sales funnel, or doing rich customer support."
Kaltura's platform is customizable, and videos are designed to be interactive, meaning users can be prompted to sign up for an email list or answer questions about preferences from the video interface itself. Those connections give businesses valuable data from a channel that was always data-adjacent but never at the forefront of collection.
The uses extend well beyond consumer engagement to customer service as well as internal training, and integration with analytics tools and CRMs that can exponentially increase the value of a company's data.
Engaging Consumers Through Videos Unearths Relevant Data
Video is a highly entertaining and educational medium for consumers, as they watch, listen, and process information on a company. But engagement is much more difficult to discern, putting videos in the odd position of being a necessary marketing strategy for businesses but giving back little in the way of precise, relevant data.
Jeff drew the parallel between the use of videos today and using PDFs a decade ago.
"PDFs revolutionized the world because they were universally readable. You could send a PDF, and anyone could read it on any device — but you couldn't do much other than reading them," Jeff explained. "Now they are much more open format; you can edit them, sign them, send them back, and collaborate."
Kaltura is helping video content undergo that same transformation from widely used format to a responsive and interactive engagement tool.
"Videos are also universally readable, and they deliver desired content, but Kaltura helps them deliver much more," Jeff said. "Now we have a platform that can help extract data from a user's interaction with content."
With Kaltura, a business can easily add a video to its web page, and, in that video, embed a form asking a user for his or her name and email address to continue viewing. Or, a company can add interactive elements like buttons to ask questions about their preferences or feelings while viewing.
That information, paired with other data like view time and location, can create a three-dimensional picture of a prospect that video tracking alone could never produce. And through Kaltura, that data can be sent directly into a company's sales pipeline, speeding up outreach and boosting conversions.
Integration with Marketing Tools Automates Lead Generation
Sales leads can trickle in from a variety of different channels, but video is rarely linked directly to the generation of prospective customers. When a consumer watches a video, he or she has to initiate contact after finishing it to be considered a lead. And, at that point, most sales teams only know the channel a lead came through — such as email or social media — and would never know that a video helped get the user to act.
Through Kaltura, leads are generated directly from videos — no matter where they reside on the web — and can be correctly attributed to a company's bottom line. Kaltura also has integrations with many CRMs, meaning those leads can automatically enter the sales funnel as they are generated and a company can start a personalized outreach campaign immediately.
"Once we have information about a consumer, we can create nurturing campaigns by intelligently calculating a lead score. If a person got to a predetermined point in a video and clicked a particular button, they get one campaign. If not, they get another."
That data can all be fed into the CRM or sales tool that is being used, making the next step — the sales process — much more informed. Inside the CRM, Kaltura can pass information directly to the salesperson about what the users did or which videos they watched. It can even predictively recommend more video content for the prospect.
"Once we have information about a consumer, we can create nurturing campaigns by intelligently calculating a lead score," Jeff said. "If a person got to a predetermined point in a video and clicked a particular button, they get one campaign. If not, they get another."
Kaltura immediately gives video content the ability to generate leads and revenue, but that is only part of what makes it a robust tool for businesses. The platform's ability to assist customers after the sale and help companies manage videos internally can rapidly speed up ROI.
Empowering Workforces and Consumers with a Rich Knowledgebase
When customers have a product question or experience a problem, the first action they may take is to search for a video to help them. And when a company doesn't have an easily accessible or searchable content library, consumers will go to other websites to get the information they want — which means less control over the customer experience with your product or brand.
"To provide customers with better service, we can create self-help video libraries," Jeff said. "You want customers looking at your videos because you can control the content, quality, and even resolution since they are already in the support portal. An agent can even see how far a customer made it through a video and pick up from there, which makes for a better customer experience."
Beyond the consumer-facing benefits of Kaltura, the platform has a bevy of internal uses that foster efficiency, as well. As a video management tool alone the platform automatically generates searchable transcripts, categories, and tags for each video so it can be found quickly.
"If you are managing large numbers of videos, you need to know everything about them, or how can you find the right video you want in a pile of 1,000?" Jeff told us. "One of the things we do, by default, is to create transcripts of the videos and use conceptual abstraction to tag them. You can easily turn a library of videos into a rich source of internal corporate knowledge."
Kaltura Allows Retailers to Maximize ROI on Video Content
Videos are just starting to transition from valuable content to valuable lead-generation tools, and Kaltura is leading the charge through its playback and reporting tools. The company's platform helps businesses improve their sales leads, customer service, and even internal communications — all through the power of video.
"Our platform technology can be applied in so many ways depending on what kind of behavior you are trying to drive, whether it is consumers or employees," Jeff said. "There used to be sharp distinctions between internal and external systems, but Kaltura can support both. For us, it is very fluid."
Because Kaltura puts videos to work for businesses on so many different levels, ROI can more quickly be realized. And a popular medium that was once a data blind spot can become an engaging, lead-generating powerhouse.