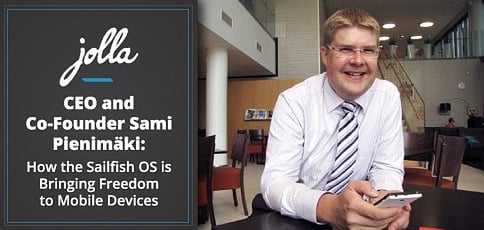 TL; DR: Originating from a joint project between Intel and Nokia, Jolla made its mark in 2013 with the release of the open mobile operating system Sailfish OS. The open-source platform is adaptable to a number of use cases — from facilitating the development of independent mobile ecosystems to powering consumer-facing mobile devices. As an operating system, Sailfish offers a variety of unique features, including enhanced privacy, streamlined multitasking views, and a fully gesture-based user interface. We recently sat down with Jolla CEO and Co-Founder Sami Pienimäki, who told us how the Finnish company is reinventing the mobile OS landscape.
As a well-known developer of mobile technologies, Nokia made a name for itself by producing cellphones and minicomputers in the 1980s and 1990s, and tablets and smartphones in the 2000s. In 2005, the company created its own Linux OS for a line of tablets and later joined forces with Intel to launch the MeeGo project in 2010.
Ultimately, the project was canned, but part of the development team left Nokia to form Jolla, which has since released a number of mobile devices running on the company's custom OS.
"That gave us our own opportunity to develop a new Linux operating system," said Sami Pienimäki, CEO and Co-Founder of Jolla.
Jolla's new Sailfish OS would be the spiritual successor to the MeeGo project, retaining a large portion of the original code. At a time when Nokia switched focus to Windows phones, the Jolla team still envisioned a unique Linux-based OS that catered to the user experience. Because the Linux kernel is so versatile, there were already a large number of Linux-based operating systems on the scene, including Android.
"It's hard to see that the world would only use two operating systems — Android and iOS — and that they would be here forever with nobody else," Sami said. "The world is a big place and there are a lot of different interests and users."
Given the explosive popularity of mobile devices, an increasing number of people are utilizing these mobile operating systems for their everyday tasks. This mobile takeover has wrought heightened privacy concerns, as users are carrying around access to sensitive information in their pockets. Aimed at changing the mobile landscape, Jolla created Sailfish OS for investors, corporations, governments, and others who prioritize privacy and ease of use.
The Challenge of Building Trust for Open-Source Development
Open-source technology is highly customizable and free to edit, making it a suitable base for many popular applications and suites such as OpenOffice and Firefox. Often, these applications and operating systems are created as a free alternative to existing software that, while very useful, is often expensive and significantly adds to the price of mobile devices.
Furthermore, most Linux-based systems are unique and less mainstream than Windows, iOS, and Android, meaning less vulnerability to widespread malware, as well as easier customization.
Despite the many advantages of going open-source, Jolla has faced significant challenges in building trust for the approach. And Sami told us competing with giants like Apple, Android, and Microsoft was no small task.
"It was very unclear in the beginning how we were going to build this new platform from a scratch base," Sami said. "We went around the world for quite a while and tried to find a hardware partner for us."
After attempted negotiations with countless vendors, Jolla decided to once again fly solo and develop its own hardware.
The Birth of Sailfish: A Highly Customized and People-Powered OS
In 2013, the first Sailfish OS-powered smartphone hit the market, complete with a gesture-based user interface. The new phone also featured compatibility with its competitors' Android apps, something unheard of in the mobile market.
"We needed to make our own device in order to prove to the world that we could actually do our own mobile operating system," Sami said.
Following the 2014 release of the first Jolla-branded tablet, the company has once again switched to fully focusing on licensing and improving its operating system. Sailfish OS has been licensed to a number of industry leaders across the globe, providing an independent alternative to mainstream mobile software.
"By being here for six years now and successfully licensing this for big corporations, we have proven there is a place for this operating system in the world," Sami said.
By breaking the mold of mobile operating systems, Jolla carved a niche in the marketplace, becoming the unofficial favorite of many techies and third-party mobile device vendors.
Sailfish OS is maintained by the Jolla team and various corporations and open-source community members. The Sailfish community prioritizes developments based on a system of voting, ensuring that the most needed aspects and features are added or improved on first.
Improving the User Experience with Enhanced Privacy and Security
Given Jolla's background with Nokia, the team has a thorough understanding of the user experience and how the mobile UI affects it.
"We actually introduced a whole new, unique user experience with which to compete with iOS," Sami said. "iOS has similar features that we had introduced back in 2013, so we were ahead of our time."
Sailfish OS was designed as a fully independent alternative to iOS and Android, allowing for greater customization and privacy. Sami told us Sailfish users now find privacy and security the most important aspect of the OS. Jolla's end-user license agreement prohibits the collection of data — something Sami highlighted as very different from Android and iOS.
Other main features of Sailfish OS include Android app compatibility, strong multitasking capabilities, and a wide variety of personalization and privacy options. Sailfish OS is user-oriented, with minimalistic design, fast processing, and easy operation with swipe gestures. The combination of gesture-based operation and an all-in-one multitasking view puts cutting-edge technology right at users' fingertips.
Jolla's impressive list of licensees has a broad range of markets and needs to cater to. Like other open-source projects, partners that use Sailfish have the freedom to modify the OS to their liking. This is especially useful with localization, as Jolla works with companies across the world, requiring the implementation of various languages and device features. Companies can also supplement end-user privacy with the use of MDM, end-to-end encryption, and strong algorithms.
Collaborating With Blockchain to Develop Decentralized Apps
Given the background of Jolla's development team, the Sailfish project has always been heavily focused on the user experience. Sailfish OS was created using assets and knowledge from Nokia and Mer.
Blockchain is the world's leading platform for software innovations in the financial sector, dealing with digital currencies such as Bitcoin. Meanwhile, Zipper Global makes blockchain-based services safer and easier to use with a secure crypto wallet and decentralized operation that runs independently from the OS.
"We've been following the blockchain development for quite a while and started to develop a blockchain-based, decentralized application platform for the Sailfish operating system," Sami said.
Decentralized applications help safeguard user privacy and have developed as a result of popular cryptocurrencies like Bitcoin, which was intended to be a fully anonymous way to exchange money digitally. Most often, digital transactions require the use of credit card numbers and a slew of other private information. The open-source nature of Sailfish OS thus makes it the perfect system for developing and testing new decentralized apps.
"What we can offer there is actually the only full-scale solution in the world where you can opt in devices and source code to develop different blockchain solutions," Sami said.
Despite being in operation for a relatively short time, Jolla has managed to change the climate of mobile operating systems by prioritizing important user needs, including security, privacy, and ease of access. Sailfish OS is also among the very few operating systems to offer a centralized view of tasks and a purely gesture-based interface.
Since 2011, Sailfish has been used in mobile and navigation devices, smart TVs, and home appliances. Developed by a team of passionate innovators, Sailfish has also recently garnered interest from a vast tech enthusiast community, having been ported to a wide variety of devices from vendors like HTC, HP, Motorola, and even Google — one of Jolla's biggest competitors.