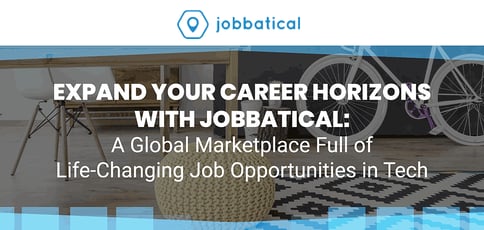 TL; DR: Jobbatical, a global marketplace for international job opportunities based in Estonia with a presence in Singapore, is on a mission to distribute knowledge and talent across the globe. By connecting globally minded businesses with a pool of more than 295,000 candidates, the Estonia-based startup is also helping to fill talent gaps. With a critical role in launching the first Digital Nomad Visa, Jobbatical is continuing to shape the future of talent mobility.
Karoli Hindriks was studying at Singularity University, a Silicon Valley corporation that offers global learning and business incubation opportunities, when she began to wonder why so many groundbreaking technologies tended to emerge from the San Fransisco Bay Area compared to the rest of the world.
Soon, she had a revelation. "It didn't take long to connect the dots and discover that it was because of the talent there — a destination attracting the best people from around the globe," Karoli said. "I thought to myself, if talented job seekers are attracted to Silicon Valley, then why wouldn't they be attracted to other cities with their own amazing companies and cultures?"
So, in 2014, Karoli started Jobbatical to inspire people to discover their dream locations through lucrative career opportunities. Today, she's both Founder and CEO of a thriving community of more than 285,000 professionals who hail from over 150 countries. By simplifying how companies and job seekers connect, the Jobbatical platform is helping distribute knowledge and talent across the globe. "Jobbatical has established a global marketplace for future careers, offering life-changing opportunities at the click of a button," Karoli said.
Whether Jobbatical is filling worldwide talent gaps or helping launch the first Digital Nomad Visa, its mission is clear: to connect globally minded companies with a community of ready-to-relocate tech, business, and creative talent.
An Estonian Startup Helping Companies and Job Seekers Connect
As globalization continues to enhance the integration of people, businesses, and governments, Karoli said employers can build their companies from anywhere in the world, rather than limiting themselves to one city. The benefits of workplace diversity are well-documented and include better insight into customers, new perspectives that challenge the status quo to drive innovation, and enhanced problem-solving due to a range of experience and expertise.
On the employee side, it can be a challenge to find a job you love in your hometown or state. With Jobbatical, the job pool opens exponentially, increasing the chances a job seeker will find a satisfying career. And, aside from career advantages, employees gain the personal benefits inherent in pushing themselves beyond their comfort zones.
Jobattical's goal is to make the life-changing process as painless as possible with a straightforward sign-up process and immigration assistance in many countries.
"It is very easy and only takes a couple of minutes if you use the signin with the LinkedIn option, but we do recommend filling in your skills section as much as you can so we can recommend relevant jobs for you," Karoli said. "We're proud that most of our jobs offer visa and relocation sponsorship, and our users find our blog and webinars very useful when considering moving abroad for a job."
In terms of product development, Karoli also said Jobbatical works every day to meet the ever-changing needs of job seekers and recruiters who request new features.
A Mission to Distribute Knowledge and Talent Throughout the Globe
The company's robust job board allows candidates to explore jobs in a wide range of categories, including software engineering, product and design, UI/UX design, and sales and marketing. Karoli said Jobbatical also works with companies to source candidates, arrange interviews, hire prospective employees, and relocate new team members.
Its latest hiring campaign, Work in Estonia, gave 23 selected candidates the chance to meet some of the biggest players in Estonia's IT sector and participate in job interviews for senior IT positions at globally renowned companies. The campaign, Karoli said, culminated with an impressive 60% success rate.
Jobbatical also empowers job seekers to pursue remote working opportunities that fit within their lifestyles. "An important benefit we offer job seekers is flexibility within their careers," Karoli said. "We offer the freedom to work from anywhere, the opportunity to make your own hours (when possible), and the chance to spend more time with family. These are key benefits for our users."
As for employers, Jobbatical makes hiring exceptionally simple: The company's professional copywriters create a customized job ad and distribute it to almost 300,000 professionals across the globe. Businesses can efficiently manage incoming applications from the dashboard, where they can also move candidates through various hiring stages.
"We had two campaigns, and most likely six employees will be hired," said Kaspar Korjus, a Jobbatical customer and Managing Director at E-Residency, in a review on the Jobbatical site. "We have people from top companies, including Google, IBM, Walt Disney; from top universities, including Fletchers, Harvard, Oxford, Stanford, Berkeley; and from top gov positions, including the Estonian Government Office and French Government Office."
Fill Talent Gaps Through Data-Driven Recruitment
Through the Jobbatical platform, employers in areas that lack technological expertise have the opportunity to access top talent globally — providing a solution to the all-too-common talent gap.
"Many times, companies we work with don't have the skilled talent they need in their own backyard or they face competition locally for a small pool of job seekers," Karoli said. "We help companies reach beyond their borders to help fill their needs with some of the best talent in the world."
And while the skilled-talent gap is already a significant problem, it's about to get worse. Recent studies show that the global talent deficit will balloon to 85 million workers by 2030. "One of the biggest challenges we are seeing is that companies and countries are facing severe labor shortages in specific areas," Karoli said. "For human resources, this is a major headache in need of a solution. Left unchecked, we could be looking at a loss of $8.5 trillion in potential revenue globally."
Jobbatical is working to become part of the solution by attracting talented people to areas plagued with skill shortages. As an example, Karoli cites Jobbatical's work with the Estonian government, as well as a governmental agency in Singapore.
"Another big benefit is our data-driven recruitment process," Karoli said. "Employers on Jobbatical have access to key data that — when mined carefully — identify the high performing candidates that will be a perfect fit for their company."
Instead of relying on instinct, Jobbatical arms hiring managers with the facts they need to ensure they're making the right decision.
The Digital Nomad Visa: Empowering Borderless Workers
Karoli said that today, it's easier than ever for people to move from one place to another. This mobility has contributed to the rise of digital nomads who leverage the power of the internet to live and work remotely.
"Supporting digital nomads on their career journey has been one of the founding principles behind Jobbatical," she said. "Our purpose is to create bridges, not walls, by inspiring talent from all walks of life to discover their dream work locations globally."
The Jobbatical staff is made up entirely of digital nomads who understand firsthand what users need to thrive both professionally and personally. "We're extremely proud to be a company powered by digital nomads based around the world," Karoli said.
The company has also been heavily involved in the world's first Digital Nomad Visa initiative, a temporary immigration arrangement that will allow individuals to live and work in Estonia.
"Leaders from the digital nomad community joined with Jobbatical to advise the Estonian Ministry of the Interior to put a framework in place to develop the world's first visa for borderless workers," Karoli said. "Under the proposed plan, digital nomads will enjoy access to Estonia for a year, as well as the Schengen Area for up to 90 days."
The first of its kind, the Digital Nomad Visa will enable global workers to live and work throughout the EU more freely. "We expect big news on its progress this year, so stay tuned," Karoli said.
In other news, Jobbatical recently launched Career Hunt 2, a global IT recruitment campaign intended to fast-track tech careers in Estonia. If you're looking to apply for an innovative tech job in an exciting new environment, Jobbatical has you covered.