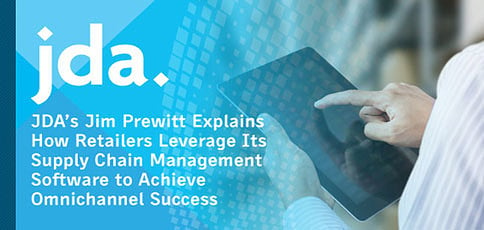 In a Nutshell: As retailers shift to provide omnichannel fulfillment options to customers, a new strain is placed upon the supply chain. Retailers now need to have inventory at the ready wherever customers want to make a purchase, whether it's in one of their stores, online, or via mobile ordering. Being able to accurately forecast inventory needs is becoming increasingly important to create seamless customer experiences and ensure profitability. This is why businesses turn to JDA for its suite of intelligent software that provides end-to-end merchandising and supply chain solutions. Using data based on customer preferences and buying habits, JDA is allowing retailers to predict out-of-stock issues before they become issues.
Providing a seamless customer experience remains a top priority in modern retail, and companies are doing their part to allow shoppers to purchase their products however and wherever they want. However, it's what is happening behind the scenes that enables consumers to have hassle-free experiences.
The supply chain was once a linear process. Manufacturers would create products and ship them to their distribution centers, which would, in turn, ship them to retailer distribution centers before the merchandise reached store shelves.
"I think the supply chain has become one of the most impacted areas as a result of omnichannel," said Jim Prewitt, Vice President of Retail Industry Strategy for JDA. "There's been more change in the retail supply chain in the last six to eight years than probably the 50 before that.
"Now, supply chain has to be infinitely flexible. You may be shipping from a fulfillment center. You may be shipping from a distribution center. You may be shipping from stores, and you may be taking returns in multiple locations."
The demand for purchase flexibility and free shipping has put a strain on retailers, who aim to please customers by having the ideal amount of stock in place everywhere customers shop without overstocking, which leads to markdowns and profit loss. In fact, a JDA/PricewaterhouseCoopers survey of 351 retail CEOs revealed that only 10% were able to profit while fulfilling omnichannel demand due to complexity and cost.
Many are choosing to scale back, and this abandon-ship mentality may seem like a logical decision in the short term. However, with customer experience being so crucial to retail growth, the companies that choose instead to streamline their processes and technology, and bring customer data into the fold, will win in the end. In this context, JDA created a software suite to help retailers make efficient store operation and supply chain decisions with customers in mind.
Phillips-Van Heusen (PVH), a clothing company known for brands such as Calvin Klein, IZOD, and Tommy Hilfiger, came to JDA with a unique challenge. As a vertically integrated business that acts as both retailer and wholesaler, PVH faces especially complex supply chain decisions with manufacturing and fulfillment.
"They're trying to be more efficient in their purchasing," Jim said. "They're trying to shorten the lead times to get products from conception to store shelves, and they have all the challenges of a very complex supply chain because they have demand signals coming from their stores and from other retailers. Getting those forecasts correct and accounting for all of those demand signals is vitally important for them to improve their profitability."
How JDA is Facilitating Retailers' Shift Toward Digital Strategies
The shift to digital is on the horizon across retail with 69% of surveyed executives planning to invest more in digital transformation this year. However, 52% said they have not yet defined or begun implementing a digital strategy.
"Certainly, [retailers] understand the need to have a digital strategy," Jim said. "They have some general understanding of what the content of the digital strategy may be, but they haven't necessarily progressed too far."
These figures put companies like JDA in prime position since they specialize in software that unifies processes to help usher retailers into the digital age.
"It's really about permeating big data throughout your organization and throughout your decision-making process, into your supply chain, into your merchandising decision-making, and into your customer interaction," Jim said.
Mastering Mobile, Social, and Big Data are Top Priorities for Retailers
Key digital priorities for retail CEOs include investing in mobile applications, big data, and making sense of unstructured social media data.
"They're asking, 'How do I take the unstructured data that's out there from Facebook and Twitter, and countless other sources, and have that influence my decision-making? How do I have that influence my assortments in individual locations and influence how much I purchase a given product?'" Jim said. "These are the most urgent issues in a digital implementation strategy."
The value of data in planning for supply chain and store operations is clear. Accurately forecasting supply chain needs will improve customer experiences by having the right stock in the right place at the right time to fulfill orders in a timely, efficient manner.
The next wave of digital investment is expected to revolve around IoT, automation, and augmented reality. While they're considered to be game changers, retailers must first get a complete grasp on big data technology before moving on to the next big thing.
"I think you would look at that as an observer and say, 'Yes, these are more futuristic,'" Jim said.
Supply Chain Issues Revolve Around Out-of-Stock and Inventory Planning
Buying online and picking up in-store is increasing in popularity with 51% of surveyed retailers either offering it or planning to offer it to customers over the next year. Customers love this feature because it combines online shopping with instant gratification. However, offering this service to consumers places a new strain on the supply chain.
Jim told us two of the biggest supply chain problems retailers face involve out-of-stock and inventory issues.
"Those are the two things that we typically hear," Jim said. "It's very often, 'I have too much inventory, but I don't have enough of the right inventory to make the sale.' Those two things kind of go hand in hand, and that speaks to the need for forecasting and replenishment execution systems."
"How do retailers avoid putting so much safety stock throughout their networks that they lose the omnichannel benefit?" — Jim Prewitt, VP of Retail Industry Strategy for JDA
A common strategy retailers employ to fulfill orders is putting safety stock in place throughout their networks. The challenge lies in accurately forecasting inventory needs to avoid overstock, which often leads to price markdowns.
"Understanding where demand is coming from and then positioning inventory in the right location is really where retail supply chain is going, as opposed to safety stock being positioned in every location to cover the just-in-case situations," Jim said.
JDA Goes Beyond ERP with Best-In-Class Software Solutions
When Gartner released its 2016 Magic Quadrant reports, JDA was the only company listed as a leader in all five categories of supply chain and merchandising solutions, which include supply chain planning, sales and operations planning, transportation management, warehouse management, and merchandise assortment management.
Each company is judged on completeness of vision and the ability to execute, and JDA's investment of more than $100 million in research and development has positioned it as a leader in the supply chain space.
"I think what differentiates someone like a JDA as opposed to one of the ERP [enterprise resource planning] vendors is JDA has best-in-class products throughout our suite," Jim said. "So you know if you're buying the JDA products, they've been ranked very high by companies like Gartner."
Although the company is best known for supply chain, its software capabilities cover the spectrum of taking products from the manufacturing phase until they reach store shelves.
"Our footprint can be very large within a retailer," Jim said. "We could be doing forecasting and planning in the supply chain as well as execution things like warehouse management and transportation management. And within the store, we can do everything from labor scheduling to task management to inventory management."
Knowing that different segments within retail face unique demands, JDA builds its software to be versatile enough to handle the challenges that all types of retailers confront.
"JDA is one of the few software vendors that work across all retail verticals — softlines, hardlines, grocery, drug, convenience — and sometimes issues are different depending on the vertical," Jim said. "The solutions have to be tailored to the industry. It's not really one size fits all."
Supply Chain Flexibility Needed for Omnichannel Retail Strategies
As more customers have come to expect options like buying online and picking up purchases in-store or buying online and making returns to a store, more retailers feel compelled to comply, despite the strain it puts on supply chain and profitability.
Companies like PVH have benefited from JDA's software, which uses data-based insights to steer stock to where it needs to be to make sales seamless for customers. After all, nothing turns customers away faster than not having available the products they want to buy, especially in a competitive industry like retail.
Moving forward, Jim tells us JDA is focusing on offering retailers Software as a Service (SaaS) integrations. Infrastructure updates are expensive, especially for larger chains, and some retailers want to be able to try innovative strategies without making massive investments.
"The software is evolving as the capabilities are maturing that will make it easier for retailers to integrate this next wave of technology with their legacy systems," Jim said.
To make these options a reality, JDA is building SaaS applications on Google Cloud Technology to give retailers updated, mobile-enabled technology. An example is Retail.me, a cloud-based solution that helps merchandise planners use buyer behavior insights to meet consumer demands.
"Down the road, retailers might want to be able to have augmented reality in the store where customers can walk with their cellphones and see ads unique to them because we know their shopper profiles," Jim said. "That's something we'll be able to do as a service."