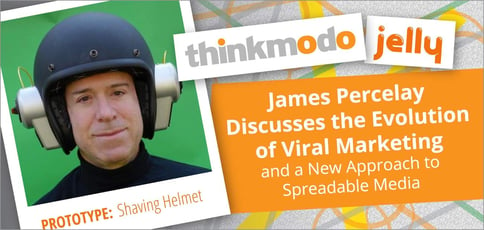 TL; DR: Through his co-leadership at the helm of Thinkmodo, and, more recently, the branded viral marketing firm Jelly, James Percelay has helped push the earned media scene forward. His approach brings fantastic objects and scenarios to life, creating advertising content that is too compelling not to share. Through his hybrid-experiential model and other secrets for spreadability, James is committed to helping businesses capture audience attention the fun way.
Patrons of a New York City café likely needed more than a caffeine fix after witnessing a woman raise a man up a brick wall, send tables flying, and knock books off shelves — all without touching a thing.
For two days in October 2013, the coffee shop looked like a scene straight out of Stephen King's 1974 chiller, "Carrie" — and that's exactly what viral video marketing firm Thinkmodo intended. The elaborate setup, complete with actors, stunt performers, remote-controlled tables, and spring-loaded books, was put on solely to promote a remake of the film that was set to hit theaters later that month.
The telekinetic coffee shop experience was equally stirring online, where it quickly went viral. But unlike many things in our here today, gone tomorrow lives, this video has staying power: Scroll through the YouTube comments, and today, six years later, people are still talking about it.
"The problem with paid media is that once you stop paying, your campaign messaging disappears," said James Percelay, Co-Founder of Thinkmodo and CEO of the innovative new viral marketing firm, Jelly. "The idea is to create content that has a life of its own and generates, on its merits, news coverage that lasts years and keeps being shared based on its uniqueness. It's all about the relatability and stickiness of the content."
Today, James continues to create relatable viral marketing opportunities by bringing our shared fantasies to life through everything from fantastic inventions to social experiments. His take on generating media coverage, fostered through a hybrid-experiential model, helps businesses attract both local and worldwide attention. With a focus on spreading ideas through Jelly, James is continuing to put his distinct twist on the earned media scene.
Relatable Viral Marketing: Bringing Shared Fantasies to Life
New York City-based Thinkmodo was started in 2011 by James and Co-Founder Michael Krivicka. Both were writers and filmmakers. James, a "Saturday Night Live" line producer who at the time worked on the show's commercial parodies, said his experience with the show left him intrigued with the power of brevity.
"The fact that people would remember, in detail, short little spots within an entire 90-minute show — and might not remember much of the other content — made an impression on me," he said.
At the time, people held conversations about their favorite "SNL" skit around the water cooler the following Monday. Years later, amid the rise of YouTube, James realized the internet brought forth digital water cooler opportunities.
"When YouTube started to come into its own, it occurred to me that there was a new iteration of shareable, short-form content," he said. "The question at the time was, could a model generating media coverage from engaging content work?"
Determined to find out, James scoured YouTube for a content creator in line with his aesthetic and sense of humor. He found the perfect match in Michael, who was on a similar path, and in 2011, the pair founded Thinkmodo.
With a little networking help from the Producers Guild of America, of which James is a member, Thinkmodo successfully pitched a viral video concept to Relativity Media. To promote the science fiction thriller "Limitless," starring Bradley Cooper and Robert De Niro, the company produced a video hoax demonstrating how to hack the screens in Times Square.
"We put a metaphor for the movie into real life, and it took off like crazy," James said. "The media picked it up, audiences around the world shared it, and the movie opened up as number one at the box office. Michael and I quickly became the go-to guys for viral marketing in Hollywood."
Spread Ideas with Jelly: Where Real Objects Meet Digital Media
After eight years of successfully leveraging their signature viral marketing technique, James and Michael felt they had made it to the top of their game. "We wanted to expand our creative reach, and each had their own unique visions, so we amicably decided that it was time to go out on our own," James said.
James has a passion for invention jaw-dropping tangible objects that supercharge the viral effect. That's part of his focus as CEO and Chief Creative Director at Jelly, the viral marketing firm he founded in November 2018. The key, he says, is to focus on relatability while fulfilling people's inner fantasies — even if they can't articulate their dreams.
A perfect example is his campaign for Verizon Hum, a vehicle diagnostic and tracking system. "How many people get stuck in traffic, knuckles white from squeezing the wheel so hard, wishing, 'If only I had a car that could get me over all these cars, I'd be so much less stressed,'" he said. "We built that car."
Just as Hum "elevates" the driving experience, this transforming vehicle uses hydraulics to widen and elevate, allowing the driver to literally pass over everyone else in the way. Once in the clear, the car returns to its original, unassuming form.
"The 'Today' show ran a segment on it that was almost eight minutes long, and 'Jay Leno's Garage' repeated it more than 25 times," James said. "The value of these videos is that they not only attract digital audiences, but they get a tremendous amount of TV news coverage."
Generate Media Coverage Long After You Stop Paying For Your Campaign
Of course, there's no precise formula for determining what will make a video campaign go viral. For James, it mostly comes down to that gut feeling. How else would one know that a video of an animatronic "devil baby" popping out of its stroller to terrorize bystanders could successfully promote 20th Century Fox's "Devil's Due" — amassing more than 100 million viewers on Facebook and YouTube alone?
"It really comes down to just having a sense of what the audience wants," James said. "Over the years, we've come up with a number of criteria that would make a viral video successful, but it's definitely more of an artistic process involving creative empathy."
Lately, James has been gravitating toward performance art that includes something he can build – be it a robotic demon baby or traffic-busting car. "In a landscape of CGI and digital perfection, people are hungry for objects that are real," he said. "So when you make a car that drives over other cars, you also get more media attention because there's a physical prop with which reporters can engage."
The key in my hybrid-experiential model, he said, is to come up with a way to stage local live events yet make them shareable with viewers around the country. "With digital media, you can extend the creativity that goes into live events and achieve a much bigger return on investment," he said.
Secrets for Spreadability: A Hybrid-Experiential Model
Ultimately, James likes to refer to Jelly as "making ideas that spread."
"The term 'viral' has always been pejorative," he said. "There really aren't any good viruses — it's time to put a new spin on the concept — hence 'spreadable ideas.'"
Looking forward, James plans to explore how in-depth forms of content, such as a spreadable online series, can be used to generate viewer engagement and increase brand awareness.
He's also hard at work developing campaigns for major studios. For obvious reasons, he can't share too many details. But that doesn't matter. Considering James' track record, it's just a matter of time until the next round of projects goes viral.