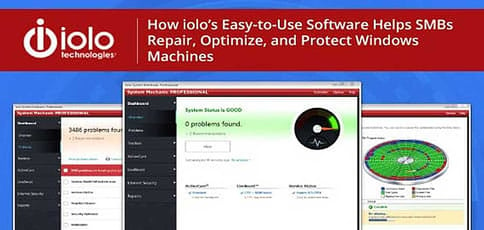 TL; DR: Windows has been running on so many PCs for so long, its operational history is quite complex. Many users don't possess the skills to edit the Windows Registry or dig down into the Control Panel settings to help systems run better. Since 1998, iolo technologies has focused on solving problems for Windows users at home and in the office. Its flagship product, System Mechanic, has helped more than 80 million PCs run faster and more securely, with fewer crashes and slowdowns. And as computing has moved online, iolo has stayed ahead of the technology curve, and the company is gearing up to release Phoenix 360 — its most comprehensive security, privacy, and optimization package yet.
Entrepreneurs and small business owners have to wear a lot of hats, and when a product comes along that can take on some of the responsibility for keeping the office running smoothly, it tends to earn a lot of loyalty.
System Mechanic by iolo technologies is that kind of product. Since its release in 1998, it has kept more than 80 million Windows PCs running efficiently, preventing crashes, freeze-ups, and maximizing speed and processing power. A finely tuned office computing environment is a key productivity driver, and System Mechanic removes a lot of the guesswork involved in achieving that.
"In this day and age, you run computers in the office whether you're tech-savvy or not," said Jeff Venables, Product Marketing Manager at iolo. "And bottlenecks happen when things don't run right. With System Mechanic, you can automate the whole process."
System Mechanic works with Microsoft's Windows operating system — the platform that has formed the basis of office computing since the release of version 3.1 in 1992. That's a long time in technology terms, and — like Windows — System Mechanic has stayed ahead of the curve by changing with the times.
"Twenty years ago, we focused a lot on stabilization," Jeff said. "Windows was crashing and freezing, and everyday wear and tear would fragment files and cause slowdowns."
As Windows evolved, it solved a lot of the problems that kept iolo occupied in its early days. But, because its installation base is so broad, the modern Windows is a highly complicated piece of software. So iolo digs deep under the hood to custom-fit the OS to the environment it's working in.
"What we've found is that the garden-variety default settings in Windows aren't always optimal," Jeff said. For example, cores in the powerful multi-core processors used in modern PCs are often "parked" to save power on laptops, but in an "always-on" office environment, those cores should be engaged.
"System Mechanic will go in there and prioritize processes and ramp those processor cores up to maximum speed," Jeff said. "You end up with a faster network. That's super handy for the busy entrepreneur who doesn't want to think about optimization," Jeff said.
Ongoing Research & Testing Keep iolo Products Ahead of the Curve
The energized iolo team working at the company's Pasadena, California, office is tasked with probing new versions of Windows to uncover new user challenges and develop products to resolve them.
"We work in a very streamlined environment — everyone here is absolutely essential to what we do every day," Jeff said.
An in-house lab team conducts benchmark testing, purposely slowing down computers and experimenting with different optimizations. The company also does alpha and beta testing with everyday users.
"The testers will just set upon every new version of the software and try to break it," Jeff said. "That's great feedback to get to solve newer and newer problems and keep improving our products."
Testers also give feedback from a user-interface perspective. As iolo continues to explore Windows for ways to tweak it, it's also exploring its own products to ensure menus and options are accessible and intuitive.
System Mechanic Business: Affordable PC Protection for Small Offices
System Mechanic Business can be scaled up to multi-PC small office environments through iolo software licensing optimizations. SMBs that might run a fleet of older computers can optimize their entire environment.
"System Mechanic Business exists to bring the folks on an office network up to speed and to ensure that your company isn't suffering drain through employees' individual computers," Jeff said. "The tools in System Mechanic are ideal for small businesses."
As with all versions of System Mechanic, the affordable, network-ready System Mechanic Business includes a feature called Startup Optimizer to help users control "bloatware" — unwanted items launching at startup that can slow boot-up times and monopolize system resources.
"We put those items in front of the end user with our recommendations about what they should turn on and off at startup," Jeff said. "Bloatware is a growing problem — it's almost an arms race where more and more companies are taking advantage of today's vastly more powerful processors, greater RAM and larger storage drives, and launching all their software at startup without your knowledge."
Startup Optimizer and the other tools included within System Mechanic help tune the OS in an office environment to provide a stable foundation for business operations and eliminate system lag that can bog down productivity.
"You don't want to think about it," Jeff said, "and that's the problem System Mechanic Business was designed to solve."
Cutting-Edge Products Focus on Web Security & Malware Removal
The company's commitment to staying ahead of the curve with Windows doesn't end there, however. As more and more computing has moved online, iolo has put additional emphasis on the web.
"It's no secret that online security is a huge concern," Jeff said. "It seems like every day my inbox is flooded with news stories about security breaches — to the point where it's coming at consumers from all angles. Our newest focus is on products that protect users from the bad actors all around them on the web."
Privacy Guardian is a browser add-on that scrambles personal data so that spying eyes can't derive actionable information from it. As such, it's iolo's solution to an emerging online problem known as digital fingerprinting, which Jeff called "the next wave of personal data invasion."
"If you're not using Privacy Guardian to scramble the data browser fingerprinting scripts use to track you," he said, "imagine being denied credit because a company has secretly collected data that suggests, however out of context, that you're an irresponsible shopper. It's getting super sophisticated out there, and our tool thwarts those efforts."
The company is also preparing a password manager called ByePass that will work not only in Windows environments but on Android and iOS devices as well.
ByePass will help users generate and encrypt unique passwords for all the sites they visit and manage their credit card numbers for online purchases. "It's become a nuisance — and also a security risk — to keep up with this type of information in an insecure fashion, especially in this age of the smartphone," Jeff said. "A lot of users just use the same password over and over. If you're doing that, you're putting your personal data at risk, and with our product, you don't have to."
To combat malware — malicious software that installs itself on computers when users click insecure web links — iolo is also preparing to release Malware Killer, a companion to its antivirus and antispyware solutions that fixes infected PCs before they have a chance to harm the network.
A Comprehensive Security, Privacy, and Optimization Package for PCs
"Every day when I come to work," Jeff said, "I'm thinking that I'm working for a company that manufactures products — here in the US — that help people. It's not an abstraction — we're putting out physical products that I think make people's lives a little better."
That mission began with System Mechanic helping users defragment and declutter early Windows PCs. As Windows grew more sophisticated, so did System Mechanic. And as users move online, iolo is there with tools for protecting personal data and identity.
Now iolo is bringing all its products under a single umbrella to create its first all-in-one software for securing, speeding up, and protecting all aspects of your digital life. Phoenix 360, scheduled for release in early December, was developed after iolo's merger with Phoenix Technologies and will integrate System Mechanic with iolo's suite of online privacy tools. Along with Privacy Guardian, ByePass, and Malware Killer, the package will include antivirus protection, military-grade hard drive wiping technology, and advanced file recovery software.
"Phoenix 360 is our most comprehensive package yet," Jeff said. "Seven premium products for one low price."
It's also evidence that things never stand still at iolo. A company that got its start protecting Windows from itself a generation ago has now taken on the responsibility of securing millions of global users across the web.