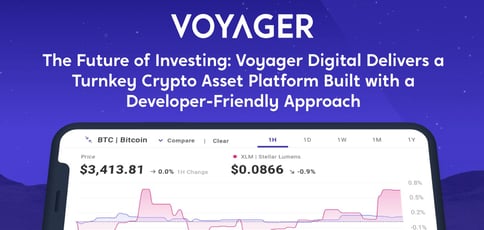 TL; DR: Voyager Digital is an innovative broker delivering an end-to-end solution for trading cryptocurrency via a standalone app and developer-friendly API. The company, backed by a team of Wall Street and Silicon Valley entrepreneurs, is working to provide a secure access point for fast and easy trading in this emerging asset class. With plans for international expansion and continuous development based on customer feedback, Voyager aims to pioneer the future of investing.
There's an air of excitement swirling within the cryptocurrency community — and for good reason. Emerging digital asset technologies provide a fast, secure, and transparent way to exchange value on a decentralized playing field, all while kicking the middleman to the curb.
Despite these benefits, the technology remains alienated from the general public, preventing mass adoption. But Steve Ehrlich, CEO and Co-Founder of Voyager Digital, said it doesn't have to be this way.
"The hardest part of crypto is getting people to understand and believe," Steve told us. "For the financial services company of the future to succeed, you have to make it familiar — similar to what people are accustomed to with their current bank or broker."
Steve is taking this down-to-earth approach with Voyager, an innovative startup offering secure access to a commission-free crypto asset trading market. The turnkey solution, founded by Wall Street and Silicon Valley entrepreneurs with years of high-level experience, is being offered via a standalone app and a developer-friendly API, providing flexible and intuitive ways to access the emerging market.
With the exception of those living in New York state, all U.S. residents currently have access to the market via the Voyager app, which connects to multiple exchanges and allows users to buy and sell nearly 30 crypto assets. In the meantime, Voyager is working with New York to obtain a BitLicense and has plans for international expansion later this year. Ultimately, the company's goal is to bring commission-free cryptocurrency investing, trading, and financial services to the global stage.
Providing a Secure Access Point to Crypto Trading
Voyager, headquartered in New York, was founded in 2017 as a direct-to-consumer crypto broker and trading app for iOS. In October 2019, the company announced its entrance into the Android market, which represents a significant milestone in its plans for international expansion.
"Android users account for 70% of the mobile market, so this launch dramatically increases our potential user base," Steve said in a press release at the time. "It is also the next critical step in our mission to build a mainstream capital market infrastructure for digital currencies and assets and to make Voyager the preferred service provider in the sector."
In addition to providing options for the mobile app consumer, Voyager has built the platform using a developer-friendly API approach that makes it faster and easier to integrate the platform's functionalities into apps and software. As demand for digital assets continues to mount, this strategy will allow developers to provide access to the market without the time, costs, and resources needed for an in-house solution.
Steve said a number of trading apps and platforms are already leveraging the Voyager API to bring crypto trading to their customers. For example, Tiger Trading, a New York-based digital trading company, has connected its technology with Voyager's to expand and enhance its world-class trading system.
Now that Voyager has proved its efficacy via its standalone app, Steve told us he has a pipeline of platforms and mobile apps across the globe that are looking to tap into the end-to-end solution.
Backed by a Team of Finance and Tech Veterans
Steve, whose 25-year background in financial services includes experience in the trading business at E*Trade and as CEO of Lightspeed Financial, said crypto is one of the most challenging environments he's worked in, particularly because of regulations and slow adoption.
"We quickly found that the industry is reticent about working with crypto — just trying to find a U.S. bank where customers can deposit funds took three or four months," he said. "That's when it hit me: If we're facing challenges with 25 years of experience in equity markets, how could a small startup achieve anything in this space?"
The Voyager team realized that the company proved valuable in a business-to-business sense, as well as its original direct-to-consumer use case. "Between custodial relationships, execution, and trying to put the whole package together, what we've accomplished was very time-consuming," he said. "People have said, 'You solved all these problems for me, and now I can go to market more quickly. We're using you.'"
Aside from convincing banks to get involved, Steve said Voyager faced adoption challenges due to the volatile nature of Bitcoin, which reached nearly $20,000 per coin in December 2017 before dropping to less than $6,000 in June 2018. News events that stoked fear at the time didn't help.
"Theses ups and downs affect people's willingness to work with the platform," he said. "Everyone wants in when it keeps going up, but when there's a step backward, people become fearful and begin to rethink their crypto strategy."
A Fast and Easy Way to Derive Value from the Market
In addition to ease of use, Steve said price is one of Voyager's greatest value propositions. Because the app connects to multiple global exchanges, users gain access to a range of competitive, commission-free prices on trades. The company's cutting-edge Smart Order Router aggregates markets in one app, monitors the market to identify the best prices, and delivers a faster, more reliable execution within milliseconds.
"Our ability to scan the globe for the best price brings the customer constant value," he said. "Between price, speed, ease, and security, we have the differentiators that put us on a whole different level."
Voyager also puts valuable information front and center. The company's portfolio performance and monitoring tools provide advanced data and visuals for tracking profits and losses. To ensure its investors stay informed, the app also includes a feed of the latest crypto market news sorted by cryptocurrency.
When it comes to ongoing development, Steve said Voyager employs an agile process centered on a continuous feedback loop from customers. After rebranding its Ethos Token (ETHOS) to the Voyager Token (VGX), Voyager announced it would offer 5% interest on ETHOS held in the Voyager app in response to customer requests. The company also offers 3% interest per annum on their Bitcoin held in Voyager via the Voyager Interest Program (VIP).
"We want to keep people as engaged as possible — it's the opposite of the 'Field of Dreams' method," he said. "You can't say 'If you build it, they will come.' You have to build what they really want you to deliver."
In April, Voyager announced that the company's shares are trading on the Frankfurt Stock Exchange, and in November, it announced it has been listed on the OTCQB® Market exchange in the United States. The company is also publicly traded on the Canadian Stock Exchange.
Up Next: An International Launch and Added Features
Voyager has big plans for the future. In addition to expanding access to customers in New York state and across the globe, the company is working to bring new crypto features to market, including interest-bearing accounts, crypto loans, margin accounts, the ability to short cryptocurrencies, and recurring deposits.
"In 2020, we're going to expand upon what it means to be the financial services company of the future — including, but not limited to, giving people the opportunity to earn interest, letting them trade, and allowing them to take loans on the assets they hold," Steve said.
Along the way, customer satisfaction will serve as the company's guiding light.
"We're in a business where success is dictated by how many people want to use our app, so understanding and listening to what they want is job number one," he said.