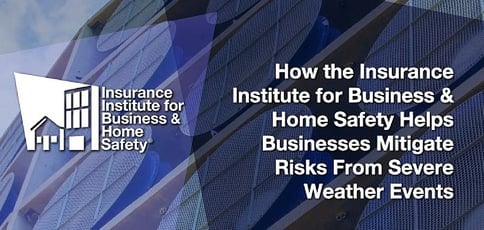 TL; DR: As the frequency of natural disasters increases — and the damage becomes more expensive — many business owners don't know how best to prepare for wildfires, floods, hurricanes, tornadoes, and other calamities Mother Nature has in store. That's why the Insurance Institute for Business & Home Safety (IBHS) has dedicated its team of researchers to finding solutions that protect buildings and technology assets during severe weather events. The nonprofit research and communications organization helps businesses prepare and protect their facilities and datacenters to avoid losing untold assets to unpredictable disasters.
The US braved 16 natural disasters in 2017, each of which causing at least $1 billion in damage. Events as big as Hurricane Harvey, or as small as local wildfires, inflict major damage to many businesses — even causing some to permanently close their doors. That's why the Insurance Institute for Business & Home Safety provides guidance on what actions business owners can take to protect their assets.
"A lot of small businesses don't come back after major catastrophes," said Chuck Miccolis, IBHS Vice President of Commercial Lines. "Even if you are just operating a single-location restaurant, the livelihood of every one of your employees will likely rely on your building staying functional after a severe weather event passes."
The stakes can get much higher depending on the industry and purpose of a particular facility, according to Chuck.
"For example, if an agricultural business stores just a few shovels out in a shed, losing that building likely won't be the end of the world," he said. "But other facilities, like datacenters, can never go down. They have to stay in operation 24/7 for the business to function."
Datacenters or businesses with on-premises infrastructure should concern themselves with more than the technical components of high-availability and disaster recovery. In addition to off-site cloud backups and redundant hardware, companies with IT facilities need to consider strengthening their buildings by constructing them or retrofitting them to higher construction standards.
IBHS publishes free, actionable information and guidance that business owners can use to prepare for catastrophes. The organization also operates a world-class research center in Richburg, South Carolina, where its researchers and meteorologists simulate disasters and assess construction standards that can enable a building to survive the worst imaginable weather.
Why Creating a Disaster Preparedness Plan Might Save Your Business
Despite being aware of major disasters like Hurricane Harvey or the California wildfires, Chuck told us that many people and business owners don't think their organization will be affected by similar threats.
"They fail to understand the hazards they are exposed to, and they underestimate the severity of that exposure," he said. "I have heard people say, 'Well, it's only a Category 1 hurricane, so the damage or flooding won't be that bad.' The truth is, it might be much worse than you expect."
For example, wildfires aren't limited to California or the Great Plains. Increased development into uncultivated land makes every US state vulnerable, Chuck said, as water resources are diverted and landscaping may enable the fire to spread to more structures.
"The expansion of urban building into wildland areas has created vast spaces where wildfire is a real threat," Chuck said.
IBHS recommends every type of business, large and small, prepares a disaster plan to ensure a durable, resilient facility that can quickly recover from a major weather event.
"A lot of buildings have weak roofs, which become huge problems during these weather events," Chuck said. "It is important for businesses to keep their roof covers in good shape. They also need to make sure that any roof-mounted equipment is very well-secured. We saw a lot of large commercial doors fail during hurricanes Harvey and Irma last year. When there is a breach in the building, it adds pressure to the interior of the building, especially the roof."
Whether they're worried about fires or storms, business owners who understand the latest disaster preparedness research and plan accordingly can avoid losing the incredibly valuable assets at the core of their companies.
Weather Destroys Tangible and Intangible Assets: How to Protect Them
Most business owners probably feel out of their depth when trying to prepare for natural disasters. It's one thing to understand this quarter's profits, Chuck said, but they may not know how severe winds or floodwaters can affect the facility where those profits are counted.
As such, IBHS simplifies disaster preparations by breaking the process into two types of plans: business continuity and severe event response.
"A business continuity plan is a proactive strategy that is all about minimizing the downtime your company will have if disaster strikes," Chuck said. "If there is a hurricane or a other severe weather event, you will already have defined the steps required to keep your business running."
The organization's business continuity planning toolkit, OFB-EZ, helps business owners identify responsibilities to assign to their employees and resources to have available so the business can quickly reopen and resume operations. The EZ-PREP program concentrates on emergency preparedness and response planning as a severe weather event is approaching and after the storm has passed.
"EZ-PREP protects your tangible assets," Chuck said. "For example, it will identify what kind of repairs you should do to your building during the wildfire or hurricane off-season. Then, it guides you through what steps to follow if a hurricane is three days away and how you should react when a wildfire is burning through your county."
Standards for Constructing a Durable Building
Although preparation and planning can make a huge difference when disaster strikes, the best way to avoid damaged facilities is to start from the ground up with a structure that's ready for the worst nature can muster. That's why IBHS created a voluntary construction standard called FORTIFIED Commercial™. The program features three tiers of designation — Bronze, Silver, and Gold — to help business owners determine the level of protection that best meets their budgetary restrictions and resiliency goals.
"These standards come out of our real-world science and engineering solutions designed at the IBHS Research Center," Chuck said.
The Bronze designation focuses on enhanced roof performance and construction, as roofs serve as a building's first line of defense.
"It's crucial to have a good roof cover and edge securement while taking care of any equipment that might be mounted on the roof," Chuck said.
The Silver level adds requirements that address the building envelope, including walls, doors, and windows, along with electrical connections for backup power for critical utility systems and protection from flooding.
Buildings constructed to the Gold level add requirements that may be most relevant to datacenters. While you must meet the Bronze and Silver criteria, the Gold level also requires a continuous load path, which means tying the roof to the walls and to the foundation for the most stringent stability and structural resiliency. Additionally, Gold requires backup power for critical utilities to maintain critical functions of the building.
"Many of the buildings that were damaged in 2017's hurricanes wouldn't have experienced nearly as much damage and would have been operational immediately after the storm passed if they had been built according to our FORTIFIED Gold specifications," Chuck said. "There were also many buildings with no damage that lost power. Without backup power, they could not provide their services."
How IBHS Helps Businesses Survive
Because every building and business is different, owners must make unique preparations based on construction properties and location. IBHS offers a free Zip Code Tool on its website, which helps business owners understand the threats they're exposed to in the areas where their facilities are located.
"As wildfire season ramps up this spring, we will distribute our wildfire guidance," Chuck said. "We regularly share our guidance for hurricane season, winter weather, and more to help business ownere prepare ahead of time. As severe weather events are approaching, we will update our website and social media posts with additional last-minute preparations and recovery resources for after the storm is over."
IBHS uses its proprietary research to prepare business owners for increasingly common worst-case scenarios, whether they're helping business owners who want to be ready for the worst, giving useful information to procrastinators who are about to be hit with bad weather, or lending a helping hand after the event passes to organizations whose buildings have been damaged.