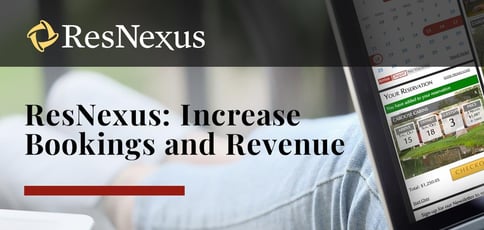 TL; DR: ResNexus is known for helping any business that takes reservations operate effectively with one of the first property management software systems hosted in the cloud. The tool, released in 2004, provides a seamless and on-brand transition from a property's website to its white-label booking engine, where guests can shop room inventory via several entry points. As bed-and-breakfast establishments, inns, hotels, lodges, and campgrounds using ResNexus know, the platform makes it easier to acquire commission-free reservations by always putting the guest experience first.
Since 1994, couples looking to make lasting memories have turned to Anniversary Inn, a small bed-and-breakfast group with themed suites across four locations in Utah and Idaho. Eclectic is no understatement: Each room allows guests to escape in an artful fantasy setting that no Hilton or Marriot could ever hope to emulate.
Guests who wish to rediscover a sense of adventure can choose escapades in Anniversary Inn's Mysteries of Egypt, Arabian Nights, or Swiss Family Robinson suites. Looking for a more romantic vibe? Try The French Connection or Aphrodite's Court — among dozens of other kitschy options.
The problem is, it's not always easy to find one-of-a-kind hideaways like these. Over the years, large hotels have begun turning to solutions like Expedia and Booking.com to reach audiences, but these technologies haven't always met the needs of boutique-style bed-and-breakfast establishments. The personality-packed rooms of the Anniversary Inn, for example, would be reduced to a dull blur in the typical booking engine's thumbnail view.
In 2003, Anniversary Inn commissioned software consultant James Mayfield to create a custom-built online booking engine. The result was ResNexus, a cloud-hosted solution offering white-label booking solutions to an inclusive population of bed-and-breakfast establishments, inns, hotels, lodges, and campgrounds. The platform gave the inn a chance to send guests to a rich, on-brand reservation experience straight from its own website.
"We used large displays of the room photos and easy-to-read descriptions, whereas on Expedia or Booking.com, images were greatly reduced in size," said Nathan Mayfield, Vice President of ResNexus. "For Anniversary Inn's King Arthur's Castle and Jungle Safari suites — or any type of room, really — guests need a clear view into what they are booking. And we believe that if the online guest has a great experience, you'll see an increase in reservations."
The contract James signed with Anniversary Inn allowed him to sell a new version of the engine to other companies, which he did in 2004. For property managers who use third-party booking solutions, ResNexus has a streamlined, cloud-hosted portal that makes it easy to manage all inventory on Booking.com, Expedia, Airbnb, and TripAdvisor in one place.
One of the First Online Booking Engines Hosted in the Cloud
Nathan told us that ResNexus is a family-owned and operated business founded by his brother, James Mayfield. James identified gaps in the reservation space while working as a software engineer. Before ResNexus hit the market in 2004, most property owners in the bed-and-breakfast market booked reservations over the phone.
"James saw a need and developed an online booking engine in response," Nathan said. "Because of his work, ResNexus was one of the very first online reservation software solutions. It's funny because we would go to conferences, and people would say, 'You're in the cloud — what is that?' We were in the cloud before people knew what the cloud was."
Once James explained the benefits of cloud hosting — disaster recovery, efficiency, cost-savings scalability, mobility, control, among other perks — the value proposition became clearer.
"He'd say, 'How many people have had their computer crash and lost all of their reservations, past and future?' And a lot of hands would go up," Nathan said. "James would then say, 'That doesn't happen with the cloud."
Today, 16 years later, the company has certainly met its original goal: to make reservation management easier for those in the bed-and-breakfast industry. ResNexus is the current leader in that space, but the company doesn't want its vast capabilities to be limited to or defined by one customer segment.
"Our mission statement is elevating industries, one business at a time, through service, innovation, and education," Nathan said. "So we serve campgrounds, vacation rentals, and boutique hotels, among other property types. We now service 3,300 properties, predominantly across the U.S. but growing into other countries as well."
Ensuring a Seamless and On-Brand Guest Experience
Nathan explained that ResNexus isn't trying to wage war on the biggest names in online reservation booking. Rather, the company provides an outlet for property owners to bring in more commission-free reservations when possible.
"We partner with Booking.com and Expedia; they're kind of like the modern-day phone book," he said. "Lots of people will start by shopping those sites because of brand loyalty, but then they'll try to go to your website and book directly if they can. We help property managers capture that audience."
Unlike other booking agents, ResNexus is relentlessly focused on the guest experience with a fresh approach to online reservations and guest management. The platform is designed to be customizable, providing a seamless transition from a property's website to the booking area. This helps ensure guests receive consistent branding, instead of feeling like they're being directed to a different website.
"One of the things that drive our engineering process is the concept of thinking of the end user first — meaning our client's client," Nathan said. "Sometimes, it's tricky finding a balance between implementing customer feedback that would make a property manager's life easier but create confusion for guests. So we do a good job of balancing that."
Unlike other booking systems, ResNexus allows guests to browse detailed room photos and descriptions before answering questions about specific dates. Rooms are sorted by availability as the guest navigates through the booking engine. Still, guests with flexible travel schedules who are interested in a room that's currently unavailable can easily view a three-month calendar.
Raising the Bar with Automatic Marketing Tools
Say goodbye to MailChimp and other add-on marketing tools because ResNexus also boasts built-in, permission-based marketing tools that help boost guest engagement and company profits.
"ResNexus uses information that guests provide permission for us to collect and store, like birthday and anniversary dates, to automatically send promotional emails near those dates," Nathan said. "This helps increase return guest rates significantly."
After guests reserve a room, ResNexus makes it easy to earn more commission-free reservations by offering additional specials and packages. Many properties partner with third-party vendors, such as a spa or massage therapist.
When a guest signs up for these services, the ResNexus booking engine will automatically send both the property and the vendor email confirmation after the booking process is complete. ResNexus also has built-in text marketing that can be used to deliver specials and promotions to guests.
"We also allow you to have that point of sale immediately with what we've innovated across platforms," Nathan said. "If you want to sell retail items, firewood, a rose package — whatever it is — you have that opportunity to upsell."
In terms of regulations, ResNexus follows data privacy guidelines set forth by the GDPR, CCPA, and similar laws.
"We've always done permission-based marketing, so our users don't have to worry about data privacy regulations because we already follow those guidelines," Nathan said.
ResNexus recently exemplified its marketing benefits to help pull bed-and-breakfast accomodations, hotels, and inns out of the spiraling economic downfall spurred by the COVID-19 crisis. Nathan said the company saved thousands of property owners on the brink of losing their businesses.
"We immediately provided marketing campaigns for COVID-19 and built automatic email templates with credit vouchers," he said. "As early as April 1, we instructed our customers to give willing customers a credit voucher instead of a refund. We've had feedback from so many properties saying, 'You saved my business.'"
More Perks for End Users via Generation Six
As for what the future holds, ResNexus is preparing to release its sixth-generation online booking engine.
"We evaluate trends and feedback in terms of what we think are fads and what we think aren't, and then we implement those changes in generations," Nathan said. "We are very innovative, but we're also very selective in making sure it's the right call for the end user."
The company is also alpha testing features for Google Hotels, the latest competitor in the online travel agency space, alongside Booking.com and Expedia. (ResNexus SEO experts already review and enhance keywords and page descriptions for Google.)
"So one of the innovative things that we're doing with Google Hotels that other people aren't doing is within ResNexus, you can set your bid and parameter, it controls your inventory, and it's automated," Nathan said. "You can do everything in ResNexus as a one-stop shop."