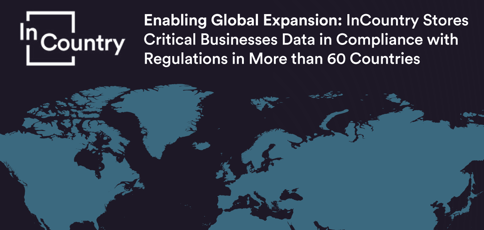 TL; DR: InCountry empowers leaders to grow their businesses internationally via easy-to-integrate data residency solutions. The company's software and managed service offerings allow users to reap the benefits of the cloud while complying with local regulations in more than 60 countries. As it expands its partnerships and compliance frameworks, InCountry continues to provide companies with a clear route to success in an increasingly fragmented data regulatory environment.
By now, most of us have at least heard of the high-profile data privacy and protection laws dominating today's regulatory landscape. Europe's General Data Protection Regulation (GDPR), for example, has thrust data compliance into the spotlight since it was approved in April 2016.
Other headline-grabbing laws include the California Consumer Privacy Act of 2018 (CCPA) and Canada's Personal Information Protection and Electronic Documents Act (PIPEDA).
But similar laws exist and continue to pop up all over the world.
For enterprises with global reach — especially those that store data on the cloud — ensuring compliance across multiple ever-changing laws, regulations, and rules is cumbersome, if not impossible.
Recognizing this, the team at InCountry has developed a unique set of solutions that empowers enterprises to meet data residency requirements. The technology enables multinational companies to comply with up-to-date local regulations quickly and easily.
"It's very difficult — even for someone with a legal background — to keep up on the latest government regulations in some of the countries we're working with," said Samer Kamal, VP of Product at InCountry. "We have researchers on the ground in these countries who are in touch with lawmakers, finding out what's coming down the pike, and updating our solutions accordingly."
InCountry's goal is to give customers the peace of mind to tap into the benefits of the cloud while knowing they're in compliance with local data regulations. This way, enterprises can enjoy global expansion without hiring compliance staff or rebuilding their solutions in various countries.
Leverage Benefits of the Cloud While Complying with Local Regulations
San Francisco-based InCountry, founded in 2019 by serial entrepreneur Peter Yared, is a relatively new company, especially considering that it already has operations in 65 countries. "I like to think of us as one of the most global startups," Samer said.
Peter's entrepreneurial experience exposed him to the regulatory complications inherent in storing data in the cloud, and he wanted to build a data residency-as-a-service platform that would address those issues on a global scale. Before going public, he and the company's chief architect worked on fine-tuning the platform for a number of years.
"Now, much of our leadership team is made up of folks from Microsoft Azure, SAP, Twilio, and LinkedIn," Samer said. "We have a strong enterprise mentality and are focused on large companies looking to unlock new territory and win in new markets."
Today, the platform securely stores, manages, and regulates data in its country of origin, helping multinationals scale via a smooth integration process. InCountry continues to expand rapidly, developing new features and adding to its already growing list of global datacenters and active regulations.
"As more and more governments and countries set their own data regulations, our goal is to serve as a partner to our customers, helping ensure they are up-to-date on the laws, regulations, and compliance requirements," Samer said.
As it evolves, the company also makes sure to hire people with diverse ethnic and cultural backgrounds, ensuring employees can effectively engage with local lawmakers — not only speaking their language but understanding social norms.
Grow Your Business Without Hiring or Rebuilding Your Stack
InCountry offers three easy-to-integrate solutions designed to accelerate a company's ability to do business globally: InCountry SDK, InCountry Border, and InCountry MSP.
InCountry SDK is the company's software development kit, available in popular programming languages such as Java, PHP, and Python. Developers can use it to encrypt and decrypt regulated data on their server and manage storage across InCountry's global infrastructure.
InCountry Border, on the other hand, can be deployed by an IT team without making coding changes to an application. The solution acts as an intermediary between the end user's browser and the globally distributed application, ensuring personal data is fully contained within a country's borders.
The company's managed services offering, InCountry MSP, takes things a step further. With this option, InCountry's network operations team manages dedicated servers across all of the company's points of presence, handling backups, system management tasks, and updates.
The underlying tenet connecting all of these offerings, Samer said, is that they allow customers to expand freely without having to rearchitect their solutions.
"Regardless of what type of solution you're interested in, once you set up our solution in one of our countries, it will continue working throughout our entire network of countries," he said. "You don't have to rebuild your complete stack."
And, no matter what product a company chooses, InCountry stores data in two points of presence in each country, ensuring that systems remain online in case of technical errors or noncompliance-related government intervention.
A Turnkey Approach to Global Data Compliance
Samer told us InCountry supports multiple categories of data in compliance with regulations such as the Health Insurance Portability and Accountability Act (HIPAA), Service Organization Control 2 (SOC 2), and the Payment Card Industry Data Security Standard (PCI).
"Whether it's payment information, banking information, or healthcare information, we're localizing that data within a datacenter, and then everything else operates from your central cloud," he said.
InCountry prides itself on the tremendous return on investment it delivers to its customers, as illustrated by the company's handy ROI calculator. If, for example, a business needs to store 150,000 records of regulated data in three countries for one year, the average do-it-yourself cost is $438,600, compared with InCountry's quote of $36,000.
When you consider all that's involved in the process — researching laws, defining compliance requirements, assessing vendor risk, selecting a hosting provider, providing training, purchasing cyber insurance, and doing audits, among other costs — it's clear that InCountry provides massive value.
"If you're moving and replicating your complete stack, putting the same data in different locations, the actual storage cost is one thing," Samer said. "The hiring is another. You need a long list of people — legal experts, compliance folks, architect — whereas we handle all of these roles."
In doing so, InCountry eliminates a significant burden on an enterprise's IT team, freeing them up to concentrate on other operational tasks.
Expanding SaaS Partnerships and Compliance Frameworks
While InCountry may still be relatively new on the market, its future appears bright. Samer said SaaS companies are constantly knocking on the door to pursue partnerships — and in many cases, customers are the ones asking these companies to do so.
In addition to working with SaaS companies to provide data-residency solutions to their customers, InCountry will continue to partner with regional data centers and managed service providers across the globe, expanding its already robust network.
The company will also focus on expanding its compliance frameworks in step with the ever-evolving regulatory landscape.
"Whether our customers are in the public, healthcare, banking, or financial services sector, compliance matters to them, so we always stay one step ahead," Samer said. "Be on the lookout for announcements regarding even more compliance frameworks in the future."