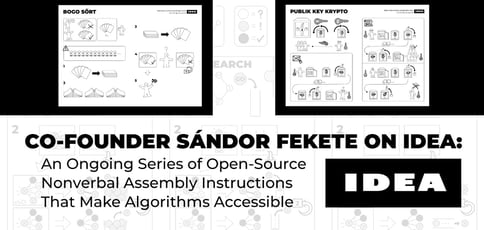 TL; DR: IDEA is an open-source series of nonverbal assembly guidelines that explain how various algorithms work. The text-free instructions, developed by a German computer science professor and his former student, transcend language and cultural barriers. With plans to reach additional teachers, students, and curious individuals via teaching materials and related merchandise, IDEA's founders aim to make algorithms accessible to an even greater segment of the population.
If you've ever purchased a bookshelf from IKEA, you know that the seemingly budget-friendly furniture comes with a hidden cost in the blood, sweat, and tears put into assembly.
The grueling process would have put the Swedish company out of business were it not for its carefully designed instruction booklets that clearly illustrate each step without using a single word. The innovative approach also allows users across the globe to successfully follow the instructions without having to overcome language or cultural barriers.
In 2016, German student Sebastian Morr used the instruction booklet as a model to explain an algorithm he had developed for his master's thesis. The one-page illustration demonstrated how the algorithm works entirely without text.
Sebastian then joined forces with Sándor P. Fekete, a computer science professor at the Brunswick University of Technology, to further develop the concept, which they named IDEA. The resulting instructions were used to teach algorithms to first-year students in Sándor's algorithms and data structures course.
But while IKEA instructions outline the steps for assembling a specific piece of furniture, IDEA instruction sheets are far more complex. "IKEA instruction sheets solve for one particular puzzle — one instance of a problem — whereas our instructions work for any instance," Sándor said. "And that's the important thing about algorithms — algorithms are general methods."
Sándor told us that developing accurate graphical abstractions is akin to creating a new and universal language. But the fact that the instructions have been used in schools with success makes it worth overcoming that challenge.
Today, Sándor and Sebastian have released their series of nonverbal algorithm assembly guidelines under a Creative Commons license so teachers, students, and other curious individuals may leverage them in noncommercial settings. With additional plans to release teaching materials and related merchandise, the pair aims to make algorithms as interesting and accessible to the general public as possible.
Universal Text-Free Algorithm Assembly Instructions
Sándor has been teaching a first-year mandatory mathematics course at the Brunswick University of Technology for 12 years. The first chapter in that course is centered on graph theory, which Sándor teaches using the IDEA One Ströke Dråw instruction sheet.
The sheet describes Fleury's algorithm — a method of finding a finite path in a graph that visits every edge exactly once (if possible). It can be used for any instance of this problem from graph theory.
On the most basic level, Fleury's algorithm can be used to solve the House of Nicholas, a popular puzzle game in which the goal is to draw a house using eight lines without lifting your pen or crossing a line twice. But it can also be used in the Seven Bridges of Königsberg, a well-known problem in mathematics that laid the groundwork for graph theory when Leonhard Euler discovered its negative resolution in 1736.
Using the IDEA One Ströke Dråw sheet as a model, Sándor demonstrates to his students how Fleury's algorithm can be used to work through both problems (the key is to identify the correct starting point based on even and odd vertices).
"Students will get more out of this instruction sheet when they realize it's a cheat sheet for any type of puzzle — so not just for this one particular example," Sándor said. "It's a general set of instructions so that even if you have the whole city to draw and not just one house, this instruction sheet will tell you how to do it."
Sándor told us that, when you teach the same course for more than a decade, it's essential to have a little fun. When he's explaining the negative resolution of the Seven Bridges of Königsberg — in which it's impossible to walk through the city crossing each bridge only once — he dresses as MC Hammer and transforms the rapper's most famous song into "U Can't Walk This."
Intercultural Resources for Teachers, Students, and Curious Individuals
IDEA instruction sheets can serve as valuable resources in a range of use cases. Sándor said he's successfully used One Ströke Dråw to help a group of elementary school students solve the same problems presented to first-year university students.
"It's not because this was an amazingly gifted class — its because we made the algorithms really accessible," he said. "You want to challenge your students while giving them this feeling that they're making progress, so they're not traumatized about anything that comes in the shape of math."
Many students, such as those learning to code, don't have the opportunity to think about systematic problem solutions in terms of algorithms until they begin college. But it doesn't have to be that way. The right tools and pedagogical approach can make algorithms fun for any age group.
"The key is, you don't need years to do this — solving puzzles is something that anybody does," Sándor said. "Even people who hate or are afraid of math still do puzzles of some sort."
In addition to leveling the playing field in terms of age, IDEA makes algorithms accessible on a global scale.
"Algorithms are universal and intercultural," Sándor said. "It doesn't matter if you show the problem to a child in Germany, an American adult, someone in India or China — you don't need to go through a detour of words; you can convey everything with a few images."
A Range of Instructions on Everything From Crytopgraphy to Sorting
The IDEA series currently features 10 instruction sheets within the categories of cryptography, sorting, graph algorithms, and miscellaneous topics.
"Creating each one of these is very time-consuming," Sándor said. "It's a condensation process; polishing and refining. It has to be correct, and there are a lot of subtle nuances you don't notice until they are in the way or disturb the overall flow."
In the meantime, resources for the instruction sheets, including templates, are freely available via the IDEA website. Gift Wräpping, one of the newest instruction sheets, came as a result of a guest contribution from Christoph Hansknecht.
"To maintain all these hidden layers of standards that we have here, we don't just take something and post it," Sándor said. "We went through approximately five or six more iterations of Gift Wräpping after we received it, but if people have a draft of what they want to do, they can always contact us, and we may turn that into a community affair."
IDEA enjoyed a spike in public attention last year when Reddit users discovered the site's Publik Key Krypto instructions. The sheets illustrate how public key cryptography can be used to send encrypted messages to the owner of a key, as well as how someone can use a private key to verify the authenticity of the message through a digital signature.
The scenario rapidly increased IDEA's visibility. "Within a few hours we had half a million hits," Sándor said.
Reaching People Through Teaching Material and Related Merchandise
Moving forward, Sándor and Sebastian said they hope to take IDEA in several new and exciting directions while still attending to their day jobs. The two have discussed a possible book project, possible teaching material, and ways to merge the instruction sheets with blockchain technology.
To satisfy several requests, they are also considering opening an online marketplace full of IDEA swag, such as posters, T-shirts, and coffee mugs bearing the algorithm assembly instructions.
Some of these ventures — like blockchain — are currently on hold due to the nature of algorithms.
"That's the thing about algorithms," Sándor said. "You build things, and then you put them together. So, eventually, it's like you're putting together a cupboard and it becomes part of a whole kitchen, and you need to have all the pieces in place."