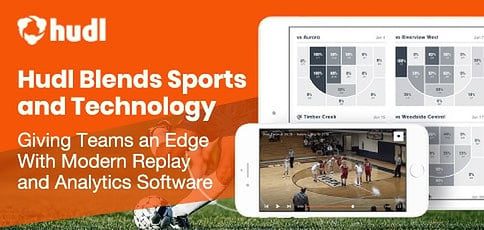 TL; DR: Game video analysis among sports teams from high schools to the big leagues has become par for the course. As one of the pioneers innovating a manual and time-consuming process, Hudl builds software and tools so coaches and players can review instant replays, add personalized commentary, and comb through statistics on players and games to improve performance. CEO and Founder David Graff chatted with us about how Hudl caters to every level of organized sports and the growth of the sports technology industry.
Instant replays are entertaining for sports fans. For the teams, however, reviewing video clips of the game is part of the job. When athletes and coaches get together in the locker room to see what happened — and what should have happened — it can help them win the next game.
Hudl makes these game reviews an immersive, interactive, and personalized experience with its revolutionary software programs. What has traditionally been done with a scorebook and pencil can now be done within the video itself using digital tools that can insert notes, drawings, and audio commentary.
Created by three friends at the University of Nebraska business school, Hudl is at the forefront of a tech revolution in sports that focuses on using software to accurately measure performance. According to CEO and Co-Founder David Graff, the software lets teams get more out of limited time.
"Our products let them focus more on coaching and high-level analysis, and less on the tasks where they aren't adding unique value," he said. "We provide tools that magnify the impact of that time coaches and analysts do invest by making it easier to share video and teaching points."
The original Hudl software and its complementary products have drawn more than 160,000 teams and 4.3 million users since its release in 2006, helping high school, college, and pro teams get a better look at their competitors and their own performance while enabling recruiters to find the best players.
A Winning Combination of Skill and Passion
Working with their alma mater's football team inspired David and Co-Founders Brian Kaiser and John Wirtz to improve game film software. As a college student working at the University of Nebraska's athletics department, David worked in the sports information and media relations staff.
"Through that work, I got to meet a lot of amazing people and got deep exposure to the work that Nebraska's head football coach, Bill Callahan, and his staff were doing and some of the challenges they were facing that could be addressed with software," David said.
David, Brian, and John's backgrounds in computer science fortuitously combined an understanding of sports, an interest in entrepreneurship, and a skill for building practical software tools.
"The opportunity to build a product at the intersection of sports and technology was really a dream come true," David said. "We built out an initial prototype and showed it to Coach Callahan and his staff in February 2006. Their first response was, 'This is great. Can we have it for spring ball?'"
The first version of Hudl wasn't as polished as the Founders wanted, but they worked out a deal to continue to get the program into regular season shape.
"We agreed with the Huskers that if they would come on as a paying beta partner and allow us to deeply embed with the team over the next year, we'd have something ready for spring football in 2007," David said.
Expanding High-Precision Analysis to More Teams and Sports
By early 2008, the Hudl team landed a big client — the New York Jets. Additional sales beyond that proved to be difficult, however, as the Co-Founders realized the software needed more options for customization.
"While we'd built a great solution for Coach Bill Callahan and his staff's workflows, we had not spent enough time surveying the broader market," David said. "While the fundamentals — sharing video outside the facility and enhancing the opportunities for coaching — were right, a lot of the other tools we built were too specific to how Coach Callahan's staff worked."
Hudl expanded its market to high schools and small colleges in a move that also let it get a broader look at the tools and analysis various teams and sports required to improve performance. As more teams joined, the Hudl team learned more about how to make a better product.
"It's tough to identify one moment when we felt Hudl made it, partially because there is still so much ahead for us that the bar keeps moving," David said.
Today, Hudl offers a variety of programs fine-tuned for sports ranging from football and soccer to volleyball and tennis. Users can record video on an iPhone or iPad running Hudl or a digital camera and then upload it to begin study and analysis — either at home or on the road.
Coaches can see plays in slow motion, make playlists to find key moments, add commentary and reviews, and study statistics. Players get their own personal Hudl profile pages where they can view personalized videos and commentary from coaches and prepare for their next game.
A Home Run for High School to Professional Teams
Millions of amateur and professional athletes have seen their skills improve by using Hudl, whether for a high school, college, professional, or recreational game.
Ames High School, one of Iowa's smallest schools in the 3A soccer class, used Hudl to win a state title. Coach Bobby Myers collected stats and video clips to look at the underdog team's performance differently, identifying key improvements that turned the game around.
"Hudl just takes so much work off my shoulders," Bobby said in an interview on Hudl's blog.
Hudl doesn't just improve player performance on an existing team; it can also help an athlete find a spot on a team at the next level. High school and college coaches can create highlight reels to show off players who want to play in college or professionally.
"I love to tell people about our recruiting tools that help provide athletes the opportunity to get recruited to play at the next level," David said. "My favorite stories are ones about those players who were previously flying under the radar, but with Hudl's tools, they are able to earn a scholarship and an opportunity to continue to compete."
The Race to Keep Up with Innovation in Sports Technology
As with seemingly any niche in the tech industry, the sports technology field is always changing — and it can be challenging for even the leaders to keep up. David said that Hudl has strong competition in nearly all of its markets around the world.
"Sports technology is a very attractive space for entrepreneurs and investors, and we've seen some great products introduced," David said, adding the sector benefits from hungry and engaged customers. "The use of live, in-game video and analytics tools and the demands put on them continues to grow across sports. The expectation of coaches, athletes, and analysts to have immediate access to video and data on any device continues to grow. All these are trends we love to see."
Keeping a close relationship with customers is a clutch move for building innovation that will succeed in the market. When it comes to updating products, the Hudl team employs a healthy mix of in-house expertise, customer feedback, and competitors' advancements.
"We're not afraid to be fast followers," David said. "But at the same time, our team is constantly talking with our customers, working internally to brainstorm potential solutions to their challenges, and monitoring new technologies and other industries to see what advances can be applied."