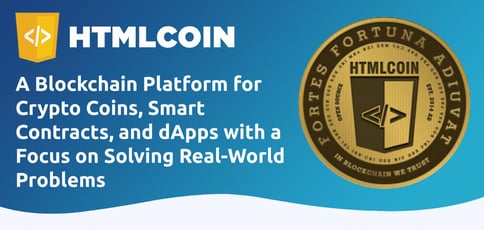 TL; DR: Htmlcoin, based in Chicago and launched in 2014, is on a mission to unleash the potential of underprivileged populations around the world via its intuitive and comprehensive blockchain solution. The goal is to use cutting-edge technology to solve some of our biggest problems, whether that means mitigating fraud in Africa or supporting reforestation in Brazil. Ultimately, Htmlcoin aims to help global communities adopt a truly undiscriminating and borderless blockchain platform that will provide a fast and secure environment for their products and services.
In many African countries, public officials force citizens to pay bribes for services that we in the Western world take for granted — such as applying for passports and driver's licenses, filing police reports, or accessing healthcare.
According to Transparency International's "Global Corruption Barometer (GCB) – Africa 2019," the situation is getting worse. More than half of the 47,000 citizens in the 35 countries surveyed said they believed their nation is becoming increasingly corrupt and that their government isn't doing enough to stop it from happening.
Vincent Hoffmann, Executive Vice President for Community Relations at Mauritius-based Htmlcoin, said the sheer amount of corruption on the continent is holding residents back — and that blockchain can help unleash their potential.
"By bringing blockchain into Africa to educate already blockchain-enthusiastic students, who have the brains and the desire to do something better with this world, we can mitigate local corruption," Vincent told us. "The point is to empower people to overcome the third parties exploiting the masses."
Htmlcoin is on a mission to solve problems for underprivileged populations around the world via its undiscriminating, borderless blockchain platform for smart contracts and distributed applications (dApps). By using cutting-edge technology, the solution will provide residents, entrepreneurs, and businesses alike with a fast and secure digital environment for their products and services.
"The ultimate goal is to provide an easy-to-use, secure platform that will help users experience the full beauty of blockchain in every sector possible — and do it cheaply," he said. "We're striving for mass adoption."
Developed for Ease of Use and Global Problem-Solving
Htmlcoin, which was conceptualized in early 2013 and launched in 2014 as a Bitcoin clone, has evolved rapidly over the years. But its mission has remained the same: to promote the freedoms of blockchain usage across the globe.
"By late 2017, we upgraded it to a blockchain hybrid utilizing the Bitcoin core with an Ethereum abstraction layer," Vincent said. "This allowed us to use smart contracts and create HRC20 tokens on our blockchain."
Vincent joined the Htmlcoin team in 2018 after an unfortunate introduction to the crypto-space.
"My introduction to the crypto space was not a very healthy one and I lost a lot of money, relatively speaking," he said. "But instead of casting the technology aside as a scam, as many others have, I decided to look into it a little further. I came across Htmlcoin and it met my criteria — something with great potential and something without the baseless hype."
In 2017, the organization decided the best path forward would be one focused on solving real-world problems. The team outlined two main objectives: to create a user-friendly blockchain platform for individuals and developers, and to identify opportunities to make a difference by working with partners to implement blockchain solutions.
"What I love about Htmlcoin is there's so much room for growth — not only for personal growth but for the organization to make a real difference in the communities it serves," Vincent said. "And there really is no hype: Htmlcoin has never had an ICO, it's still very much a startup, and there's no greed involved."
Mitigating Fraud & Authentication Issues Around the Globe
In terms of advocacy, Htmlcoin has four main missions. The first two are technology and community-focused: to spread global awareness that both SMBs and enterprises can use the accessible platform; and to provide a robust currency, build sound infrastructure, and encourage third-party app development.
The second two revolve around education and humanizing the blockchain: to teach people about blockchain and cryptocurrency, thus making a distinction between the two, to promote a platform for gaining knowledge and credential verification — all while making sure the blockchain is easy to use and accessible from any location with internet.
In 2018, Htmlcoin rebranded its blockchain as "Althash" but retained Htmlcoin as the name of the cryptocurrency — becoming the only company in the world to use different names for its blockchain and coin. Althash and Htmlcoin remain closely related, much like Ether and Ehtereum.
"Htmlcoin serves as the gas to fuel the Althash blockchain transactions and data entries (we simply decided to rename our blockchain in 2018 to create a distinction between the two)," Vincent said. "The Althash Web Platform is where we currently host some of our dApps."
One such app is Althash Health, a software suite developed on the blockchain that ensures only authorized users can access information. The technology is being presented in Kenya at the moment in an effort to help physicians manage and verify patient health records via a simple interface and reliable backend.
Other dApps, such as MyOffspring, are being used in the Philippines among non-profit organizations that need to access digital, immutable birth certificates.
Vincent said Mauritius, a booming financial hub in Africa, is also poised to benefit from blockchain technology — not just in FinTech, but in other areas prone to corruption. With Althash, he said the country can integrate blockchain into its registration and business processes, helping to curb fraud and fix issues related to authentication.
Using Cutting-Edge Tech to Give Power Back to the People
Htmlcoin also focuses on providing a strong educational foundation for potential blockchain users and developers, unleashing the potential in underprivileged and often underrepresented groups.
In March, Vincent and a few of his colleagues were due to travel to Lesotho to attend the Lesotho Blockchain Camp 2020, created by Htmlcoin in partnership with the Innovation Hub of the National University of Lesotho. The objective of the camp was to educate and inspire students and help them materialize their dApps on the Althash blockchain. But unfortunately, the global crisis of the coronavirus put that event on ice until the epidemic is officially over.
"One of the things I love about blockchain is its potential to give power back to the people across all sectors," Vincent said. "In many ways, we're not actually focusing on the FinTech side of things at all. My point is, blockchain, in many cases, eliminates the middleman, and that stands to benefit people in every sector."
Vincent said that the Htmlcoin team is motivated by a shared belief that all humans are created equal, possessing inherent dignity and self-worth in all stages of life. With that in mind, the organization continues to join forces with a global community of partners helping leverage the platform in real-world situations.
Up Next: Blockchain-Based Reforestation, Among Other Efforts
Vincent said the organization has a busy year ahead. About a year ago, Htmlcoin partnered with the cryptocurrency exchange HTMLBunker to launch a new brokerage dedicated to Htmlcoin.
The two organizations began working together on a drone-based reforestation project led by HTMLBunker.
"One of my favorite projects, which, admittedly has been slow to come to fruition, is a reforestation project that's utilizing blockchain, geotagging, and drones that aims to drop seeds on a predetermined path," he said. "There has definitely been progress on that project — I'm hoping it will be complete by the end of next year."
Work is also underway on a blockchain-based platform for freelancers comparable to Upwork. "We're pushing hard to bring partners on board for various projects that will hopefully make a difference for businesses, entrepreneurs, and individuals around the world," he said.