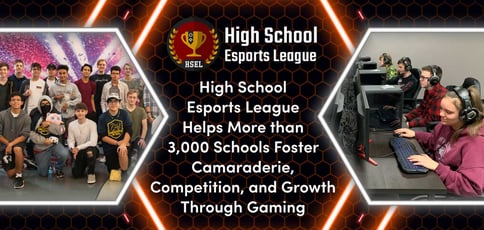 TL; DR: The High School Esports League (HSEL), founded in 2012, is on a mission to make gaming available as a varsity sport to high schoolers throughout the nation. The organization is educator-focused, helping connect schools with fundraising opportunities and focusing on teacher feedback to ensure continuous improvement. As HSEL expands its reach to serve middle school and college students, it aims to make an even more substantial impact on academic performance, attendance, and social skills.
I've never been particularly interested in sports, especially when it comes to playing them. To this day, the squeak of rubber soles on a shiny hardwood floor brings back memories I'd rather forget — basketballs in the face, the sheer panic of dodgeball, being the last one chosen for every team (for understandable reasons, in retrospect).
So when I learned about the mission of the High School Esports League (HSEL) — to bring seamless, rewarding video gaming competitions to schools across the country — I was super intrigued. What could a program like this have taught me about sportsmanship? What does the program offer for today's students, such as my daughter, who has followed in my unfortunate unathletic footsteps?
As it turns out, a lot. According to HSEL, organized esports makes it possible for students of all backgrounds to engage in healthy competition while surrounded by peers and supervised by educators. The result is improved student engagement, higher attendance, and better GPAs.
"The forward-thinking schools that adopt esports understand that they can reach an often-neglected audience by offering students more opportunities to connect and socialize," said Jason Kirby, President & COO of HSEL. "About 80% of the students involved in our programs have never participated in any other extracurricular activity."
Jason told us HSEL's esports programs attract a diverse set of participants, from band members and performing arts students to traditional athletes.
"Schools typically get a very good mix of kids, who might not otherwise interact in a room together, competing toward one common goal," he said. "And that's nice to see."
Facilitating Inclusive Teamwork Opportunities Since 2012
Mason Mullenioux, Chief Executive Officer; Charles Reilly, Chief Customer Officer, and Aaron Hawkey, Chief Technology Officer; founded HSEL eight years ago. The Kansas-based organization was built to create an outlet for kids who are unable or uninterested in competing in other sports.
"We founded HSEL with a mission to create an inclusive environment that's fun, engaging, stimulating, and involves teamwork," Jason said. "Ultimately, we're getting kids out of their basements and bedrooms, where they play by themselves, into a setting where they can reap the benefits of traditional team sports."
After trying out the program, Jason said teachers, principals, and parents begin to realize that video games are just a way to enable competition, team sports, collaboration, inclusiveness, and gender diversity. "Gaming just happens to be the best medium to engage them," he said. "The vast majority of kids love playing video games."
The organization was run manually at the beginning when HSEL only served a few dozen schools. Now, it's powered by a robust platform that enables HSEL to support 3,000 schools and 80,000 students across North America. Feedback thus far suggests that the technology is effective.
"It brings people together — and when they're working together, it's like any other team sport," said Jackie Albarella, International Preparatory Animation and Design Teacher at Bennett High School, in a testimonial. "We're trying to also teach them compassion and good sportsmanship and that's what we're infusing with video games. It's a team sport that any student can get involved in."
Raise Money Through Funding Platforms and STEM Grants
Jason said HSEL stands apart from its competitors in that it always puts students and schools first.
"We have the opportunity to hold people's hands and walk them through the experience, explaining how esports works, what the rules are, and what equipment you need," he said. "Educators can be overwhelmed because it's so new, and they may not necessarily be gamers. That's why we give them everything they need to be successful."
Getting signed up is relatively easy. After gaining approval to compete in HSEL tournaments, the teacher dedicated to the project simply fills out a school partnership application. After HSEL completes its verification process, the educator can log in to a personalized club page and begin inviting students to join.
"Schools can start with two kids, or, in some of our bigger schools, more than 200, so team sizes can fluctuate," Jason said. "We identify games that may be suitable for their students, but ultimately allow schools to choose the ones that are right for them. That way they're creating the best possible experience."
HSEL also helps connect students with scholarships and college recruitment opportunities. On the educator side, the organization provides options for raising money for esports programs via funding platforms and grants.
Multiple resources are available, including STEM grants, financial aid from the Varsity Esports Foundation, and hands-off esports fundraising services through FundMyTeam.
"There are obviously fees associated with esports, from equipment costs to making adjustments to a particular room to accommodate a club," Jason said. "That's why we work very closely with the Varsity Esports Foundation, which is focused on helping fund esports in schools that have 25% of students on the free and reduced lunch program or are classified as Title 1."
An Emphasis on Collecting and Responding to Educator Feedback
HSEL's STEM-accredited curriculum, Gaming Concepts, teaches students the social-emotional skills they need to navigate college and beyond — all through the lens of video games and esports.
While there is a cost to participate in the HSEL program, the curriculum, developed by teachers and piloted in 2018, is available for free to all educators. It includes a course packet available for download as a PDF, peer-reviewed notes from Wichita State University, and tips on how to gain administration and school board approval. Educators can preview the course on the Microsoft Educator Community.
When it comes to updating its curriculum and platform and putting new ideas into production, Jason said HSEL's approach is centered firmly on feedback.
"We have monthly calls with anywhere from five to 10 teachers," Jason said. "We run new ideas by them, hear their thoughts and feedback. In some cases, we've gone in a completely different direction than intended based on what we heard."
Since adolescence is a critical time for social-emotional development, Jason said it's important to consider educators' valuable insights.
"We strive to accommodate all different types of kids and young adults, regardless of how they identify and how they interact with others, so it's important for us to make sure we do things right," Jason said.
Expanding to Serve Middle Schools and Colleges
With more than 30,000 schools across the nation, HSEL has room for growth in terms of both new cities across the U.S. and additional grade levels, Jason told us.
To that end, the group just announced the launch of Generation Esports (GenE), an entity that will go beyond the national high school focus, opening its competition platform to a diverse set of communities across the globe — including individual players, students in middle school to college, active duty military and veterans, corporate employees, and adult and youth organizations, among other groups.
The idea is to help a broader base of students connect their commitment to gaming to success in academics and their future careers.
"We're going to be expanding outside high schools, going into middle schools and colleges, and launching a new product to service those markets," he said. "We're excited to be onboarding more and more people of different ages."