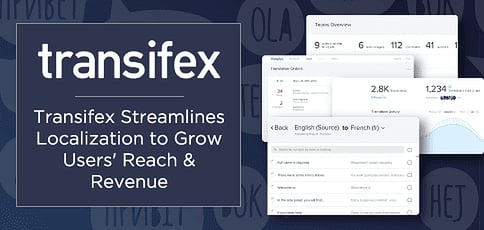 TL; DR: To reach 90% of online audiences, companies need to localize their content in 14 languages. Transifex enables companies to make a difference on a global scale by streamlining the localization process and connecting them with translators and collaborators. By strengthening clients' local presences around the world, Transifex helps them connect with more customers. Boasting file-based and JavaScript solutions, in addition to a robust API and command line client, Transifex uses their open-source roots to help companies find worldwide success. //
Self-service ticketing platform Eventbrite was succeeding with global audiences before the company could even field a dedicated international team. Already selling tickets in 150 countries at the time, Eventbrite wanted to provide a more authentic and local experience for users across the world.
They turned to Transifex, whose developer-friendly localization system and API automate much of the translation workflow management process, enabling Eventbrite to release updated content twice a week in 17 languages on their website as well as web, iOS, and Android apps.
Beyond providing cutting-edge localization technology, Transifex employees help clients develop the right set of processes to make localization as efficient and effective as possible.
For Eventbrite, that means translation teams have a fixed time window to receive, translate, review, and approve translations to meet their twice-a-week publication timetable.
Transifex's philosophy is that to have a competitive advantage in your business, a company needs to know how to manage localization effectively, and Transifex will help you be that company.
Why Localization Matters and How Transifex Makes It Easier
Localization goes beyond translation. Instead of just changing individual words from one language to another, localization takes a more holistic approach by tailoring user experiences to a variety of regional or local cultures, contexts, and expectations. Transifex was created to connect developers and the translators who want to contribute to projects, according to Director of Engineering Diego Burigo-Zacarao.
"Localization is not something that many people have in mind when they start a project, and it's a big hit to productivity when they realize they need to go global afterward," he said.
"It's all about automation and making sure that you get translations done at the same pace as your development," Diego said.
Transifex's Tailored, Comprehensive Solutions Help Teams Streamline Processes
According to Diego, no other company offers quite the same services as Transifex. Most competitors approach localization from a more traditional, linguistic perspective, while Transifex is driven by technology and efficiency.
"We try to educate our customers," he said, adding that Transifex further differentiates themselves by helping customers develop the right practices to maximize the platform's effectiveness.
Diego calls localization a "very chaotic industry" where every customer has their own specific needs and constraints. Because of that, he said Transifex constantly works to balance a simple user interface with a variety of custom solutions.
"We try to understand what they're trying to achieve, and we try to come up with the workflow that eventually is going to be the best for them to get there," he said. "It's not just us taking over and telling you what the solution is."
Some customers, for example, use Transifex to connect with professional translation services, freelancers, or in-house translators. Many others, however, rely on a crowdsourced community that contributes and reviews translations.
Another tool Transifex uses to speed up localization is their Translation Memory, which is a database or archive of your previous translations. When a new source string is uploaded, the tool will automatically fill in translations that have already been done elsewhere in your site or app. It also scans through other files to ensure consistency as translation styles change.
Localize Your Content or Application to Reach New People and Profits
The world's top 10 languages in 2016 (English, Chinese, Spanish, Arabic, Portuguese, Japanese, Malay, Russian, French, and German) only reach a little more than half of Internet users, according to research from Internet World Stats. To connect with 90% of the Internet, a study from the Common Sense Advisory market research company shows you'll need 14 languages.
Transifex employees believe that if you can master localization, you can suddenly get ahead of the competition. You can launch promotions faster than anybody else. You can act upon an event in near real time as it affects your marketplace. This deployment capability gives your website a competitive advantage.
For example, project management platform Trello uses Transifex to support 20 languages with a team of fewer than 100 employees. While their global expansion has been successful, Trello particularly found momentum in Brazil, where their Portuguese launch doubled signups and grew usage by 35%.
Another Transifex customer, small business customer relations management system Insightly launched localized versions of their website, as well as web and mobile apps in five languages. Their non-English speaking customer base immediately grew by 10%, and they gather more than half their revenue from markets outside the US.
How Transifex Tools Help Users Break Language Barriers
Transifex offers their two ways to move content into and out of their translation management system that cater to the customer's technical expertise and content needs.
File: Automating Frequent Updates for Content-Heavy Sites
For the first six years or so, Transifex focused solely on a file-based approach for importing content into a cloud-based central repository that hosts the translation files developers pushed. Translators work their magic on those files, which developers then pull and include when code is ready to ship. Perfect for content-heavy sites and apps, Transifex File is used by developers with frequent updates.
When using the file-based approach, clients can integrate Transifex with their existing development tools and systems via its robust API or command line client. Both help exchange, manage, and synchronize large volumes of localization files. Clients can also decide to upload and download translation files manually.
"Transifex was built to make it as easy as possible to send files from your development process to Transifex to get translations done," Diego said, estimating that 95% of the content creators used the API and command line tools to speed up translations.
Live: JavaScript Brings a Simpler Localization Solution to Websites
First launched in 2015 and significantly updated in January 2016, Transifex Live is a JavaScript solution for customers who are looking for an easier way to get technology up and running in support of their websites and web app translations.
By embedding a snippet of JavaScript, Transifex Live recognizes customer-facing website content and pulls translatable strings directly into the Transifex system for translation. The script detects content changes and automatically alerts content owners that new translations are needed.
Paired with a WordPress plugin for automatic domain mapping, Transifex Live can be a completely code-free way to localize content housed in a WordPress site.
"The whole idea of Transifex Live is to make it much easier for all website owners to benefit from the reach of having a multilingual site," Diego said. "We're trying to ease the path for people to do localization right."
Not a Normal Startup: Greek Roots and Early Open-Source Involvement
Transifex is not your usual Silicon Valley tech startup, according to Diego — and that's what makes their success and, more importantly, the success of their customers, so rewarding.
Transifex Founder and CEO Dimitris Glezos was working on the open-source Fedora Project when he saw the need for a better way to handle the localization process, inspiring him to write the initial code for Transifex. Diego, also working on Fedora, met and collaborated with Dimitris on a new version of the code that would later become the heart of the current solution.
At the outset, Diego was in Brazil and Dimitris was in Greece, where most of Transifex's engineers still work. Now, the company holds on to their roots by hiring open-source-minded engineers, running an open-source stack — and taking special pleasure when open-source projects succeed with Transifex.
"Every time that I see communities being built on top of Transifex, especially open-source projects that end up with thousands of people contributing to that effort, that really shines to me," Diego said. "We have tech-savvy startups coming to us to streamline their development and translation processes, and the fact that they see us as the best option is something I'm really proud of."