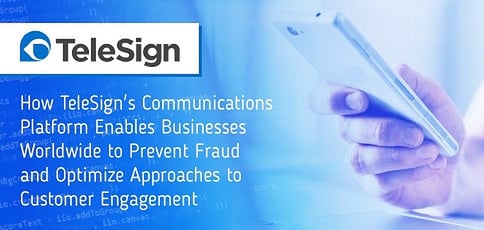 TL; DR: For more than a decade, TeleSign has been helping some of the world's largest brands and businesses protect and engage with their users by incorporating communication tools and account security into their online touchpoints. The company offers a comprehensive Communications-Platform-as-a-Service (CPaaS) solution that employs developer-friendly APIs and SDKs businesses can use to authenticate user identities, detect and prevent fraud, and optimize communication. Today, the company powers more than 6 billion such customer interactions and transactions each year. Through easy-to-integrate tools, a large communications network, and data-driven consultation, TeleSign offers modern businesses a layered approach to security and communications to keep them ahead of threats and ensure their brand reputations remain intact online.
In 2007, the CRM-giant Salesforce came to realize the email-based identity confirmation tool it was employing to secure user accounts had become inadequate to meet the rising challenges of the emerging trends in mobile computing. Salesforce knew enterprises needed to work with agility and enable their teams to connect to applications remotely without sacrificing security.
To meet the demands of this increasingly mobile market, Salesforce partnered with TeleSign, replacing its email-based verification system with the company's more effective SMS authentication solution. This not only worked to better protect user accounts, but also allowed Salesforce to tap into broader user bases as mobile phone use became more prevalent.
"We needed a partner that could scale to support our ever-expanding global footprint," said Chuck Mortimore, Salesforce's VP of Product Management, Identity, and Security. "TeleSign delivered the scale we were looking for."
By employing TeleSign's Communications Platform-as-a-Service (CPaaS) solution for mobile verification, Salesforce was able to provide an additional layer of security based on a user's personal computing device, which, in most cases, were mobile phones. This way, both a user's password and mobile device would have to be compromised to gain unauthorized access to accounts.
For more than a decade, TeleSign has been helping businesses around the globe engage with and secure their users. The company's easy-to-integrate APIs and SDKs make it simple for businesses to build security into their web applications.
"We're currently working with nine of the top 10 web properties in the US and 20 of the top 25 brands globally," said Ryan Disraeli, TeleSign's Co-Founder. "We're a Communications-Platform-as-a-Service company founded on security."
According to Ryan, TeleSign provides these businesses with communications solutions for everything from security and one-time passcodes to alerts, notifications, and data insights. Ryan told us TeleSign's CPaaS solutions enable developers to incorporate most any type of communications into their online touchpoints.
A Communications Platform-as-a-Service Company Founded on Security
TeleSign was founded in 2005 by Darren Berkovitz, Ryan Disraeli, and Stacy Stubblefield. Today, the company provides communications-based security solutions to businesses across more than 200 countries around the world.
"We originally started as a company providing two-factor authentication with one-time passcodes via SMS and voice call," Ryan said.
TeleSign implemented this method before mobile authentication was common, effectively cornering its early market. Given its reputation as a pioneer in verification methods, TeleSign naturally evolved from only providing two-factor authentication solutions to offering a much wider variety of products — most of which were aimed at protecting user accounts and preventing fraudulent account creation.
"Additional services we've built over the years relate to the identity behind local phone numbers," Ryan said. "We can look at any phone number in the world and see how likely it is to be real."
Fraudsters create fake email and social media accounts to spread spam, phishing, and malware campaigns. Requiring users to register phone numbers — especially legitimate numbers from real phones — hinders the creation of these accounts, as acquiring multiple new numbers is a significant time and money investment.
"The biggest threat comes from online criminals, as users typically share their passwords across multiple sites," Ryan said. "If that password gets breached, then a whole network's accounts could be hacked."
Phone number analysis and anti-fraud measures are made easy with TeleSign's intelligence APIs.
Developer-Friendly APIs & SDKs to Secure Businesses & Their Customers
TeleSign provides a number of developer-friendly APIs and SDKs to help businesses fight fraud, secure their end-user accounts, and communicate with their customers. Intelligence APIs, such as Score and PhoneID, evaluate the legitimacy of phone numbers. Score identifies attributes such as IP address, device ID, phone type, and carrier.
These attributes are checked against a massive data consortium to identify any relationship to known fraud. Score also employs machine learning to recognize suspicious passcode requests and other anomalous traffic patterns. Numbers are given a score based on their risk for fraud.
Similar to Score, PhoneID reveals related location and contact information, as well as whether a number is connected and capable of receiving SMS messages.
Using PhoneID, businesses can deliver a more customized user experience based around user location and other contextual details.
"As a communications company founded in security, we've invested a lot in machine learning and data intelligence over the years, specifically around phone numbers," Ryan said. "Also, the data and intelligence behind a phone number can ultimately be used for a better user experience."
To optimize communications, Telesign's Messaging API and Voice API enable developers to integrate SMS and voice-based messaging into both desktop and mobile applications. Messaging API is used to provide automated, yet personalized customer messages related to account alerts, sales reminders, and even support. These messages help increase conversion rates and reduce inbound support calls. Voice API provides timely, personalized information through voice-based alerts, reminders, notifications, one-time passcodes (OTPs), and other automated messages and can also be used to provide text-to-speech support to deliver messages to phones that cannot utilize SMS, broadening user reach.
TeleSign offers a variety of software development kits (SDKs) that enable developers to easily integrate authentication measures into mobile apps and websites. App Verify SDK allows for one-click verification using application links, reducing the number of manual user interactions and increasing conversion rates.
For more traditional authentication, the SMS Verify and Voice Verify APIs make it easy to implement two-factor authentication with automated passcodes, real-time delivery, and support for long and split messages. To guard against phishing and middle-man attacks, TeleSign offers the Push Verify SDK, which allows users to verify web-based accounts using mobile app notifications.
Staying Ahead of Threats With a Layered Approach to App Protection
A layered approach to security is the best way to effectively protect both business assets and customer data, as absolute proof of identity is nearly impossible.
"From a product perspective, we're constantly looking at new threats and ways that criminals are adapting to new technologies," Ryan said. "Ultimately, we advise our clients not to rely on any one, single technology."
Using dynamic data, such as behavioral patterns and number histories, allows businesses to evaluate the possibility of risk with the lowest margin of error. Authenticating users prior to registration, as well as flagging accounts with suspicious activity help businesses preemptively filter out high-risk users.
Because competitors are often reluctant to share safety information among themselves, TeleSign has implemented an advisory board that lets companies discuss common threats. This is a countermeasure to how fraudsters collaborate when devising new exploits.
"Over the years, we've been able to facilitate advisory boards across our customer base," Ryan said. "Companies can collaborate better in terms of talking about the threats they see and potentially sharing data to ensure they're preemptively fighting fraud effectively."
Additionally, TeleSign's APIs and SDKs are offered with comprehensive support. By combining multi-factor verification methods with communication intelligence and collaborative support, TeleSign allows businesses to cover all their bases.
Committed to Broadening Two-Way Communications Tools to Improve UX
To keep up with evolving fraud methods, as well as improve user experiences, TeleSign plans to expand on its existing communication tools. Two-way conversation adds a personal touch to customer interactions. By engaging customers directly, companies can gather a wealth of information to personalize the experience.
"We're looking to broaden our two-way communications methods, enhancing coverage globally," Ryan said. "In terms of verification methods, we have a suite called App Verify, which provides a much better user experience."
App Verify's one-click options make verification easier for end-users while still maintaining security. As a result, both customer satisfaction and conversion rates improve.
TeleSign benefits businesses and their end users by interlacing communications with security to bolster company trust. Companies, like Salesforce, that are fully committed to providing the highest level of security, rely on TeleSign to help deliver on that promise. By keeping legitimate users safe from fraud, businesses protect their assets and those of customers, which ultimately results in improved brand reputation and customer retention rates.