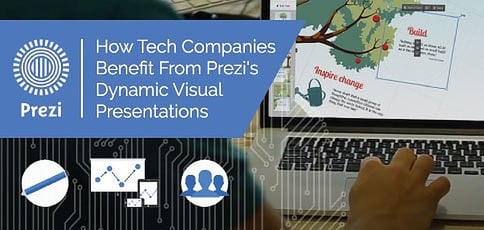 TL; DR: Prezi takes an approach to presentations that moves sharply away from traditional slideshow formats. Applying brain science research, the presentations — called Prezis — lay out topics in a pannable, zoomable map that lets presenters adjust the sequence based on audience need. This approach emphasizes visual engagement and conversation to make the presentation more compelling, whether it's a sales pitch or a plan for complex collaboration between firms. Cloud-based, downloadable Prezis let the audience join in from anywhere at any time.
Inhi Suh, IBM's VP of Big Data, needed to create a memorable, dynamic presentation for the company's annual conference, IBM Insight. Inih was tasked with introducing new IBM software, and her team needed to collaborate remotely to complete the project. What they produced was a stunning presentation with a compelling narrative, thanks to the Prezi platform.
"Prezi allowed us to try new things and experiment in ways we wouldn't have been able to with the tools we're used to," Inih said.
For years, static slideshows were the standard for IT company presentations, sales pitches, and presenters at large tech conferences. Prezi changed that by introducing a cloud-based visual presentation platform to evolve the traditional slideshow. Using research about the human brain, Prezi's software creates memorable, engaging, and informative presentations through storytelling and dynamic zoom.
The old, linear way of presenting wouldn't have worked well for IBM in their conference rooms or sales pitches, either.
Slideshows work best when the audience comes in with limited understanding and needs a full explanation. The questions come after the show. Today, we live in a world of easily accessible information. The audience is already knowledgeable and has questions in mind before you start. Prezi designed their approach with a conversational model in mind, meaning presentations can be adjusted to what the audience wants — or needs — to know.
Prezi's theme song could be the classic western hit "Don't Fence Me In." They noticed how confining traditional slideshows had become and devised a new approach where you can roam freely, varying with the audience's feedback. It all began by understanding how humans process the information in presentations.
Effective Content Begins With Understanding the Human Brain
There's an old saying: "Show, don't tell." Prezi has applied the science behind that saying to create software that yields more effective, memorable presentations.
Three paramount principles are found in Prezi's research:
People remember visual information better than words and absorb it faster.
People learn from stories better than from static information.
People take in more when they have an emotional connection to the subject.
A study sponsored by the University of Minnesota found, after seeing a presentation with visual aids, people were 43% more likely to take action than after seeing a presentation without any visuals. People also gave higher ratings to presenters who used graphics.
Slideshow applications present an audience with static images and text, but Prezi goes to the next level. The software lets you move, resize, and rotate objects and apply effects, such as color correction, illumination, contrast, and sharpness, so images match the exact mood a business wants or needs to convey.
Also, people think spatially. Associating items of information with locations — also known as the Method of Loci — makes them more memorable. Assimilating items to geographic locations, such as a path up a hill or roads in a city, gives the audience cues that foster retention. Prezi lays out presentation items much like a map and lets you zoom in on any area.
Prezis incorporate visuals, spatial layout, and interaction. This approach translates into a greater impact on the audience — yielding positive results for the presenter.
Visuals Engage an Audience and Make Presentations Memorable
More than 80% of the information we take in comes through our eyes. Our brains have a huge capacity for visual information, so presentations that stress visuals are easier to absorb.
It takes one-tenth of a second to understand a visual scene. Compare this to the time required to read even a short article; most people need about a minute to read 200 to 250 words.
Visuals resonate with our understanding of the world. People take them in faster and retain more information from them. Prezi lets you include both still images and videos, and the platform gives you granular control over aesthetics.
Stories Combined With Statistics Are More Relatable
A powerful presentation doesn't just reach people's minds but engages their emotions as well, and narratives have greater emotional impact than facts or statistics.
A study done by the Wharton School of Business compared requests for charitable donations by employing two campaigns: One used a story about an individual who needed help, and the other relied on statistics about a wider problem. Twice as much money was donated to the cause that told a personal story.
A story has a beginning, a progression, and an end. It's memorable. In Scientific American Mind, Jeremy Hsu says 65% of our conversations consist of personal stories. They stick in our memory and reach our emotions. By taking the audience on a visual journey, Prezis help tell a story that reaches both thoughts and feelings.
Conversational Presentations and Dynamic Zoom Boost Interactivity
Prezi's goal is to foster conversational presentations. Instead of being linear, conversational presentations are adaptable, and the presenter can alter the direction or emphasis based on audience response.
The presenter and the audience are collaborating, and the process can bring new ideas. When people feel they're part of the process, they remember and respond. The presenter can then use Prezi's dynamic zoom feature to focus on areas most important to the audience.
Understanding The Basics of Conversational Presentation
A conversational presentation grows out of talking points rather than a fixed script. Determine the key points for each major section in your upcoming discussion or demonstration, but don't try to predetermine the specific order of presentation. You'll construct a road map — a 2-dimensional layout — rather than a sequence. To prepare for your audience, learn each of your points separately and be flexible in moving through them.
You can deliver a Prezi before an audience or share it over the Internet. When you share it, people can navigate through it at their own pace, and this approach supports conversational features, too.
When you deliver a presentation, find out what the audience wants to know and select the points you cover accordingly. With dynamic zoom, you'll be able to move to the parts they find more interesting and provide more detail on topics they zero in on.
Workshops and Webinars Devoted to Honing Presentation Skills
Since Prezis are so different from the slideshows businesses are accustomed to, Prezi provides workshops, allowing businesses to learn how the tools work. In three minutes, the company gives an overview of the software, showing how the use of visual landmarks and the ability to be adapted can meet the expectations of any audience.
What's more, the company offers online training sessions for beginners and advanced users. The Prezi Basics course is available to anyone, with or without a license, and covers both the science behind and practicality of the presentation software. Onsite training is available as well, and Prezi offers a 6-week certification program.
Businesses and Individuals Benefit from Collaboration and Analytics
A Prezi can be created collaboratively — and even remotely. This can be perfect for a team in which each member is an expert on a different aspect of the material being pitched. Some members can be given full editing privileges while others may just be permitted to make comments or run the presentation. When the comments come in, they can be viewed within the presentation and revisions can be made easily.
When you share a presentation online, Prezi Analytics track its effectiveness. See who has watched it, how many times it's been viewed, and how long a person viewed it. This feedback will let you revise the presentation, if necessary, as well. View all your Prezis together, or examine details of one individually.
These tools help teams create effective presentations, track their progress, and make revisions. Meanwhile, Prezis are enhanced by the knowledge and skills of all team members.
Presentations Backed By Prezi are More Mobile, Adaptable, and Efficient
With Prezi, IBM learned new ways to think about their collaborative processes. The old workflow was a product of a more linear method, while Prezi helped provide a macro picture.
"We couldn't translate our typical way of working into the Prezi platform," Inih said. "We had to consider every facet of the project from a fresh angle, and it made such a wonderful difference."
Prezi has incorporated presentation methods that are proven to better engage the human brain, because not only are our eyes the windows to our souls, we get more than 80% of our information through them. With Prezi, a presentation is not fenced in by the limitations of slides. You can roam through a free range of topics, shaping the story to your audience.
The audience is also free to roam, moving through the information they are interested in, and viewing the presentation on any device. Anyone can be part of the conversation at any time. The presentations go the way the audience wants, not on preordained paths, which can significantly boost engagement and retention. Prezi has invented a new way of informative storytelling for an interactive world.
Advertiser Disclosure
HostingAdvice.com is a free online resource that offers valuable content and comparison services to users. To keep this resource 100% free, we receive compensation from many of the offers listed on the site. Along with key review factors, this compensation may impact how and where products appear across the site (including, for example, the order in which they appear). HostingAdvice.com does not include the entire universe of available offers. Editorial opinions expressed on the site are strictly our own and are not provided, endorsed, or approved by advertisers.
Our Editorial Review Policy
Our site is committed to publishing independent, accurate content guided by strict editorial guidelines. Before articles and reviews are published on our site, they undergo a thorough review process performed by a team of independent editors and subject-matter experts to ensure the content's accuracy, timeliness, and impartiality. Our editorial team is separate and independent of our site's advertisers, and the opinions they express on our site are their own. To read more about our team members and their editorial backgrounds, please visit our site's About page.