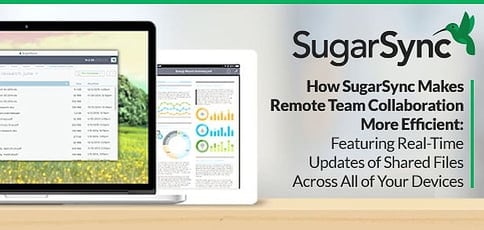 TL; DR: These days, multi-device professionals see cloud backup and sync functionality as a fundamental business requirement, not a request. Your mission-critical files must be accessible anywhere, at any time, from any device. SugarSync allows teams to seamlessly collaborate on documents, instantly syncing changes across all approved devices, per the discretion of the team lead. Managers get an accurate overview of projects and granular control over file permissions, allowing them to instantly authorize (and deauthorize) users. This minimizes the risk of working with external contractors and remote teams, and companies can quickly reclaim digital assets from former employees. With an array of business-class services for individuals and teams, SugarSync satisfies productivity expectations while also ensuring data security with anti-hacking technology and bank-level encryption.
There are many reasons a business might need to share digital assets in house and with outside entities. Email, FTP, shared network drives, and removable media are all antiquated content dissemination methods that actually slow down business.
Enter SugarSync — cloud-based file storage and sharing technology that seamlessly syncs your documents across all approved devices. To illustrate the usefulness of this technology, I'd like to share a story of how a single image could have committed a company to a $2 million mistake.
The company was introducing the most significant update to their POS systems in three years, and the launch represented a significant capital investment. With both the product team and the documentation team firing on all cylinders to complete the final versions of the interface and the launch day presentation, a single slide showing an outdated version slipped through the cracks. The slide showed a screenshot of a feature that had since been removed from the system and said slide went unnoticed until the company's VP of Sales was preparing to take the stage.
The dev team later estimated it would have cost just under $2 million to restore the abandoned feature. The sales team was confident that customers would have insisted on having the outdated function, simply because they had seen it in the presentation.
Back at the office, the documentation team frantically took a new screenshot. They opened the VP's PowerPoint presentation from the SugarSync-managed folder and replaced the old screenshot on a master slide. The image updated, the team pressed CTRL+S, and about 10 seconds later and two thousand miles apart, the VP opened the updated PowerPoint file to begin his presentation — completely unaware that anything had changed since rehearsal.
Versatile Cloud Storage Gives Businesses Control Over Productivity
Fundamentally, SugarSync is a cloud backup and file synchronization service. They can safely store all of your most important files in the Cloud, ready for restoration in the event of a data loss or to easily migrate your files from your old computer to your new one.
Similarly, they keep your home and office computers in sync so you never have to feel the frustration of leaving an important file at the office, or conversely, leaving the latest version of your presentation at home. These are the most basic functions of SugarSync, and they do them exceedingly well, but there are many other advantages to the service.
Backing up files to the Cloud means the latest version of your files — and several previous versions — exist in the Cloud, ready for access from all of your devices. Whether you're in a meeting with your iPad and need the latest update to the spreadsheet you were polishing off at your desktop the morning before or you need to pull up your concert tickets on your Galaxy S phone, SugarSync makes full access control doable. You can access and share single files or entire folders — no email required.
In addition to sharing documents for viewing, you can make your colleagues co-editors, enabling them to collaborate on your files. Each document can have different permissions, as can each person with whom you've shared the file.
Any modifications by any team member with edit permissions are instantly reflected in all collaborators' copies via SugarSync's rapid synchronization. The service keeps the last five versions of a file, providing a clear path of accountability and revision backtracking. When it comes time to finalize a document, revoking edit permissions or unsharing entirely are just as simple as it was to share the file.
SugarSync inspires and enables productivity. For individual professionals, that's done through cloud backup, sync, and instant access to their files anywhere on any device. Though those features are important to teams, it's SugarSync's power to connect local and remote team members for collaboration that is the biggest boost to productivity for groups.
256-Bit Encryption Keeps Data Secure and Provides Peace of Mind
Often the first and most important question anyone asks about a cloud sync and backup solution: "How safe is my data?" The answer, for many customers, makes or breaks the purchasing decision, but it's actually a 2-fold question.
Inquiring about data safety means asking how secure and private files remain in the Cloud and during transit. It also means asking about the integrity of stored files should their originals be destroyed in a data loss scenario.
SugarSync includes both file security and backup. Utilizing bank-level 256-bit AES encryption, your files in the Cloud are safe. Getting them there has always been the risky part, with man-in-the-middle (MiM) attacks a constant threat, particularly with remote or traveling employees who might access shared work files over insecure wifi networks. Fortunately, SugarSync prevents MiM attacks with secure uploading and downloading.
Rather than transferring files through open protocols like HTTP, the SugarSync client installed on your computer communicates securely with the SugarSync servers through a handshake process that verifies the identity of both and prevents data interception. Bi-directional sync, upload, and download uses industry standard TLS (SSL 3.3) encryption to secure files and data.
Once files are securely stored in the Cloud, the other half of data safety can be addressed. Files synced to SugarSync are, by definition, backed up. Should their originals ever become corrupted or lost, you can easily download replacements from SugarSync — either individual files or entire folders. In the event of a full hard drive failure, it only takes installing and logging into the SugarSync client to sync your entire cloud backup to the new drive.
File versioning is a native part of SugarSync, too. Automatic backups of the previous five versions of your files offer a safety net against corrupted files that make it through synchronization to the Cloud as well as collaborators making unwanted changes. In a brilliant stroke of customer service, SugarSync doesn't count the previous version backups against your storage limit. Only the size of the most recent version is counted. For example, your five versions of a 1GB file, though totaling 5GB if saved to your computer, only count on SugarSync as 1GB.
Plans are Available to Fit the Needs of Individuals or Businesses
SugarSync makes functional and financial sense for both personal and team use. Individual plans offer 100, 250, and 500 gigabytes of cloud storage, plus business-level file versioning and unlimited upload and download transfers. Pricing starts at $7.49 per month for the 100GB plan and goes up to $18.95 per month for the 500GB plan. The most popular plan is the mid-range 250GB storage plan at $9.99 per month.
Businesses that want file synchronization, backup, and versioning for their team members get even more storage and advanced features. One to nine users per month cost as little as $14.78 per user and include 1,000GB of cloud storage, file versioning, and unlimited upload and download transfers. Even greater per-user discounts are available for teams with 10 or more concurrent users.
All business accounts include live telephone support, the ability to remotely wipe all SugarSync-managed files, and a powerful administrative control panel. Team managers can easily control not only what syncs with whom and with what permissions, but also adjust individual user storage capacity allocation and activate and deactivate seats on the fly. Should one team member be out sick, that user can be temporarily suspended, freeing up a seat, and then a fill-in employee or contractor can be temporarily added as a SugarSync user with access to the absent employee's files. When the original employee comes back, his or her access can be instantly restored, while the contractor's access can be deactivated and all shared files wiped away.
Sharing individual files doesn't even require the recipient to have a SugarSync account. Each file and folder can be shared with a public download link.
Sharing a folder with a vendor, partner, or freelancer who doesn't need to contribute documents into the folder, but who needs access to view and download the files within, is the specialty of the Shared Folder plan. The free Shared Folder plan enables private sharing of a folder to those without a paid SugarSync account.
SugarSync's Simplicity of Use Makes it a Standout Among Cloud Options
Digital files can no longer be stuck on a single device because modern professionals don't use just one device. Freelancer, team member, or manager, you and your collaborators need your files here, there, and everywhere.
You need to view and work on the same files on your office computer, your laptop while traveling and presenting, your iPad on the subway, and your phone at dinner, and you need the latest changes to those files instantly propagated to every device on which you might need them. You may never find yourself seconds away from a $2 million image version mistake, but is a lack of access to the latest version of a file ideal in any scenario?
The world no longer accepts "I left the file at home" as an excuse — and you don't want to be the person who has to mumble that excuse to a client, investor, partner, or manager. SugarSync keeps your files safe from catastrophe, puts them within your reach from any device, and keeps them in sync when working with collaborators in the same office or a different country — all with a maximum level of security, flexibility, and control.