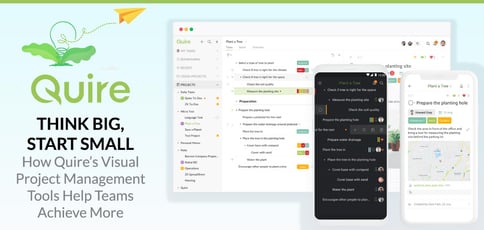 TL; DR: As developers and engineers tangled in web development and application complexity, the team behind Quire is well-versed in the pragmatic, streamlined requirements of effective project management software. Instead of stuffing the productivity and collaboration platform with unnecessary features, Quire selectively chooses and optimizes its components after lengthy, painstaking internal conversations about user feedback. CEO Tom Yeh told us about the value of simplicity when visually breaking down large projects into organized and achievable steps, and how Quire helps teams work faster than ever.
As serial entrepreneurs, Tom Yeh and Henri Chen are unfortunately rather well-versed in productivity solutions that promise to boost collaboration and bolster employee efficiency.
The leaders of Potix — the privately held software company behind the leading Java web framework ZK — have worked with everyone from small businesses to Fortune 500 companies. Despite their successes in web development, however, they were never satisfied with the systems their teams used to track a project's progress.
"The common project management tool involves working with a long task list, and the interrelationships of tasks are not presented visually nor logically," Tom said. "What's worse is that we were forced to digest every detail in a project head-on."
Unwilling to settle for all the complexity, Potix engineers instead turned their focus on creating a better program. The end result, Quire, is an intuitive, visual platform that enables teams to break down complex projects into smaller, manageable tasks that can be nested and organized in a natural manner.
"We created Quire to map out exactly how your mind works," Tom said. "When you face a challenging project, it can get overwhelming if you don't know where to start. Quire is designed to break down big ideas to digestible tasks to help you get started step-by-step then achieve the goal eventually."
Breaking Down Projects Into Small, Well-Organized Steps
Quire starts with the conventional task list common to most productivity programs. Acknowledging that straightforward to-do lists can't handle the intricacy or organization needed to oversee large projects, though, Quire relies on nested lists that put subtasks and the associated steps required with each in a more hierarchical order.
Instead of relegating phases and subtasks to separate lists, Quire's branched solution puts relevant and important project information at a user's fingertips without overwhelming the entire team.
"Users can create tasks and subtasks to build an endless mind map that illustrates the big picture of a project," Tom said.
When even the nested list seems complex, Quire's built-in Kanban board helps prioritize critical tasks on a daily basis without losing sight of the project's big picture.
"Our Kanban board mirrors exactly how a tangible whiteboard works," Tom said. "Everything is laid out neatly for users to track progress and effortlessly visualize the workflow. You can have different boards for different teams within the same project."
Other important features in Quire include:
Smart folders that organize tasks from different projects in one place.
Outsourcing tasks to external teams and sharing your project with anyone.
Assigning roles, permissions, and tasks to specific users.
Integrations with Siri, Slack, GitHub, Chrome, and apps for iOS and Android.
Peekaboo, a recently released (and adorably named) feature, remains one of Tom's favorite parts of Quire.
"We believe productivity is a continuous process," he said. "To keep up with your dynamic workflow, you must not get stuck or burnt out with your long task list. Quire's Peekaboo feature lets you tuck away the tasks that cannot be completed right away for future exploration. Instead of worrying about what to do, you can dive into your task list and actually make progress every day."
Quire Provides Exactly the Features Needed — No More, No Less
Tom said he's not concerned about Quire appealing to everyone. Productivity software is such a crowded market and project management is such a specific, personal process that a one-size-fits-all product simply doesn't exist.
"There's no perfect solution when it comes to a project management tool," he said. "If you don't like a tool because it doesn't fit your needs, just walk away and pick up another."
While competitors regularly try to stuff as many features as possible into a project management platform, Quire focuses on perfecting fundamental features.
"We don't want to create a platform that drives our users crazy because of the features maze," Tom said. "Your time comes with a price tag, so don't waste your time learning and using a complicated tool. Quire puts together all the basic features that a project manager needs to get things done."
Teams have very specific features and functionalities in mind when shopping for productivity and collaboration software, according to Tom. Quire constantly seeks to balance powerful tools with a clean and modern user interface that can adapt to a variety of needs.
"We realize it's impossible to fulfill every demand from our users, and we never want to keep adding new, irrelevant features to Quire just to have an everything-in-one software," he said. "We decided to have Open APIs for our users to integrate their most preferable apps with Quire, and we will have a marketplace for our community to help each other customize Quire."
How Internal Processes and User Feedback Drive Future Development
In addition to the customization marketplace, Tom said the Quire team is currently examining ways to introduce application-to-application artificial intelligence and IFTTT (if this, then that) functionality, as well as a Gantt chart timeline.
"We believe a project management software that integrates with AI & IFTTT will expand the users' working capacities and boost the productivity of the team without increasing stress," he said.
While the cloud-based software comes with centralized management and frequent updates, Tom describes a lengthy and deliberative process for evaluating, creating, and releasing new features.
"We spend a lot of time listening to the needs of the users, then discussing internally how to best deliver the new feature," he said. "Creating a bunch of features isn't an impossible mission. However, creating one feature that actually goes well with the existing workflow to become a whole package is another story."
For example, he said the team took nearly a year to come up with its Kanban board — an extremely common feature included in nearly every project management app.
"In most cases, we spend more time thinking about the logic behind a potential feature than on the how-to of implementing it," Tom said. "We came up with a different approach that actually solves our users' productivity problems and gives them multiple views of one project instead of pushing them to choose a specific one."