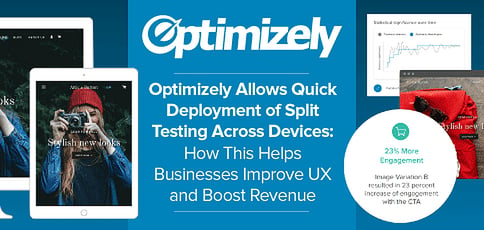 TL; DR: Everything seems to be about user experience these days. UX drives behavior, and businesses are lining up to learn how to streamline it to drive conversions. Optimizely provides an experimentation platform that makes it easy for marketers to conduct split testing on websites and applications across devices to determine the structures best suited to prompt desired user actions. The platform's intuitive Visual Editor, Stats Engine, and Customer Success Team have made Optimizely a leading choice for businesses looking to develop effective customer touchpoints — ultimately yielding the largest possible ROI.
In 2013, entertainment software company Electronic Arts (EA) was preparing to release the latest version of their hit game SimCity. In an attempt to drive online pre-orders, the company offered a promotion that was prominently displayed across the top of the launch page. To their surprise, the ad didn't drive the increase in SimCity orders the company expected.
EA's marketing team had initially hypothesized positioning the ad high on the page would increase conversions. When that wasn't the case, they turned to Optimizely to conduct split testing and get to the bottom of the underwhelming conversion rate.
Using Optimizely's Visual Editor, EA was able to easily run split testing experiments and quickly learned moving the ad up dropped their call-to-action (CTA) lower on the page. Once the CTA was made more visible, sales improved by a staggering 43% without any additional messaging.
The EA example shows the huge impacts split testing has on bottom lines. By allowing businesses to experiment on their customer-facing touchpoints, Optimizely provides data-driven solutions that carry big returns on investment. Their intuitive Visual Editor, data-centric Stats Engine, and Customer Success Team work in tandem to optimize user experiences and move visitors through an interface as intended by the site or app owner.
Standard-Setting Platform for Split Testing Gets Measurable Results
The main goal of most businesses that use Optimizely can be summed up in two words: improved conversions. Customer-facing touchpoints usually feature a CTA in one form or another, whether it be a Buy Now button, email signup form, or some other action that benefits an organization.
Optimizely's experimentation platform enables businesses to continuously toggle the display, location, and design of these user interface elements to achieve an optimal UX resulting in a desired course of action. Companies turn to Optimizely to perform split testing to generate different versions of online touchpoints to determine which produces the most conversions.
The platform's analytics tools ensure decisions to change a website, application, or advertisement are data-driven. Because of this, the winning version is sure to prompt desired user behaviors.
For example, a marketer might want to know if changing the CTA text on a landing page from red to green will increase conversions. In that case, a split test is run that displays green text to half the visitors and red text to the others. A week later, one can see which color yielded the most conversions. It's simple in theory and effective in practice.
Visual Editor Allows Simple Development of Pages for Experimentation
Optimizely's intuitive Visual Editor streamlines the experimentation process, making it easy for marketers to plug in design variations and test them. No developers are required.
The Visual Editor allows users to change design elements on the fly, altering the color, wording, font size, and other attributes. Design elements can be seamlessly added, removed, or adjusted.
Users can rearrange multiple elements by simply dragging and dropping. Altering text is as simple as highlighting a box and typing. And the editor's WYSIWYG environment ensures visitors will experience a website or app exactly as intended.
True techies who want to use Optimizely to make their lives a little easier will be happy to learn the frontend allows them to look at the CSS/JavaScript working behind the scenes. So, if they want, they can make changes directly to the code.
Optimizely also allows users to test the test in the platform's interactive mode. That means they can temporarily launch the site via the Visual Editor to see exactly what the page looks like to a user who has to login or navigate via a drop-down menu.
Stats Engine Powers Effective Decision Making to Optimize Sites
Experiments are only as strong as the ability to measure their results. Therefore, it's important to review analytics after a split testing session has ended. Optimizely offers a Stats Engine so users see exactly which options in their experiments are generating the most conversions.
The Stats Engine isn't merely a graph showing the option that prompts the most clicks, however. It's a powerful tool that uses statistical science designed to give users a comfort level about their experiments.
Optimizely takes the discipline of traditional statistics and brings it into the 21st century. The experts behind the platform adapt typical number-crunching tasks to experiments and conform them to be web-centric. The result: a Stats Engine that's not only user-friendly but also gives users a confidence level regarding each of their experiments.
For example, if an experiment shows Option B in a split-testing scenario generated 20% more clicks with a 95% confidence level, marketers can be reasonably sure they should select that option as the winner. However, if a similar experiment shows Option A winning with just a 40% confidence level, then maybe they should continue testing until they have a more certain outcome.
The Stats Engine was developed by professionals who understand marketers (like everybody else) are prone to some level of confirmation bias. That is, they might even look at raw numbers and still see what they want to see.
That's why the engine is designed to increase the confidence level over time. The more people participating in the experiment, the more likely it is the results would be taken seriously.
Customer Success Team Works to Ensure Continued Company Growth
Optimizely doesn't just provide a great platform to help marketers maximize their returns. It also offers an outstanding support team to help all customers reach their goals. Customer Success Managers work with users to understand their business objectives. They also help them develop a growth plan to reach people in their target market.
Users who are too busy to independently employ the Optimizely platform are encouraged to work with the team's network of trusted partners to leverage all the advantages of the service. For customers who are dealing with complex integrations, Optimizely's global support team stands ready to offer relevant advice.
Though, because Optimizely's Visual Editor is so intuitive, most companies find they can quickly be up and running on the platform without much assistance and just start split testing. That's how EA finally solved their poor conversion problem. They quickly realized educated guesses were not enough to make solid predictions on returns. Split testing on Optimizely's platform gave them the data-driven information they needed to boost their conversion rates.