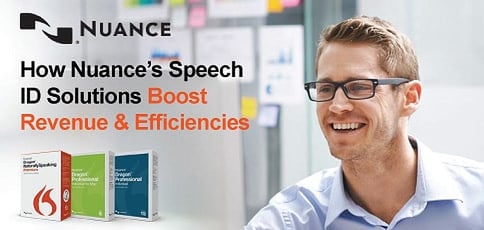 TL; DR: No matter the industry, saving time and money is an aim of most businesses. For more than two decades, Nuance has been helping organizations streamline documentation processes through its award-winning speech recognition software, Dragon, which boasts transcription speeds three times faster than the average human can type and a 99% accuracy rate. From large business enterprises to healthcare and law enforcement organizations, millions of registered users worldwide are turning to Nuance to bridge conversations between man and machine to work smarter.
Two decades ago, Nuance's speech-to-text software, Dragon, hit the market and immediately changed the way people were able to approach record keeping and documentation. In 1997, the software was the first of its kind, offering users a continuous dictation solution capable of converting 100 words of speech to text per minute.
At the time, this technology was a novelty. However, because of its ability to boost productivity rates across industries, the team at Nuance knew Dragon was here to stay.
"Suddenly, the ability to speak to machines as we've seen in movies — from Star Trek to the Jetsons — was becoming a reality," said Mark Geremia, Nuance's Vice President and General Manager of Dragon Professional and Consumer. "Twenty years later, Dragon continues to transform the way people work and live."
Since its inception, Nuance has been providing best-in-class speech recognition products, and the company continues to evolve its product. Nuance's portfolio of Dragon solutions, such as Dragon Professional Individual, enterprise-versions including Dragon Professional Group and Dragon Legal Group, and the newly introduced Dragon Law Enforcement solutions are helping organizations, law enforcement agencies, as well as small and larger enterprise-level businesses optimize efficiencies when it comes to documentation productivity. Nuance created Dragon software solutions to convert spoken word to a readable text format, but its capabilities extend far beyond fulfilling this basic need.
"Our solutions truly have a transformative impact," Mark said. "Well beyond simply turning talk to text, we open up opportunities for organizations to find hidden efficiencies and drive productivity and get back to what matters most — serving customer needs."
Award-Winning Documentation Tools to Raise Productivity & Cut Costs
Dragon Professional Group is being utilized across multiple industries to save time and costs and help improve compliance with accurate documentation. The speed and simplicity the solution lends to documentation helps remove the time suck associated with the manual input of data and transcription.
Documentation can be done on the go, and a central management console makes it simple for admins deploying the solution across the enterprise to orchestrate workloads and customize the tool for multiple users.
"It's a faster, more accurate way to create outstanding documentation," Mark said. "We open up the opportunity to improve productivity and increase efficiency."
Law enforcement agencies have also found Dragon to be useful in unexpected areas.
"With our Dragon Law Enforcement solution, we can actually help make the reporting process smarter while maximizing officer safety," Mark said. "It allows officers to stay heads-up and situationally aware while dictating incident reports or performing voice lookups."
Nuance recently introduced this customized solution specifically for the law enforcement community, Dragon Law Enforcement. According to Nuance, incident report paperwork can potentially consume 45% of a sergeant's workday. These time-consuming demands impact the amount of time officers actually spend protecting the community. By conducting lookup tasks and paperwork by voice, officers can get the paperwork done more efficiently, thus freeing up time to actively serve and protect their communities.
Another useful solution in the Nuance toolbox, Dragon Anywhere is a cloud-based mobile app that allows for greater documentation productivity — even outside the office. Dragon Anywhere allows full documents to be composed, edited, formatted, and distributed via voice, directly from a mobile device. This provides professionals who need to document and report on-the-go simple ways to continue working, while synchronizing with desktop devices running Nuance's Dragon software. Essentially, it's all about working across multiple devices from anywhere, allowing users to continue working on documents no matter where they are.
Speech Driving Efficiencies Across Industries
Nuance's tools are affordable and easy to implement, which is why organizations large and small are deploying them to create better efficiencies and control costs.
As noted above, Dragon solutions work well with a variety of vertical markets due to the common human affinity for quick speech in lieu of the less direct — and sometimes much slower — approach found in typing and writing.
Education is another vertical Nuance has found to benefit from Dragon. Mark told us speech recognition technology goes a long way to help students who struggle with cognitive and motor processes involved in writing or typing.
"By eliminating the barriers of typing, educators open a world of creativity and accomplishment to those students who struggle to put thoughts down on paper," he said.
Those who are accustomed to a more auditory approach to learning and memory also benefit from taking notes with speech recognition. And students with auditory processing or memory difficulties can benefit from having an instructor's words converted to text. Whatever the industry, Nuance allows users to make technology work for them.
Pioneering AI to Bridge Conversations Between Man and Machine
Prior to artificial intelligence (AI) becoming a buzzword, Nuance was a pioneer in the field — crafting a solution no one had accurate words for at the time.
"The basis for our speech recognition solutions are rooted in machine learning," Mark said. "Nuance aimed to create a more natural, humanlike conversation between man and machine."
For speech to be converted (note that "convert" shares a root with "conversation") to text, a system is required that first recognizes syllables and later derives contextual meaning from them. This allows the system to relay them to a memorized catalog of words. Basic vocal sounds are adapted to words and phrases that carry inherent meaning, similar to how humans process language.
This past April, Dragon celebrated its 20th anniversary — demonstrating Nuance's longtime leadership in the speech and cognitive AI space."
Dragon Naturally Speaking, the first speech recognition solution to offer continuous dictation, was capable of processing 100 words per minute. Today, Nuance continues to pave the way in speech software innovation, providing solutions for almost every vertical and business category.
A Team of Thousands Committed to Innovation and Their Customers
Nuance's success is largely due to its passionate organization of more than 6,000 employees worldwide across its Mobile, Enterprise, Healthcare, and Imaging businesses.
"Dragon's core speech recognition is at the heart of so many of our solutions — and in everyday people's lives and businesses," Mark said. "For instance, it's core to the conversational experience in our Dragon Drive automotive assistant for connected cars, as well as for solutions serving service providers, IoT, clinical documentation and transcription, and omnichannel caFortune 500. I'm always amazed by our talented team, pushing the boundaries of what's possible in the pursuit of simplifying our experiences with technology."
Two decades ago, Nuance had cornered the market for speech to text software and continues to do so with a reasonably priced product that can save companies time and money.
"There simply isn't a place where you can't use your voice to get the most out of technology and, more importantly, your day," Mark said.