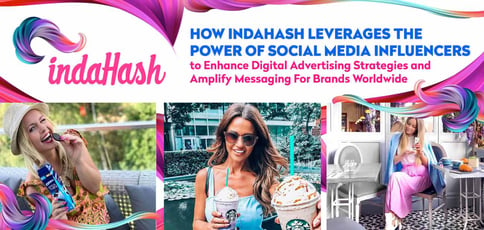 TL; DR: Even social media influencers with smaller followings can boost brand messaging, and indaHash mobilizes those influencers through its advertising platform. Companies interested in commissioning valuable, influencer-generated content can post campaign details on indaHash and receive submissions. From there, they can choose the most authentic posts that fit their goals and use them in marketing materials. And on the social media side, indaHash influencers post the accepted content to their own accounts, where it can be viewed by millions of potential customers.
When Sol beer settled on a seasonal advertising campaign to promote its product in South Africa, it wanted to add some authenticity. So instead of creating marketing materials itself, the company decided to focus on individuals whose credibility lies in their realness: social media influencers.
Sol worked with indaHash, a platform that specializes in connecting brands with influencers, to develop the campaign. Sol asked influencers to take photos that highlighted its beers and fit with its "summer vibes" theme. In response, influencers from around the world posted pictures of themselves drinking the beer in summer settings — including photos at the beach and in the mountains.
Sol was so pleased with the results that it posted its favorite images on billboards around South Africa. In the second phase of the campaign, Sol asked six of the best influencers from indaHash to create videos for the product.
Ultimately, the campaign reached more than 1 million people and generated more than 140,000 likes.
The Sol campaign is just one example of how indaHash connects businesses with influencers who can successfully market their products. The company's Co-Founder and CEO Barbara Soltysinska recognized the need to connect these impactful micro-influencers, or localized social media content creators, with advertising companies to promote products and services.
"We discovered a significant amount of micro-influencers, and we created technology to connect them with companies because it can be time-consuming to manage 10 to 15 influencers — or more," she said.
From there, indaHash set out to streamline the market. Many influencers were reaching out to companies — one at a time — asking for free products to review on their accounts. But indaHash designed a platform that allows companies to create campaigns and gives influencers the chance to respond.
"Brands start a campaign, target it to our influencers, and let them submit content," Barbara said.
That approach gives companies control of their brand messaging while allowing influencers to pursue opportunities for which they are best-suited.
Connecting Companies with the Right Social Media Influencers
Not only does indaHash have influencers in 82 markets across the world, but it also has offices in eight cities: New York, London, Johannesburg, Singapore, Tokyo, Jakarta, Warsaw, and Dusseldorf.
Data from these diverse markets can help companies gain insights into multiple international markets, as well as the habits, expectations, and aesthetics of influencers.
"If a cosmetics company is based in the U.S. and wants to promote its products in the U.K., we enable them to accomplish that without having to study the market extensively," Barbara said.
And indaHash's client list — which includes many Fortune 500 companies — has exploded as influencer-created marketing campaigns have gained popularity.
"Three years ago, the market was completely different than it is now," Barbara said. "Back then, brands were testing influencer marketing, and now, our reach is much wider."
The company has also become successful because it recognizes the power of all levels of influencers, from major influencers to smaller influencers with only a few thousand followers.
According to Barbara, the change in the industry has happened as the definition of influencer has evolved. Initially, an influencer was someone who was incredibly popular on social media. But the definition of influencer has changed to include localized micro-influencers
Depending on the campaign, a company can coordinate with influencers on a variety of social media platforms through indaHash — including Instagram and YouTube — to reach their audience.
"We also do campaigns on Instagram Stories," Barbara said. "They're quite powerful, and we see great engagement with them."
Promising Brand Safety Through a Dedicated Approval Dashboard
When companies want to start a campaign, indaHash leads them through each step of the process. First, clients determine which types of influencers and audiences are relevant to their campaign. Then, indaHash helps them narrow the scope by age, gender, location, and interests.
Next, the client elaborates on the campaign's goals. For example, when Garnier decided to advertise a new facial cleanser through indaHash, it asked influencers to take a picture of their face — half with makeup on, and the other half washed with the product.
And indaHash takes it from there by posting the campaign on its platform and allowing social media influencers to submit their content for review. Companies then use a dashboard to accept, reject, or modify the influencer-created content.
And the company works with a considerable number of influencers who may choose to take on each task.
"We have a pool of more than 900,000 influencers," Barbara said. "And, in addition to the brands, we check the quality of the content from influencers before it goes live.'
Once the company accepts the content, the influencer is notified that he or she can post it on their social media accounts. The dashboard also helps companies pay influencers for each post.
Clients can continue to reuse the content whenever they find it useful. Some clients have used influencer-generated content on billboards, in commercials, on websites, and even on their own social media channels.
The results can be dramatic, as they were with Garnier's facial cleanser campaign. With the help of indaHash influencers, the campaign reached an audience of 2.7 million people and received 115,000 likes on social media.
Capitalizing on an Authenticity that Helps Build Consumer Trust
Influencers are such effective marketers because their audiences trust them. Often, they only post about companies they trust, lest they lose the credibility that can make or break their content channels. This authenticity is what indaHash recognized could be so valuable to companies like SOL and Garnier.
"If I have over a thousand influencers and I'm authentic, I can create more purchases than someone with more followers," said Barbara. "The content by medium and micro-influencers can be much more effective than that of bigger influencers."
Further, indaHash screens its influencers, so companies don't have to waste time scrolling through unusable content. Before accepting influencers on the platform, the company ensures the content quality and analyzes other metrics — including engagement with their audience.
"We check if they have a high engagement rate, ensure they post high-quality content, and don't have fake followers," Barbara said.
And companies new to the process don't even have to wade through the content developed by influencers. Instead, indaHash can suggest the right influencers and content for each campaign through its managed services model.
In this arrangement, the indaHash team takes control of a campaign with the company approving the final, curated posts. This option can benefit companies with little influencer marketing experience who need expert help in addition to larger companies that need to roll out a campaign quickly.
While indaHash is an award-winning influencer marketing company that works with Fortune 500 companies, Barbara said she sees the potential for expanding the reach to companies of all sizes.
"We can help thousands of companies, starting from the smallest retailers up to the largest enterprises," she said.