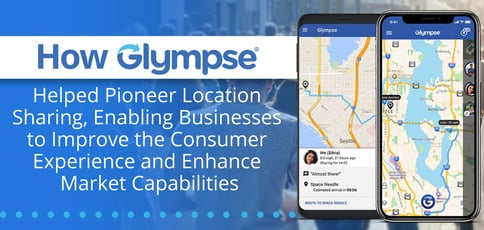 TL; DR: Glympse, a leader in online mobile location software, is on a mission to help companies improve customer satisfaction by eliminating the unknown in product and service delivery. The platform allows businesses to temporarily and securely share their whereabouts in real-time, empowering them to provide last-mile solutions and reduce the need for support. With a focus on using the technology to boost marketing efforts and offer third-party aggregate solutions, Glympse is continuing to shape the future of location sharing.
When I was a child, my family would drive 14 hours nonstop every summer from our home in Florida to our grandmother's house in Pennsylvania. And every summer, my grandmother would spend 14 hours worrying about whether we would survive the trip.
Back then, we didn't have a clunky car phone, let alone a smartphone. If we had the GPS technology available today, my grandmother could have watched in real time as our vehicle made its way up the east coast, through our nation's capital, and safely into her home state.
Today, Glympse offers that technology — and so much more. As an early innovator in the location space, the company was one of the first to offer a free consumer app for sharing real-time location and estimated arrival time using GPS tracking.
"More than a decade ago — before the iPhone — Glympse's founders, former CEO, and president wanted to use location in powerful ways," said Cami Zimmer, EVP Business Development & Marketing at Glympse. "We call ourselves the pioneers of location sharing on the consumer side of things because we've been doing this for so long."
In that time, the company has aimed to perfect the app, working to provide compatibility with nearly every IoT device, from automotive head units to smartwatches. By the time the market caught up, Glympse had already moved on to the enterprise side of the business, where it currently resides.
Today, Glympse focuses on providing real-time delivery and service tracking for some of the biggest companies around — allowing businesses to offer customers the same assurance my grandmother would have loved. At the same time, the technology helps reduce the need for support and even amplify contextual marketing power. Now, as Glympse begins to ramp up presence in the curbside delivery and third-party aggregate space, the company is maintaining its position as a leading force in location sharing.
Providing Robust Last-Mile Solutions and Location Sharing
Glympse currently partners with several Fortune 1000 businesses to improve customer satisfaction through the power of real-time location tracking. The company's technology can provide customers with insight into the location of their delivery or service person through a live map, helping manage expectations and eliminate uncertainty.
In 2018, for example, Glympse joined forces with the nation's leading professional lawn care service, TruGreen, to keep customers informed about the location and estimated arrival time of specialists via the TruGreen mobile app. Many customers need to know this information to unlock gates and secure pets, ensuring a seamless service.
This year, Glympse also formed a partnership with Rollins, Inc., a global pest and termite control company, to provide service appointment information to customers and businesses who opt-in. The technology allows Rollins customers to receive timely text and email updates as well as view their technician's location on a live map. It also enhances last-mile service by providing real-time arrival communication and "on my way" notices.
In a recent press release, Rob Foley, SVP of Customer Success at Glympse, said the company's customer-facing, web-based experiences help reduce customer no-shows by as much as 25%, underscoring the technology's effect on the bottom line.
Cami said last-mile customer service has been an increasing focus for Glympse's partners. "It's definitely picked up in 2018 and 2019," she said. "Whether it's a delivery of something to a home or business, there's an opportunity to build connections with customers during that window between when a technician leaves their previous location and is on the way to the customer."
Deliver Better Service While Reducing the Need for Support
Cami said Glympse also works with a variety of retail partners to ensure their customers receive the updates they need to plan their schedules around important deliveries, such as furniture, equipment, or groceries. The company also provides roadside assistance and courtesy shuttle tracking, increasing visibility for customers on the go.
"We help all these different industries keep up with — and often exceed — the experience Amazon provides while ensuring a safe, temporary, and useful service for both consumers and providers," Cami said. "This is especially important as we see increased customer expectations."
According to a November 2018 survey by Verizon Connect, 54% of US adults ages 18 and older want job status notifications, and 65% said information about the provider's estimated time of arrival is the most valuable feature in a mobile app. In addition, 32% said viewing a provider's location on a map is important. Through real-time location, accurate arrival predictions, and rescheduling options, Glympse can help ensure providers meet these expectations.
Cami said Glympse also provides significant operational benefits, including a reduction in status inquiries and increased revenue by preventing customer cancellations. In addition, the technology helps companies gain a competitive advantage by enhancing the online ordering experience, thus making it more attractive to customers. For example, studies show that consumer online pizza orders outnumber phone orders by 18% on average.
Flexible Solutions That Amplify Marketing Power
You may not think of location tracking as an avenue for marketing campaigns, but the Glympse customer journey viewer helps companies execute targeted advertising programs with ease.
"I love the way that you can use the Glympse platform from a marketing standpoint," Cami said. " Not only do we provide a live map and an ETA where you can have that experience, but we also have the capability for two-way customer communication."
Imagine that you're a Sherwin-Williams technician delivering 12 gallons of paint to a customer. "Maybe you notice that there are no mixing sticks, brushes, or can openers on the order," Cami said. "You could use our platform to offer discounts, like 50% off brushes, opening up a one-on-one conversation where you can provide those marketing capabilities where the customer is engaging."
Cami said Glympse strives to be as flexible as possible to fulfill customer needs. For example, the company works with Albertsons Safeway to provide location-sharing technology that gives shoppers a real-time view of their grocery delivery orders. "The delivery side, of course, is our bread and butter," she said. "But they told us that quite a few of their customers prefer to order online and pick up their groceries curbside at the store."
To satisfy this requirement, Glympse will pilot technology to serve select Drive Up & Go markets beginning this spring. The optional service will allow customers to receive notifications when their order is prepared as well as share their location so an employee can bring the groceries directly to the car. "That's just one example of a customer coming to us with a unique requirement, and we're like, 'Hey, we can do that for you.'"
The Next Frontier: A Focus on Third-Party Aggregate Solutions
As for what the future holds, Cami said Glympse is looking to provide advanced smart transportation solutions for cities. In addition, the company is approaching third-party providers such as DoorDash and Uber Eats. "These services are taking delivery to a different level, but when companies work with third-party aggregate solutions, they do start to lose a little bit of their branding and control."
Glympse is hoping to connect with these third-party aggregator companies to develop solutions that make sense for all players in the delivery and curbside solution market.
"We've been having conversations with those type of companies and really respecting the need and void they're filling," Cami said. "Ultimately, we're trying to marry all of the enterprise brands and their companies to come up with a customer-focused solution that works for everyone."