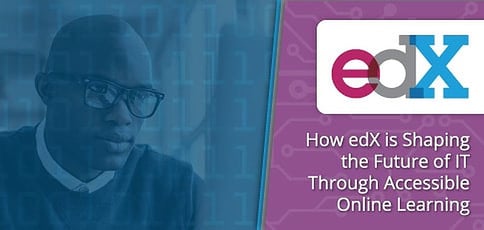 TL; DR: Since 2012, edX has been connecting students across the globe to the world's most respected higher-education institutions. Started as a nonprofit by Harvard University and MIT, the organization quickly became one of the largest massive open online course (MOOC) providers and today partners with more than 90 universities and institutions worldwide. The computer science and engineering tracks offered by edX are ideal springboards for individuals looking to move into careers in IT and software engineering. Modern businesses are constantly seeking creative individuals who list the highly demanded skills of development and data analytics on their résumés, which is why millions of students around the world have turned to edX's technology education programs to enrich and transform their personal and professional lives.
After graduating high school with less than stellar marks, Akshay Kulkarni found himself in a quandary. He was passionate about computer science, but, because of his poor grades, he wasn't able to gain entry into the colleges offering the top programs in his chosen field.
At a crossroads, Akshay wanted to follow his heart and applied to a local engineering college. He was admitted; however, the school, unfortunately, didn't meet his expectations.
"I found the classes uninteresting and didn't learn anything substantially," he said. "I was really confused and began considering other career options."
Luckily for Akshay, this fork in the road presented itself the same year the massive open online course (MOOC) provider edX was founded by Harvard University and MIT. Akshay enrolled in the nonprofit's Introduction to Computer Science and Programming Using Python course offered by MIT, and everything started to change for him.
From there, Akshay completed additional classes in computer science and SaaS development from Harvard and UC Berkeley, and he knew he was on a path to achieving a successful career in the technology space. His first interview after finishing his coursework was with software giant Microsoft — and he nailed it.
"When asked if I knew about cloud computing, I told them about the courses I had taken and that I was also a TA in the edX course," Akshay said. "One of the interviewers actually told me, 'Your credentials show you are good at technical stuff, so we won't waste time by quizzing you on that.'"
While impressive, Akshay's story isn't unique. Since 2012, millions of students across the globe have turned to edX to help jump-start their professional lives in the thriving contemporary technology industry.
Created to Connect Students to the World's Most Respected Universities
Roughly five years ago, a group of scientists from MIT and Harvard University got together and started edX, which would eventually become one of the web's largest MOOC providers. The nonprofit operates with the simple, yet noble, mission of expanding access to higher education for people worldwide.
Today, edX partners with more than 90 universities and educational institutions to facilitate online education covering a wide range of subjects, teaching highly marketable skills, including computer science, software engineering, math, and data analytics, among many others.
Because of its relationships with the world's top universities and tech organizations, such as Harvard, MIT, UC Berkeley, and Microsoft, edX is able to present students with the top-tier online learning programs once only accessible to on-campus students and employees.
While there are many MOOCs that offer online education directed at the technology sector, edX operates with a crucial difference — the organization is at once both a nonprofit and open-source. Open edX was developed as a free course management system educators use to host different types and sizes of classes online.
The open-source CMS is a perfect example of edX's dedication to improving and encouraging new approaches to pedagogy that fit with the modern technological environment. Through its course offerings and committed partners, edX is fostering a global learning community that is set to shape our future.
10 First-Rate Learning Opportunities to Open Paths to Careers in Tech
According to Anant Agarwal, edX CEO and MIT professor, students turn to edX for a number of reasons. But the main driver of enrollment for many is the opportunity to grow both personally and professionally.
"Learners come to edX to improve their lives by gaining new skills and knowledge," Anant said. "That could mean taking a course in an in-demand field, like computer science, that offers the potential for advancing their current career or opens up the door to changing industries."
Anant told us edX courses run across industries and teach cutting-edge skills that are very marketable in high-paying fields.
"When learners add a Verified Certificate to their résumé from a course that teaches in-demand skills, they stand out to employers as attractive candidates," she said. "They are demonstrating that they have developed the real-life skills necessary to succeed in their specific industry."
Whether it's computer science, engineering, or data analysis, edX's courses teach students the skills they need to be successful in the tech space. And, because edX offers both self-paced classes and courses with cadences set by instructors, students can achieve their learning goals at any level of time commitment. Here, we'll take a look at 10 of the most popular course offerings covering computer science, software engineering, and data analysis.
5 Course Offerings to Hone Programming and Dev Competencies
Georgetown University's Center on Education and the Workforce has forecasted that 57% of all STEM jobs will be focused on computing by 2018 and will include occupations such as computer scientists, database administrators, systems architects, and IT technicians. This bodes well for individuals interested in launching careers in the technology space, and edX courses are the perfect place to start.
The top five edX computer science courses to get you started or to further your programming skills are below:
These classes provide foundational knowledge of some of the most widely used architectures and coding languages and offer professional development opportunities for those looking to advance their knowledge in computer science.
2 Top Classes to Give Budding Engineers the Skills to Build Tomorrow's Technology
The qualified instructors at edX's partner institutions offer an array of courses that focus on software engineering. For seasoned programmers who want to try their hand in the global market, edX's Developing International Software gives developers the toolset to write code that's adaptable to multiple languages.
For those who are just getting started in the software engineering game, edX offers introductory classes that teach the integral components of software builds — from showing methodologies on how teams design products to learning agile DevOps approaches. Here are two of the top courses elemental for an impressive résumé as a new software engineer:
In these courses, students will learn the fundamentals of software engineering, including design and testing techniques, object-oriented programming, and project management methods, among many other skills.
3 Programs to Lay the Foundation of the Digital Age Through Data Analysis
Multiple HR industry publications have ranked data scientist as the best job in the United States. Considering the medium base salary exceeding $100,000 per year, a growing demand for qualified candidates, and no shortage of open positions, moving into a career as a data scientist has become quite attractive for many looking to enter the job market in the technology sector.
It should come as no surprise that edX offers numerous courses on the data analysis track. The three below represent a perfect starting place to begin an education in data science:
In these courses, students will learn how to collect, transform, and analyze data from multiple sources. Enrollees will also come to understand how data relates to business operations and how it creates value in the market.
edX Reframes the Potential for STEM Professional Development
Akshay's story didn't end after landing the job at Microsoft. While working for the software giant, Akshay wanted to continue his education with edX, so he enrolled in additional courses to further his professional development.
After taking classes in machine learning and entrepreneurship from Caltech and MIT, Akshay went on to create his own AI startup, Ozz. There's no doubt that Akshay's journey presents a compelling success story. However, there are so many like him who have traversed similar paths and launched life-changing careers in the tech industry.
"I believe that in a world that is changing as fast as it does, the only way to stay relevant is to continuously learn and keep improving your skill set," Akshay said. "I think online learning from sites, like edX, helps you in improving, learning, and staying ahead in the market."