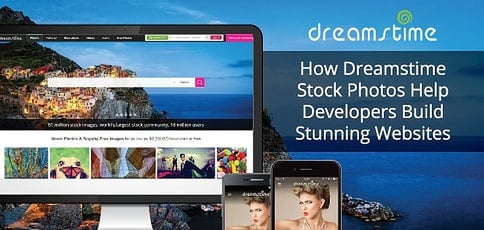 TL; DR: Founded nearly 20 years ago as a royalty-free stock image site, Dreamstime quickly grew into what's now known as one of the web's largest photography communities. More than 360,000 photographers and graphic designers contribute their work to the site where upward of 17 million registered users can purchase it to illustrate their projects. With manual and automated review policies to ensure its millions of photos are of the highest quality, and by leveraging AI to recommend the perfect imagery to the right audiences, Dreamstime showcases cutting-edge, compelling art developers can use to create visually stunning sites.
With studies showing 65% of the world's population are visual learners, it shouldn't be surprising that incorporating compelling imagery into websites is integral to their success. According to NYU Psychologist Jerome Bruner, individuals only retain 10% of what they hear and 20% of what they read. But, through visual learning, most people remember up to 80% of what they see.
This is a big deal for businesses and entrepreneurs who want to stay top of mind in the audiences they're looking to attract. Not only are visual components necessary to get people to remember your brand and message; they're essential for visitors to even give your site a shot in the first place. It's been shown that more than 94% of visitors will immediately drop off if a site's design is flawed or if its imagery creates a poor aesthetic.
This is why so many developers are turning to Dreamstime, one of the world's largest online photography communities, to help illustrate their sites. Nearly 20 years ago, Dreamstime was built as a platform to host royalty-free stock photos but has evolved into a gathering place where some of the industry's best photographers and designers present their images to the site's 17 million registered users.
"We started a web design company to diversify our portfolio," said Serban Enache, Dreamstime's Founder and CEO. "We created websites for various companies usually facing issues with purchasing stock images, particularly because they were so expensive, and we realized that was a niche market we could dramatically improve."
Dreamstime now boasts more than 360,000 contributing photographers who upload millions of original images to the site each month. At last count, there were upward of 61 million photos and graphics housed on Dreamstime, making it an ideal venue for web designers to find cost-efficient artwork to make their projects beautiful and more memorable for visitors.
Pioneering the Stock Photography Crowd-Sourcing Business Model
Stock image sites rose to popularity in the late 1990s and early 2000s, when most websites consisted of a black background with colored text and very few pictures. To stand out, businesses had to make their websites pop with eye-catching imagery. Unfortunately, many startups were unable to afford professional photos.
"These things were very new back then," Serban said. "Dreamstime became one of the pioneers of crowdsourcing and hosting stock photography, providing a more affordable means of acquiring professional-grade pictures."
By offering a combination of web design services with economically priced stock image archives, Dreamstime became a major player in the early stock photo space of the mid-2000s.
"We launched Dreamstime after creating a small collection of images for our internal projects," Serban said. "We then reached a point where we were able to sell them as a product."
Today, Dreamstime continues its status as one of the largest stock photography storehouses in the industry. With deep roots in web design and hosting, Dreamstime is positioned perfectly to understand the needs of modern web developers. And, thanks to the scores of professional artists in its ranks, Dreamstime is still growing daily, bringing its community of users beautiful images at low price points.
360K+ Photographers Submitting 3 Million Brilliant Images Per Month
A large part of Dreamstime's success is due to its massive community of more than 360,000 dedicated contributors. With upward of 3 million new submissions a month, Dreamstime's diverse collection of images continues to rapidly grow.
"We now have about 5,000 new photographers joining the website each month," Serban said.
Photographers receive commissions for premium images and are allowed to submit up to 100 each day. High-resolution photos often sell for less than a dollar apiece, making them very affordable while still leaving its contributors with 50% to 60% of the profits.
Customers and photographers alike benefit from the site's community forums. Here, image requests can be made and suggestions for improvement can be given by other users.
Dreamstime requires photographers to add accompanying information to photos, including accurate image descriptions, tags, and details. This makes it easier for its 17 million users to find the precise photos they need.
Photos are also subject to a strict vetting process to check for technical flaws and analyze composition and quality.
"There are growing demands for quality," Serban said. "Designers are demanding stock photography to be more authentic and less cliché."
As stock photography has become mainstream, Dreamstime's customers expect unique imagery that will catch the attention of viewers. Dreamstime users are looking for art, and that's what the site delivers.
"We have to keep pace with this growth," Serban said. "Pictures are reviewed by humans, and the number of images is growing so rapidly that we have challenges with training editors fast enough."
With a review team of roughly 50 people, Dreamstime has incorporated advanced technology, like AI, to help sort through its massive influx of images. Between AI, the review team, and accurate user input, users can easily find the attractive shots they're looking for.
Using AI to Deliver the Most Compelling Photos to the Right Audiences
Serban told us Dreamstime operates with the goal to evolve its site with the changing times. And the Dreamstime's steady growth has forced it to adapt its processes and automate some of them.
"One of the things we've evolved over time is the technology," Serban said. "We are primarily a technology company and leave the art to our photographers."
Given its history with web design, Dreamstime has continuously adapted to the needs of its community. Now, with such a high volume of photos each month, Dreamstime is relying more heavily on artificial intelligence (AI) — both to analyze incoming images for quality and technical specifications and as a means of delivering the right images to the right audience.
"We've had to improve our ability to detect various problems with content," Serban said. "We did this through artificial intelligence that we are now upgrading."
Dreamstime plans to implement this AI to eventually replace the human-driven review process and ease the team's burden of reviewing a daily flood of photos — and even bring it to market as a product unto itself. According to Serban, AI is currently used in every step of the process.
"It's used even before the image reaches the review team," he said. "We sometimes receive images that are stolen and the technology catches this."
After initial screening, Dreamstime works to present the right kind of content in front of the right audience. Criteria which measure relevancy and freshness are compared against a customer's past download history.
Keyword searches leave a footprint that Dreamstime's algorithm then uses to target return customers with images based on similar tags and content relevant to their respective industry.
"For example, we are able to show images that are not related according to metadata," Serban said. "These images are visually very different but, concept-wise, are still very similar."
Popular downloads also achieve higher placement in search results, putting the most successful images at the forefront.
Coming Soon: New Tools & Analytics to Bring the Best Art to Site Owners
The statistics show that creating visually compelling sites is integral to attracting visitors and staying top of mind to the audiences you want to reach. As one of the early pioneers of the crowdsourcing stock photography space, Dreamstime is now looking to continue to innovate solutions to bring the best imagery to its users. And, according to Serban, the technology his team is developing is allowing the company to do just that.
With new analytical tools on the horizon, Dreamstime plans to make its platform even more useful for photographers and the users looking for their images.
"Having so many advantages in so many areas, AI still uncovers new things," Serban said. "There are ideas where we would be able to allow users to identify their best-selling images with data from their Instagram accounts."
Dreamstime plans to roll out as many of these predictive analytics tools as possible in the very near future. Being a highly community-driven company, Dreamstime consistently delivers quality solutions and content to both its customers and collaborators, as these groups drive the demand for innovation and quality.
"Going beyond simply providing stock photography offers us a great opportunity," Serban said. "We are probably one of the most technologically savvy sites in the industry. And our loyal community of photographers and dedicated team looks at every project as if it's their own."