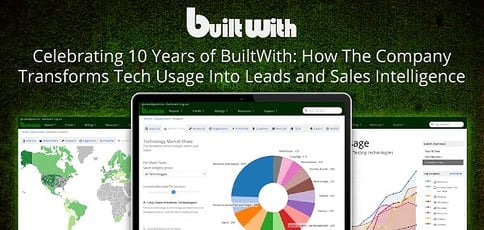 TL; DR: From shopping carts and analytics to web servers and content management systems, BuiltWith currently tracks the usage of more than 20,000 online tools and technologies. Despite recently celebrating a decade of existence, BuiltWith and Founder Gary Brewer continue to roll out new features to help customers gather sales leads and business intelligence, and analyze new markets. The Australian company, responsible for indexing more than 371 million domains, still finds time to create tools that optimize workflows and integrate BuiltWith data into other popular systems.
To stay ahead of emerging technologies, BuiltWith Founder Gary Brewer would visit 1,000 websites each month to determine if the program was worth tracking and including in the company's vast technology-tracking resources.
"Having to visit a thousand websites to see if they were worth adding to our database was time-consuming," he said, estimating he would often dedicate an entire day to the task of opening hundreds of browser tabs and waiting for websites to load. "Now, with LeadsEye, we can do that same size list in about an hour."
The platform, launched at the beginning of 2017, is one of several tools taking the immense stores of information BuiltWith has compiled from a resource that merely satiates curiosity to a key business device for identifying potential customers, analyzing markets, and tracking trends.
LeadsEye Quickly Visualizes Prospective Web Leads From URLs
According to Gary, the BuiltWith team goes through experiences similar to those of the company's customers when looking for new customers or technologies to track. By looking at a customers' homepage keywords and finding other sites using similar keywords, Gary could build a roster of prospective clients.
"I thought this was probably going to be useful for others, so I made my in-house tool something other people could use," he said.
Starting with a list of websites or leads, Gary used to open hundreds of browser tabs. He'd visit each website's homepage to determine if it was a worthwhile technology.
"It's a slow, time-consuming process," he said. "What we needed was a way to visit hundreds and thousands of websites from lists we supply, get an interface to quickly eyeball the homepages, and add them to buckets of either leads or junk. We needed to do that in the most time-efficient method possible."
The end result became LeadsEye, a platform that dramatically speeds up the process by letting users categorize websites as leads or junk with just one click of the mouse or strike of a key. Always on the search for new technologies to track, Gary said he recently used LeadsEye to add 112 new features to BuiltWith's indexing platform in one afternoon. "That would have taken a lot longer before," he said.
BuiltWith customers can upload a custom list or use one of the company's reports. When the websites have been cataloged, users can either export the list of leads or revisit sites labeled as junk to see if anything accidentally slipped through.
"I tried to make the tool all-encompassing by allowing you to export the interesting sites, making BuiltWith a more end-to-end tool for generating new leads — not just from technologies, but from this discovery process, as well," Gary said.
New Prospects in Fewer Than 30 Seconds With LeadsDiscovery
In addition to creating massive lists of leads based on the various technologies a company uses, BuiltWith's main lead generation tool allows users to filter leads based on geographic location, infrastructure budget, and traffic rankings, among other characteristics.
LeadsDiscovery, however, aims to provide more relevant targets by searching for sites similar to existing leads or current customers.
BuiltWith users start by adding one or several URLs to the LeadsDiscovery tool, which will then unveil a list of keywords that appear on the homepages. The system will highlight frequently used keywords, and users can add additional words they expect will be relevant to their search.
After selecting the keywords you're most interested in, LeadsDiscovery will return a detailed list of related sites that are sortable by the same various attributes.
Customers can then find more details on the prospective leads by seeing other keywords, metadata, and contact information. After selecting relevant targets, users can export the new list or send it to LeadsEye.
New Methods and Integrations Allow Users to Dig Deeper Into Data
In addition to various browser extensions, BuiltWith makes the company's data portable through integrations with customer relationship management and marketing automation platforms, including HubSpot, Salesforce, Pardot, and Marketo.
Information is also accessible through a variety of APIs that enable users to perform domain lookups, aggregate lists of sites using particular technologies, identify relationships between websites, and analyze relevant keywords.
Exporting Reports and Syncing Data With Salesforce
The mid-2016 revamp of BuiltWith's integration with Salesforce enables users to add thousands of different properties directly into the CRM interface. Records can be filtered into leads, accounts, and custom objects.
More recently, Gary launched an updated function that exports BuiltWith reports to Salesforce each day, seamlessly supporting the addition of hundreds or thousands of new records.
Identifying Shopify Variations and Features
While BuiltWith has long tracked and compared the usage of various eCommerce platforms, Gary announced in July that BuiltWith could now distinguish various Shopify plans and versions.
Users can now download reports for installations configured with US, European, or Australian currency, as well as those using plans geared toward premium users or nonprofit organizations.
Finding New Ways to Track Google Analytics 360
Giving credit to BuiltWith customers, Gary also announced the ability to track Google Analytics 360 Suite, in addition to the previously identified Anonymize IP, Classic, and event tracking variations, among others.
"We've been able to track technologies we didn't think were accessible," he said in a blog post. "All of our tracking is evidence based; we have to find a signal that lets us know that a site is using that technology."
A Decade of BuiltWith: Lessons Learned and Looking Forward
July 2017 marked 10 years since Gary had the initial idea for discovering what websites were made of and making the information readily available.
Gary tracked the company's journey through various stages of the startup curve, with phases such as the trough of sorrow, crash of ineptitude, and wiggles of false hope.
Gary had tried and failed with several projects in the past, but kept returning to a fascination of what technologies new businesses used. He started building the database manually and hosted BuiltWith on an $8-per-month shared hosting plan that supported ASP.NET and Microsoft SQL.
Gary was eventually kicked off his hosting plan for using 100% of the shared server resources and took a few missteps with tools for working with Twitter and SEO. He even ignored his first paying customer for a week.
That customer wanted a report listing all sites built with Drupal as the content management system, leading to the creation of BuiltWith Trends and paid accounts.
After six years, the company had never taken on funding or grown beyond a team of Gary and Co-Founder Andrew Rogers — but Gary deemed the company stable enough to work full time on it.
More recently, Gary has added the capabilities to port target or technology lists betweeen the various tools, along with a program that converts a company name to its URL.
After previously maintaining offices in Manly and Sydney, Australia, BuiltWith headquarters now occupy an office on the 35th floor of a building in Barangaroo, an inner suburb of Sydney. The offices boast views of the Sydney Opera House and Harbour Bridge.
"I get to do what I enjoy every day with BuiltWith," Gary said. "I still do pretty much the same thing day to day as I was doing at the start of the BuiltWith project, which is coding and building things mostly based on customer feedback."