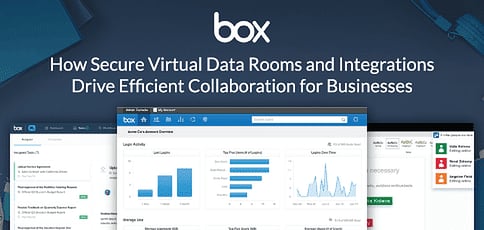 TL; DR: Whether you're dealing with internal or external communications, the enterprise landscape demands real-time collaboration protected by robust security. Box.com touts scalable cloud storage and file hosting that more than measures up to enterprise expectations for security and productivity. Boasting workflow integration and collaborative file editing, the company is constantly innovating to exceed the status quo. With centralized cloud computing and integrations with the likes of Google, Apple, and IBM, Box brings competitive advantages to efficiency-minded businesses.
Symantec, the largest software security firm in the world, noticed internal communication inefficiencies and needed a way to disperse in-house content company-wide. Being in the business of keeping digital assets secure, Symantec's file-sharing partner had to be up to Symantec's encryption standards.
Chief Information Officer Sheila Jordan came to Symantec from Cisco, where the company had successfully implemented file-sharing capabilities to 60,000 employees in record time using Box. Symantec made the same decision, partnering with Box to cultivate a more mobile and productive work environment.
"Mobile devices have allowed us to have these mobile moments of productivity," Sheila says in a video about Symantec's partnership with Box. "The ability to connect back to the office, all on your device, not only will change the experience with your employees, but I actually think it is one step closer to your interactions with your customers and partners."
Box provides a user-friendly way for companies to share information securely, and, because the platform is deployed in the cloud, a company can scale to adjust to a growing workforce or data set. But Box is more than just a way to share files; the platform opens up the lines of communication within — and between — departments.
As clientele grows, so does the need for bigger and more secure databases. Box meets that need through virtualization in the cloud, eliminating the need for companies to operate and safeguard their own servers.
Virtual Data Rooms for Encrypted, Compliant, and Easily Managed Files
A Virtual Data Room is "a series of proprietary extranets that provide an online repository of data." These rooms are secure and confidential. VDRs are commonly used in place of physical meeting rooms and paper-bound data to cut time and cost — as well as reach people remotely.
Cloud-based models allow for centralized control over data while still allowing secure access from mobile devices. Box explains that a smaller attack surface makes breeches far less likely because they are easier to monitor and manage.
Box's Virtual Data Rooms provide a secure space for managing data. According to Box.com, some 52% of security breaches are due to human error. Centralized cloud computing provides many advantages over traditionally decentralized computing models, not the least of which is significantly enhanced security.
Decentralized models make it easier for data to leak due to unsecured backups and email attachments. With the use of Box's encrypted VDRs, employees and teams can promptly share documents with colleagues without risking their confidentiality.
Integration With Popular Apps and Programs Boosts Productivity
As computing is becoming more mobile, the need to access information from everywhere increases. The development of apps for iOS platforms is an important addition to Box's repertoire, boosting productivity without the need to be at the office or carry a clunky laptop.
Docusign, a Box partner, is particularly useful in solving the issue of security for an HR department. With it, documents can be signed digitally and securely on the go, from any modern smart device. For HR, Docusign with Box integration lets employees easily sign off on paperwork and automatically save it to a secure Box folder.
Paper forms are never in the wild, and scans never have to travel through email or be left on employees' desktops or insecure network drives. Box holds the signed papers securely as they await viewing or signing by HR personnel or employee supervisors, locked away from all other users through granular permissions and passwords.
Meanwhile, IBM, Apple, and Google have developed apps that work with Box to enhance user experience. ScanBot iOS allows clients to scan paperwork from their phones rather than having to type them manually. Similarly, LookAt makes it easy for multiple parties to annotate documents and pictures relevant to a case.
Working with IBM to Optimize Intelligence and Increase Speed
Box's partnership with IBM improves workflow and efficiency. With IBM Case Manager, users can easily access any content related to a case in a unique 360-degree view consistent across multiple devices, thus allowing for quicker collaboration with a user-friendly interface.
IBM StoredIQ works with Box to help with records management and data migration. Data managers can easily import content from a variety of sources, including file shares and Microsoft SharePoint. IBM's Content Navigator helps break down content silos that may arise as a result of inconsistencies across departments. It provides a more centralized web of content that users can engage with, regardless of actual file location.
IBM DataCap can be connected to effortlessly extract data from documents uploaded to, and stored within, Box. That integration functions not only with digital files but with scanned documents as well. These tools streamline the process of data extraction, integration, and sharing, leading to increased speed with fewer headaches.
Harnessing the Power of Google to Make Apps Work for Business
Box's partnership with the popular Google Apps is extremely useful as a mobile, platform-agnostic alternative to Microsoft Office. With Google Apps, users can create documents, spreadsheets, PowerPoint-like presentations, and more, all fully compatible with Microsoft Office. Google Apps files can then be easily stored directly in Box and then securely shared for review and collaboration by peers and overseers.
Additionally, Google Apps can be used to open more than 100 different document types, eliminating the need for multiple file-reading programs or downloading office suites that fill or exceed slim mobile device storage capacities. The automatic saving of files in Box provides reliable backups and potential file versioning, as well as enabling real-time collaboration.
Team members with access can leave comments and annotations on documents, assign tasks to specific users, and even review who has downloaded and modified their files. At every stage, files are secured and can be protected with watermarks and document-specific passwords.
Partnership with Apple Delivers Box.com Output to All iOS Devices
Of course, Box is integrated into the world's leading mobile platform, too.
Working with Apple, Box provides innovative and convenient business solutions to iOS users. Among the many apps available for iPhone and iPad are AboveNote, 2Screens, 9Slides, and 1st Call Record. AboveNote is used to produce high-quality PDFs from presentations, spreadsheets, graphs, and images.
Apps 2Screens and 9Slides allow users to conduct presentations rich with video commentary broadcast from iOS devices. With 1st Call Record, a phone call on an iPhone can be recorded in real time, and copies can be sent automatically for secure storage in Box; there, Box's search tools create a searchable library of recorded calls.
A native feature known as Box Capture lets users take photos and videos to post to the cloud, without the need for scanners, separate cameras, or USB storage devices. Box Capture can be used to quickly report maintenance and safety issues and share information related to inventory. For security concerns, Enterprise Mobility Management (EMM) restricts access to only approved company devices, barring any unauthorized access.
Box for iOS also allows workers to use file editors of their choice rather than dictating which apps are required and potentially forcing users to invest in learning new, unfamiliar programs to take advantage of Box's security, sync, and share abilities.
A Future Committed to Enterprise Content Management Innovation
Box was launched more than a decade ago to address a growing need for easy file access and sharing without undermining security. More than 60,000 companies, including Symantec, rely on Box to store crucial data files. Businesses are often challenged with processing an abundance of content, and, without the proper tools to mitigate the workload, employees may work harder to make up for a lack of automation and hands-on collaboration with co-workers.
To cover every aspect of file and product management, Box has dedicated company time and money to developing new apps with the help of major software companies, like Apple and Google. As a result, work can be taken virtually anywhere while still being shared with the rest of the workforce when necessary.
Other developments, like Box KeySafe and Box Governance, provide encryption and retention management to address growing concerns over online crime and data leaks caused by human error. Box also addresses scalability in terms of virtualization, allowing large companies to seamlessly adjust to bottlenecks without having to invest money and time in installing new hardware.
Box continues to innovate in the face of new challenges. To make collaboration even easier than it was previously, Box has added 360-degree and 3D file viewing complete with the ability to add annotations for other team members. Box has also reduced load times for files and sites, saving even more time.
For any company looking to cut time and labor, Box can streamline workflow. The company has demonstrated dedication to developing the best platform for protected file sharing by providing auto-scalability and new apps, making collaboration much easier.