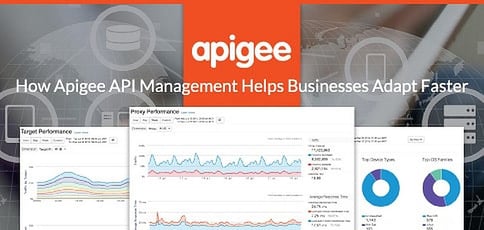 TL; DR: By connecting business data and applications, Apigee enables companies to create, analyze, and manage APIs in a secure and scalable environment. The company's intuitive dashboard visualizes workflows, traffic, actions, and errors associated with APIs. Acquired in late 2016, Apigee is now leveraging Google resources, technology, and infrastructure to boost performance and enhance security for customers needing to interact with end users on any device.
When Apigee launched the first iteration of its API management platform in 2009, the company hyped the product as the Google Analytics for APIs.
As a resource promoting and analyzing connected experiences, Apigee helps companies manage all the APIs delivering information to websites, databases, and applications.
The initial positioning proved rather prophetic for Apigee, with the company's success eventually leading to a $625 million acquisition by Google itself.
Now that Apigee can take advantage of Google resources, the company is expanding beyond 1 billion API calls per day for hundreds of customers, ranging from startups to the Fortune 100.
"A lot of what Apigee is doing requires us to try to stay up-to-date with all the new ideas out there and how quickly we can adopt them," said Ed Anuff, Director of Product Management. "By using Apigee, customers get the tools to make rapid adoption possible."
Design, Secure, Analyze, and Scale APIs With a Clean Dashboard
Just as companies made a big push to publish information on websites in the early days of the internet, a growing number of organizations and developers are putting their content and data out through APIs, or application programming interfaces.
"We saw a lot of customers in retail, banking, healthcare, and telecommunications where they needed to interact with their customers from any location at any time," Ed said. "That was the promise of APIs. Now, if you go and look at what any big company is doing with cloud applications, APIs tend to be in the middle of it."
APIs provide building blocks for applications by defining methods of communications between software components and data repositories.
"Providing APIs is something your developer is able to do, but being able to actually go and see what's happening with that API is a challenge if you don't have something like Apigee to help you," Ed said.
Similar to how analytics programs helped early site owners measure traffic and performance, the Apigee API platform provides similar oversight to the APIs an organization publishes and consumes. From the Apigee dashboard, users can see which developers and applications are using an API, along with performance metrics such as traffic, actions, and errors. The insights allow organizations to proactively identify problems and take corrective actions.
Apigee Advantages: 3 Major Focuses of the API Management Platform
Apigee gathers usage data through API proxies added as the services are created in the platform. Customers can then implement rate limits and quotas, in addition to monitoring analytics and security.
1. Simple On-Ramp Lets Developers Design and Deploy in Minutes
According to Ed, most Apigee customers have already built applications and APIs before realizing the need for management tools. Amid a market of complex and complicated solutions, Apigee focused on providing an easy way to add and configure the company's services.
"We put a lot of effort into making it very simple for companies to incorporate Apigee into their infrastructure," Ed said, estimating the process to take less than an hour. For less experienced first-time customers, Apigee provides various tutorials and setup guides.
2. Reliable and Performant Infrastructure Increases User Engagement
Apigee guarantees up to 99.99% runtime for enterprise customers, and Ed said the company's ability to leverage Google technology and infrastructure only increases the API management platform's stability and performance.
"Obviously, for our customers, the last thing they're going to want to do is depend on someone like us if we're not able to make sure their APIs are as reliable and stable as possible," he said.
3. Enterprise-Grade Security Protects Business APIs and Data
As with all aspects of the tech industry, protecting data from exploits and attackers is supremely important. Apigee has introduced two-factor authentication, encrypted key value maps, and improved bot detection tools within the past year.
"It's a constant investment and something we prioritize very highly," Ed said. "Security, of course, is always a big challenge. Every piece of technology you use, you need to be mindful and thoughtful and vigilant of all the security implications."
Customer-Driven Team Fosters Growth and Collaboration for Clients
According to Ed, the Apigee team spends most of its time educating and interacting with customers about how APIs can drive business growth and strong mobile interactions.
"Before we even get into the specifics about what our product does, a big part of what we do is talk about how they might incorporate APIs in general, along with the benefits, best practices, and how to measure success," he said.
For example, Ed said, retail customers have reported a 30% increase in in-store sales after launching a mobile app using a location-based API. Others share stories of drastically reducing workflows when integrating with a new partner.
"Before, they'd have to go through a manual process, with IT staffs working together for a year," Ed said. "After using an API, the whole process is self-service and happens in less than a month."
The Future: Using Machine Learning Concepts to Boost Security
According to Ed, many of the same security threats website owners face have started focusing on attacking APIs. Similarly, customers share concerns about making sure the right people are accessing the information provided by their APIs.
Apigee plans to mitigate those fears by continuing to expand on the company's predictive security products. Having already started using automation and machine learning to detect traffic from malicious bots, Ed said the company will leverage Google's machine learning capabilities to ramp up protections.
"We're using a lot of Google's technology to be able to create intelligent threat protection," he said. "With machine learning, we can analyze the traffic and automatically respond if it detects some sort of activity that looks improper."