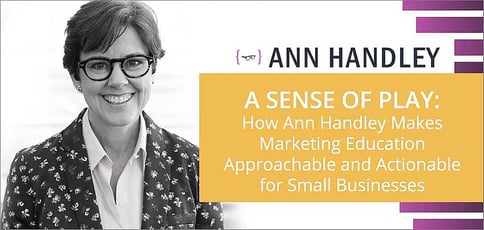 TL; DR: Ann Handley is a Wall Street Journal bestselling author who inspires businesses worldwide to swap mundane marketing techniques with fresh approaches that produce tangible results. As the Chief Content Officer of MarketingProfs, she empowers business leaders to become the best versions of themselves while boosting productivity and revenue. Through Total Annarchy, an experimental personal newsletter, Ann continues to put a creative spin on results-oriented marketing.
Enter the world of Ann Handley, and you'll begin to see things as they appear through her trademark horn-rimmed glasses: full of color and intrigue.
She's using that perspective to provide marketers the education they need to deliver engaging content that's anything but black-and-white. Whether you're paging through her Wall Street Journal best-seller, "Everybody Writes," or connecting with her during an empowering keynote speech, Ann encourages audiences to tell "bigger stories with a bolder voice that creates braver marketing."
"It's a personal philosophy I have," Ann said. "If you're not having fun in your job and life, you're doing it wrong. I like to bring personality to pretty much anything I do, and I try not to take things too seriously."
A journalist at heart, Ann spent most of her early career as a writer and editor for esteemed publications like the Boston Globe, as well as various B2B publications. "I even wrote for those magazines you get on the backseat pocket on an airline," she said. "At the time it was extremely lucrative, and it was kind of fun."
In 1997, before Google hit the market, Ann launched ClickZ, one of the earliest online sources of marketing information. She sold the company in 2000 before taking on a role as Chief Content Officer at MarketingProfs in 2002. There, she became the first person to hold a corporate executive-level position responsible for the digital media creation and multi-channel publication of an organization's content. Ann said it seems like "a lifetime and a half ago." And she's been there ever since.
Ann's relatability thrust her into the limelight: Forbes named her the most influential woman in social media, and IBM named her one of seven people shaping modern marketing. Today, the Boston-based digital marketer continues to educate businesses worldwide on how to escape marketing mediocrity and unearth tangible results.
Ann shines when she's putting her enthusiastic twist on marketing education, whether she's engaging with more than 420,000 followers on Twitter; contributing commentary and bylines to major business publications; or experimenting with her newsletter, Total Annarchy. From industry pioneer to modern influencer, Ann continues to share her invigorating, reader-first writing philosophy with business professionals worldwide.
Serving Up Fresh Marketing Skills With a Side of Fun
For Ann — a Cavalier King Charles Spaniel enthusiast, novice tap dancer, and tiny-house owner — mediocrity is never an option. As an educator, Ann's job is to inspire marketers to create captivating content.
"The throughline to everything that I do personally — the books I write, the newsletter I publish every other Sunday, the blog posts I've published, and my speeches — is that I always try to make marketing information accessible and actionable," she said. "I can't stand it when I'm reading an article from a consultancy or management guru, and it's filled with jargon or amorphous, vague language. Just tell me what I need to do!"
An industry veteran, Ann has watched content marketing dominate the last decade — though, according to her book, you won't catch her uttering the clichéd marketing phrase "Content is King."
"Content has always been around, and it's always been a big piece of the marketing puzzle," Ann said. "But as technology improves and social media becomes more prevalent, businesses need to embrace the idea of content marketing more than ever."
Still, Ann said businesses shudder at the prospect of nonstop content creation — and that problem extends to social media. "A lot of businesses still struggle with how to use social media effectively: 'Should we even be on social media? Do we have to be on Snapchat, LinkedIn, Pinterest, and Instagram?'"
Between her role at MarketingProfs and her personal brand, Ann answers questions like these daily.
Inspiring Businesses to Ditch Mundane Marketing
Ann is the Author of "Everybody Writes: Your Go-To Guide to Creating Ridiculously Good Content," and Co-Author of "Content Rules: How to Create Killer Blogs, Podcasts, Videos, Ebooks, Webinars (and More) That Engage Customers and Ignite Your Business." The wildly successful books have been translated into 19 languages and are increasingly referenced in the classroom setting.
Ann's lively personality radiates throughout both titles, making them hard to put down. "Whether I'm on stage or sitting down to write a book, I want to make it feel different from another boring business book," she said. "People learn best when they're having fun."
Her second book, "Everybody Writes," is an in-depth but whimsical guide to creating better content in the digital age. "I'm super passionate about that topic," Ann said. "It's a book that I couldn't not write."
Ann told us writing a book is like birthing a Volkswagen. "You do most of the work while crying, and you get very sweaty," she said. "So if you're going to commit that kind of time, energy, and pain, then you've got to make sure you really love the topic. That's truly the one metric I use when I'm thinking about writing another."
This metric also applies to business communication. We live in a world where audiences consume information in seemingly endless forms — and today's businesses rightly want to get in on the action by producing information.
"The challenge is how to do that effectively," Ann said. "Figure out what to say 'no' to. That's the only way to produce something of value that an audience wants."
MarketingProfs: Helping Leaders Boost Productivity and Revenue
Like many everyday superheroes, Ann is adept at juggling multiple roles. Aside from being a successful keynote speaker, author, influencer, mom, and dog lover, she's Chief Content Officer at MarketingProfs.
Centered on the belief that learning changes lives, MarketingProfs offers hands-on training, online programs, conferences, and various resources to help individuals, SMBs, and enterprises carry out marketing campaigns that drive business results.
Every year MarketingProf hosts a B2B marketing forum where leaders gather to discuss industry challenges and learn how to build sustainable marketing programs. The 2018 program just wrapped up in San Francisco, with the 2019 event planned for October 16-18, 2019, at the Gaylord National Resort and Convention Center in National Harbor, Maryland. According to Ann, this is a forum where fun and learning aren't mutually exclusive.
"It's an event where the fun and personality shines through — and that doesn't come just from me," Ann said. "It comes from the speakers; it comes from the community more broadly."
She's not exaggerating. The 2019 B2B Marketing Forum site puts it this way: "It's the place where leaders, innovators, and people who make things happen gather to learn about the latest in B2B marketing and share the secrets to success (plus belly laughs, creative networking, shenanigans, and marketers-after-dark antics)."
Ann told us MarketingProfs is powered by more than 30 passionate workers spread across the U.S., from Boston to Hawaii. "Our call to arms internally is to bring you what you need to know as a marketer," she said. "Yes, marketing is changing. There are new tools, new technologies, new platforms. We help you figure out what to pay attention to so that you can ignore the rest."
Total Annarchy: Clever Marketing Ideas Delivered to Your Inbox
Ann launched her personal, cheekily named newsletter, Total Annarchy, in January 2018. And she did so for a totally relatable reason: She wanted to make something.
"The more you advance in your career the further you are from producing and editing things," she said. "You don't touch things anymore. I wanted to own something to remember what that was like, so I launched this newsletter."
Through Total Annarchy, Ann said she's rediscovered her voice — and she's using it to remind readers to have a little fun.
"We all get bogged down," she said. "Sometimes our business worlds can make us feel like there's never enough time. Reintroducing something that you do purely for joy can be a game-changer, as it has been for me. My newsletter isn't a moneymaker, and there's nothing I get out of it other than the fact that I'm making something, which is personally very satisfying."