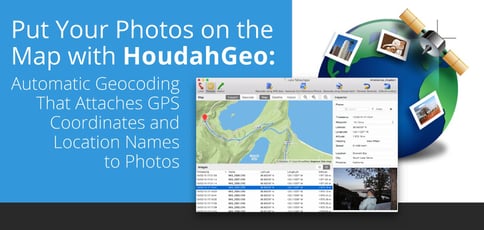 TL; DR: HoudahGeo's geocoding and geotagging capabilities allow Mac users to document and organize photos by location. The software stores latitude, longitude, and altitude information as geotags within the image file, preserving it permanently. Between continuous updates to maintain compliance with macOS and plans to incorporate underwater altitudes into the technology, HoudahGeo is working to ensure its software meets the needs of its users.
It never fails. Every time I email a photo taken on my digital camera to my relative, she responds with a slew of questions: Who took the picture? Where was it taken? Date? Time?
I found her obsession with documentation peculiar until one day when an unexpected package landed at my doorstep. Inside was a personalized memory book she had created via a popular online image-publishing service. Each photo in the book was accompanied by in-depth information that she used to create a more compelling story.
Before I send my relative another photo, I'll likely install the geocoding and geotagging application HoudahGeo on my Mac. The software stores latitude, longitude, and altitude as geotags right within the image file. It can also be used to add location names, titles, descriptions, and keywords to your photos. ​That way, she'll have the information she needs within the file's metadata.
"Years from now when you see that picture from Paris, you can rest assured that you'll know what day it was taken, what year, and where it is located on a map," said Pierre Bernard, Founder of Houdah Software. "It's an investment in the future, allowing you to see what isn't in the picture."
HoudahGeo 5, the latest release, includes drag-and-drop geocoding, reverse geocoding, map searches, and templates for Google Earth exports, among other tried-and-true features. The company continually works to improve the product through updates that maintain compliance with the ever-evolving macOS, as well as the addition of new features based on client feedback. With each iteration, HoudahGeo is furthering its goal to help Mac users tell the story behind their photos.
Navigating Development in the World of Mac
Houdah Software, the Luxembourg-based development company behind HoudahGeo, was founded in 2005 as a small family business. Pierre's father owns the company, his wife writes all of the documentation, and Pierre takes care of the rest.
At the time of the company's founding — long before the iPhone and App Store — Pierre said Macs weren't all that popular. But using his experience as a Mac user since 1984, Pierre could easily identify what was missing from the market. He designed his initial product, HoudahSpot, to help Mac users locate hard-to-reach documents, mail messages, photos, and images, among other files.
Shortly thereafter, he designed HoudahGeo to meet his own needs. "Those are the projects that are the most interesting to work on," Pierre said. "You need them yourself and build them to scratch your own itch, so you're knowledgeable about the subject. Then your apps end up helping other people, too."
Pierre said he has had to navigate quite a few technical changes to keep up with the competition. The 2008 release of the iPhone opened up a significant development opportunity, so he temporarily focused on iOS projects. "Then the iPhone became the domain for larger businesses running ad space and monetizing streams, and it got harder for the smaller companies out there," he said. "Now, I mostly focus on macOS."
Apple's photo library has also evolved significantly over the years. In 2015, the company replaced its signature photo applications — iPhoto and Aperture — with Photos, which was intended to provide a more intuitive photo management and editing experience.
Pierre updated HoudahGeo with each new application. Today, the software works with Photos, iPhoto, and Aperture, as well as Adobe Lightroom Classic. It will also notify Photos, iPhoto, or Aperture once the user updates location information.
"We also have a major upgrade coming from Apple in the fall that will require changes on our side to preserve compatibility," Pierre said. "We're constantly chasing what Apple does."
The Role of Customer Feedback in Ongoing Development
Most modern smartphones, including the iPhone, automatically record location information. That's great for selfies, blurry pictures of your cat mid-pounce, and other spur-of-the-moment shoots, but most people still use a digital SLR for milestone moments — the oceanfront weddings, college graduations, and African safaris.
The problem is, unless you have a special GPS-enabled digital SLR, your high-quality camera won't record location information. That's one of the reasons HoudahGeo is so powerful. And Pierre said the software is especially beneficial considering the sheer number of photos that people take using digital cameras compared with their analog predecessors.
"You can take many more pictures with digital cameras, but that's also one of the disadvantages," he said. "Without tools like HoudahGeo, it would take months to add additional information to all the pictures you take after a holiday or vacation."
When Pierre first released a Beta version of HoudahGeo, he was surprised to find people using the tool to process hundreds of pictures. So he went back to the drawing board and enhanced performance so the software could handle large volumes of data.
Since then, customer satisfaction and feedback have largely inspired Pierre's software development roadmap. "I'll start to identify patterns where people run into the same problem in similar situations or even miss features that already exist but aren't obvious," he said. "Then, I start imagining solutions that will solve these problems."
Drag-and-Drop and Reverse Geocoding, Among Other Features
In addition to casual users, HoudahGeo's full feature set caters to a wide range of professions who need to document where photos were taken. Examples include scientists documenting wildlife migration, inspectors surveying structural damage, and real estate agents looking to enhance their listings.
To ensure compliance with a variety of services and software, HoudahGeo uses industry standards to write EXIF, XMP, and IPTC metadata tags to both JPEG and RAW image files.
"My customers include travelers, business professionals, photographers — all kinds of people looking to document various information," Pierre said. "I had one user who was documenting damages to bridges that needed repair, and he needed to record precise locations."
The latest edition of the software, HoudahGeo 5, contains a range of features designed for casual and professional users alike. The intuitive drag-and-drop geocoding feature, for example, makes it easy to drag images to known locations via a built-in map. Reverse geocoding, as its name implies, empowers users to derive location names from GPS coordinates.
A new import feature makes it simple to download photos directly from a camera or memory card, and added map search functionality allows users to locate landmarks, cities, and favorite places.
The Google Earth export feature includes new templates and designs for easy conversion to Keyhole Markup Language (KML), an XML notation for expressing geographic information within 2D maps and 3D Google Earth browsers. HoudahGeo 5 also makes it easy to publish KML notation to Dropbox, where users can upload both tracklogs and photos.
Future Plans: Upgrades, Incorporating Negative Altitudes
When Pierre isn't spending his time maintaining compatibility with Apple's frequent updates, he's working on making HoudahGeo even more powerful.
He can't make any promises but hopes to explore the possibility of recording underwater altitudes —a feature that SCUBA divers would undoubtedly appreciate. He's also experimenting with an update that would make the software easier to use for photographers who shoot in both RAW and JPEG formats.
Of course, keeping HoudahGeo up and running is Pierre's top priority. "For now, everything has to take a back seat to compatibility with the newest OS," he said.